THE EFFECT OF USING ROLE PLAYING STATEGY ON STUDENTS' ACHIEVEMENT IN SPEAKING ENGLISH AT SMP MUHAMMADIYAH 01 MEDAN
Rahmawati Wati

Universitas Prima Indonesia
Abstract
This research entitled "The Effect of Using Role Playing Strategies on the ability to speak English at Muhammadiyah Middle School 01 Medan. This research was appointed to increase the courage of students to speak English using the "Role Playing" strategy.  Then look for self-confidence efforts for students who speak English through the "Role Playing" strategy. Finally, to create the benefits of "Role Playing" in supporting English learning at Muhammadiyah Middle School 01 Medan. This research used descriptive quantitative and qualitative research methods. Quantitative methods to calculate the average value of student test results, while qualitative is used to calculate the observation results of student learning activities in each cycle. Everything was explained according to the facts found in the field during the research. The method used in data collection was the experimental method. The experimental method was a method of directly testing the effect of variables on other variables and testing the hypothesis of a causal relationship. The technique used in this method, namely by comparing classes that get special treatment and classes that do not get treatment.
References
Alkin, M.C. & Christie, C.A. (2002). The use of role-play in teaching evaluation. American Journal of Evaluation, 23. (2), 209–218.
Dananjaya, Utomo. (2013). Media Pembelajaran Aktif. Nuansa Cendikia.
Diyah, Ayu. (2007). Using Role Play in Teaching Speaking. UIN.
Hughes, Arthur, 1985. Testing for Language Teacher. Jakarta: Camridge University Press
Rao, D. & Stupans, I. (2012). Exploring the potential of role-play in higher education: Development of a typology and teacher guidelines. Innovations in Education and Teaching International, 49. (4), 427–436.
Ruhanen, L. (2005). Bridging the divide between theory and practice: Experential learning approaches for tourism and hospitality management education. Journal of Teaching in Travel and Tourism, 5. (4), 33–51.
Sogunro, O.A. (2004). Efficacy of role-playing pedagogy in training leaders: Some reflections. Journal of Management Development, 23. (4), 355–371.
Tarigan, Henry Guntur, Berbicara. Bandung: Angkasa, 2008.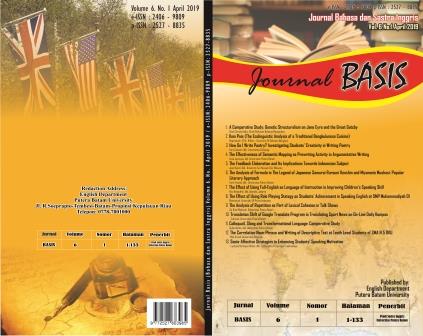 Section
BASIS VOLUME 6 NO 1 APRIL 2019