TRANSLATION SHIFT OF GOOGLE TRANSLATE PROGRAM IN TRANSLATING SPORT NEWS ON ON-LINE DAILY KOMPAS
zakrimal zakrimal

Universitas Putera Batam
Abstract
Translation was a very important role in the development of science and technology in Indonesia. It was due to the large number of printed and electronic sources written in foreign languages such as English, German, Spanish, and others. In translating a document, according to Catford's theory there were several shifts. This shift occurred because there was no truly similar language in this world. There was no language that was truly the same on this earth, so translating from the source language (SL) to the target language (TL) could not be exactly the same because the two languages were very different both in structure and cultural background. This study tried to determine the translation shift in the translated sports article from the Kompas Online Daily in December 2018. Data was analyzed through Catford's translation theory, namely structure shift, shift class, shift unit, and intra-system shift from Indonesian (as source language) into English (as the target language). The problem discussed in this study was the translation shift used in translating sports articles in Kompas Online Daily published in December 2018. This study used descriptive qualitative methods. Data was taken from articles translated through the Google translating machine. The method of data collection was done by meant of documentation, while the method of data analysis was done by categorization.
References
Catford J.C. (1974). A Linguistics Theory of Translation. London: Oxford University Press.
Herman. (2017). Shift in Translation from English into Indonesia on Narrative Text. International Journal of European Studies, 1(3), 72–77. Retrieved from http://www.sciencepublishinggroup.com/j/ijes
Hijjo, N. and F. M. K. A. K. (2017). The Analysis of Grammatical Shift in English-Arabic Translation of BBC Media News Text. Language in India, 17(10 October 2017), 79–104. Retrieved from www.languageinindiaa,com
Larson. (1998). Meaning-based Translation: A Guide to Cross Language Equivalence (second). Lanham: University Press of America.
Munday, B. H. and J. (2004). Translation: An advance resource book. London and New York: Routledge.
Newmark, P. (1988). A Textbook of Translation. Text. New York: Prentice Hall Inc. https://doi.org/10.1017/CBO9781107415324.004
Thu, B. T. B. and D. X. (1997). Interpreting and Translation Course Book. Hanoi, Vietnam: Hanoi University Press.
Yuwandani, D. (2016). The Translation Shifts Applied To The Translated Text I Belog Lost Something, 23(44).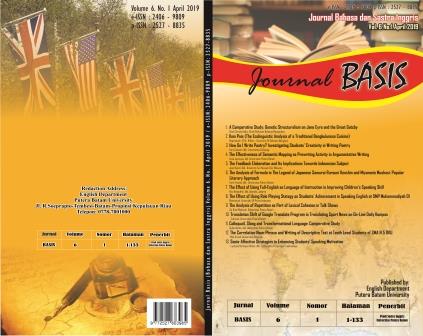 Section
BASIS VOLUME 6 NO 1 APRIL 2019