ERROR ANALYSIS OF ELEVENTH GRADE ODD MIDTERM EVALUATION IN VOCATIONAL SCHOOL MUHAMMADIYAH 2, TANGERANG
Woro Endah Sitoresmi

Institut Teknologi & Bisnis Ahmad Dahlan

Velma Alicia

Institut Teknologi dan Bisnis Ahmad Dahlan
Abstract
The objective of this study is to know the grammatical errors and to elaborate the sources of errors in odd midterm evaluation of eleventh grade for the academic year 2018/2019 in Vocational School, Muhammadiyah 2, Parung Serab, Kota Tangerang, Banten. It belongs to descriptive qualitative study which used document analysis to proceed the data. The findings showed that there are five error grammatical items which include tenses (present tense & past continuous tense), preposition, object pronoun, article and quantifier. In addition, there are three sources of errors in the study; error related to context of learning, intralingual error and interlingual error.
References
Brown, H.D. (2007). Principles of Language Learning And Teaching 5th Edition. New York: Pearson Education, Inc.
Brown, H.D. (2000). Principles of Language Learning and Teaching 4th Edition. New York: Addision Wesley Longman.
Ellis, R. (2008). The Study of Second Language Acquisition. 2nd Edition. Oxford: OUP
Erdogan, Vacide. (2005). Contribution of Error Analysis to Foreign Language Teaching. Mersin University Journal of the Faculty of Education, 1(2), 261-270.
James, C. (2008). Errors in Language Learning and Use: Exploring Error Analysis. New York: Routledge.
Kiser, E. (2009). In Error? Grammatical is A Legimate Adjectives. Winston-Salem Journal.
Krashen, S.D. (2006). Language Two. New York: Oxford University Press.
Miles, M.B. and Huberman, A.M. (2003). Qualitative Data Analysis 3rd edition. London: SAGE Publications, Ltd.
Nzama, M. V. (2010). Error Analysis: A study of Errors Committed by Isizulu Speaking Learner. Esikhawini: University of Zululand
Richards, J. C. (2004). 3rd edition. Error Analysis: Perspectives on Second Language Acquisition. London: Longman.
Shohamy, E. (2001). Second Language Research Method. Sixth Edition. Oxford: Oxford University Press.
Suseno, Muchlas. (2014). Roles of Feedback to Overcome Grammatical Problems of Academic Writing in EFL Class. The 61st TEFLIN International Conference, UNS Solo.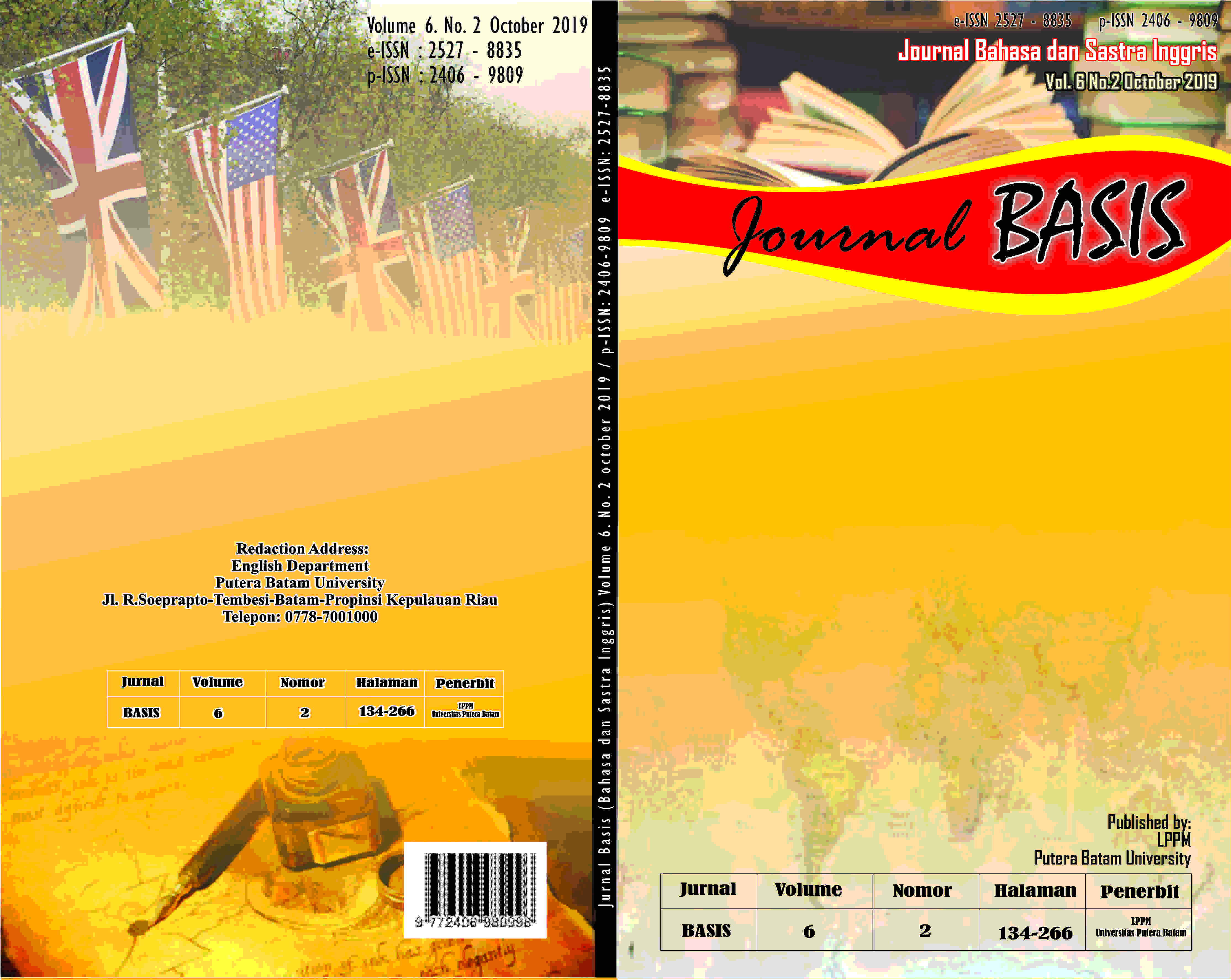 Section
BASIS VOLUME 6 NO 2 OKTOBER 2019