MAINTAINING THE HARMONY OF NATURE BEHIND THE EXISTENCE OF BATU BELAH MYTH IN KAMPONG TUA NONGSA
Tomi Arianto

Universitas Putera Batam

Melly Siska Suryani

Universitas Putera Batam
Abstract
This study aimed to explore the harmonious relationship between human and nature that is still maintained by the Malay people of Kampong Tua Nongsa in Batam. Everyone who visited Batam will have perception that Batam is an industrial city with various metropolis conditions. It cannot be denied that it is true. The industrialization magnet in Batam has attracted the attention of many immigrants from various regions to try their luck to be better. The effects of rapid immigration and the many industrialization of Batam have had quite an impact on environmental conditions, especially this island which is bordering with Malaysia and Singapore. The amount of industrial pollution, deforestation, settlements, and reclamation has a bad impact on the natural situation. But behind all of that, Batam has uniqueness. The government still maintains there are 37 points of Kampong Tua Malay scattered throughout Batam. Behind the glamor of Batam's industrialization, there are still remnants of Malay culture that have a close relationship with the environment. In the research conducted, researchers analyzed three of cultural objects that are still preserved, namely the Sacred of Bunbun, the Sacred of Puak, and the Sacred of Batu Belah. In this article, researchers focused on the Myths behind the Sacred of Batu Belah, which still reflected the harmonious relationship between humans and nature. By using an ecocritic approach, the researcher answers the variable related with the relationship between man and nature behind the myth. The method used is a qualitative method with in-depth interviews and observation as data collection techniques. Using critical analysis techniques, the results of this study indicated that the ecocritic representation behind the Batu Belah myth is reflected from the existence prohibitions behind it. These prohibitions show how the Malay community is still able to maintain a harmonious relationship between humans and nature.
References
Akhmadieva, R. S., Ostanin, L. M., Ostanina, S. S., Moiseyev, V. O., & Chudnovskiy, A. D. (2019). Noxological approach to environmental protection and human life activity safety : Risks of modern dangers. 7(4), 1269–1276. https://doi.org/10.18510/hssr.2019.74175

Arianto, T., & Simanjuntak, D. S. (2019). Narrative structure and ecological wisdom of mak ungkai malay story in riau islands. Proceedings of EEIC, 2, 84–91. http://www.jurnal.unsyiah.ac.id/EEIC/article/view/15039

Arianto, T., & Simanjuntak, D. S. (2020). Representation of ecocriticism in the folklore of Mak Ungkai spirit. Studies in English Language and Education, 7(2), 576–591. http://e-repository.unsyiah.ac.id/SiELE/article/view/16822

Aritenang, A. F. (2017). Special Economic Zone at the Crossroads: The Case of Batam. Jurnal Ilmu Sosial Dan Ilmu Politik, 21(2), 132–146. https://doi.org/http://dx.doi.org/10.22146/jsp.30438

Bergthaller, H. (2018). Ecological Immunity and Kim Stanley Robinson's 2312. JOE: The Journal of Ecocriticism, 8(1), 1–12.

Danandjaja, J. (1984). Folklor Indonesia : Ilmu Gosip, Dongeng, dan lain-lain. Grafiti Pers.

Eki. (2012). Ekosistem Laut Kepri Semakin Kritis. Isu Kepri, 4. http://www.isukepri.com/2012/12/ekosistem-laut-kepri-semakin-kritis/

Faruk. (2012). Metode Penelitian Sastra, Sebuah Penjelajahan Awal. Pustaka Pelajar.

Garrard, G. (2004). Ecocriticsm. Routlegge.

Glotfelty. (1996). The Ecocriticism Reader: Landmarks in Literary Ecology. The University of Georgia Press.

Hadi, F. (2012, September). Kesadaran Masyarakat Terhadap Sejarah Budaya Rendah. Wartakotalive.Com. https://wartakota.tribunnews.com/2012/09/19/kesadaran-masyarakat-terhadap-sejarah-budaya-rendah

Hariyadi, R. (2006). Pengaruh Pencemaran limbah industri terhadap kualitas air waduk ; Duriangkang Batam. Jurnal Teknik Longkungan (JTL) BPPT, 7(3), 271–276. http://ejurnal.bppt.go.id/index.php/JTL/article/%0Aview/390/290

Hilmanto, R. (2010). Etnoekologi. Universitas Lampung.

Howarth, W. (1996). Some Principles of Ecocriticism, in Glotfelty and Fromm. University of Georgia.

Hutomo, S. S. (1991). Mutiara yang Terlupakan: Pengantar Studi Sastra Lisan. HISKI Komisariat Jawa Timur.

Lestari, U. F. (2018). Oral Literature Of Moi In Sentani Barat District, Jayapura Regency, Papua Province: Literary Ecocriticism Study. UGM Press.

Sudikan, S. Y. (2007). Problematika Pembelajaran dan Apresiasi Sastra dan Solusinya. FBS UNESA.

surjaatmadja, J. S. (2005). Pengaruh industrialisasi terhadap kegiatan sosial ekonomi dan keseimbangan lingkungan serta kualitas lingkungan dan pembangunan berkelanjutan di pulau batam [Universitas Airlangga]. http://repository.unair.ac.id/id/eprint/32653

Taum, Y. Y. (2011). Studi Sastra Lisan: Sejarah, Teori, Metode, dan Pendekatan Disertai Contoh Penerapannya. Lamalera.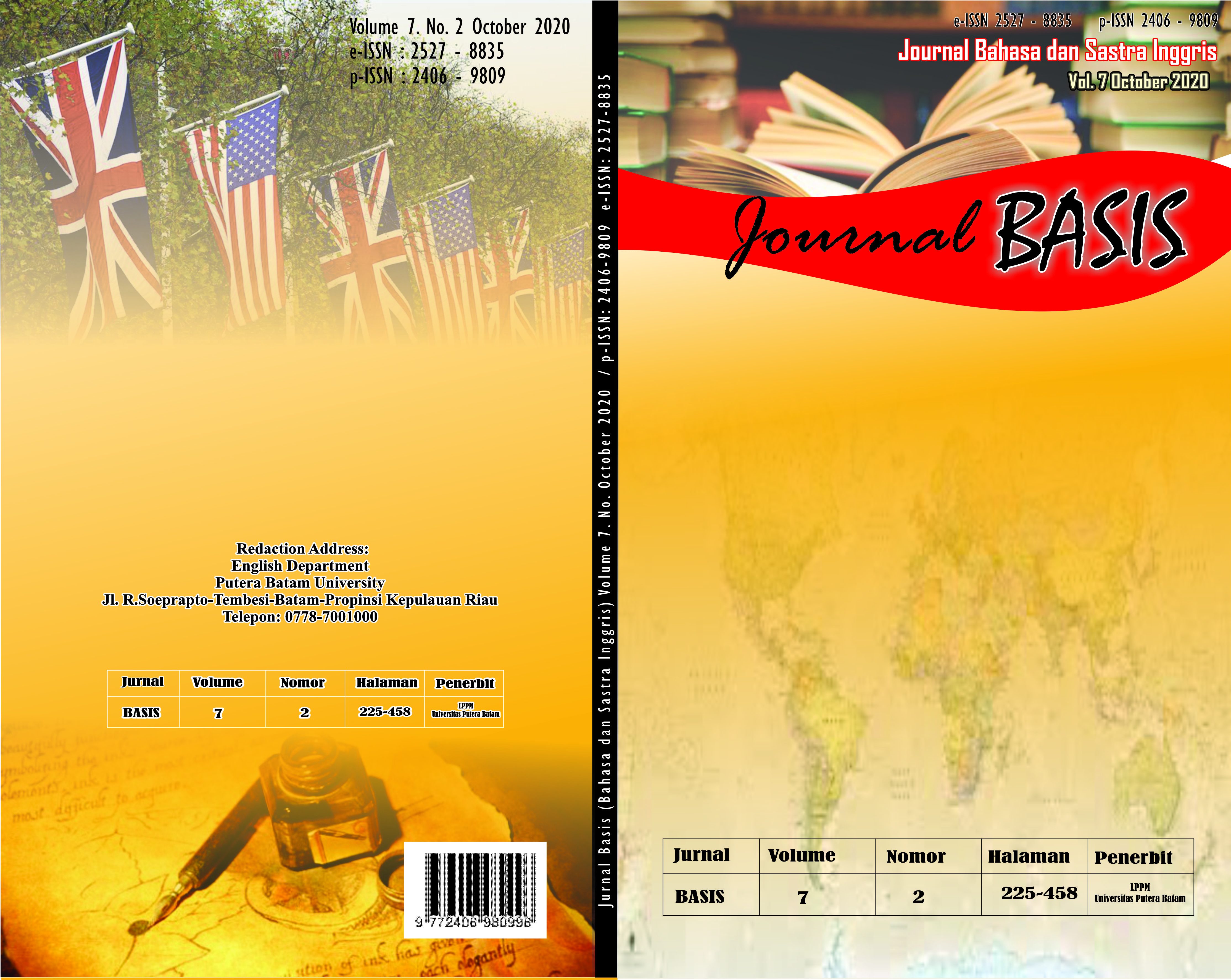 Section
BASIS VOLUME 7 NO 2 OKTOBER 2020