FAKTOR-FAKTOR PENYEBAB RENDAHNYA PENYERAPAN ANGGARAN SATUAN KERJA PERANGKAT DAERAH DI PROVINSI RIAU TAHUN ANGGARAN 2012
Alsar Andri

Universitas Islam Kuantan Singingi

Askarmin Harun

Universitas Riau Kepulauan

Timbul Dompak

Universitas Putera Batam
Abstract
ABSTRAK
Penyerapan anggaran merupakan salah satu indikator keberhasilan Satuan Kerja Perangkat Daerah dalam menjalankan programnya. Tujuan penelitiaan untuk mengetahui faktor-faktor yang menyebabkan rendahnya penyerapan anggaran pada Satuan Kerja Perangkat Daerah di Provinsi Riau tahun anggaran 2012. Penelitian ini menggunakan metode penelitian survey, tingkat eksplanasinya deskriptif serta menggunakan analisis data kualitatif. Hasil penelitian ini menyimpulkan penyebab faktor rendahnya penyerapan anggaran tersebut adalah : Faktor administrasi, faktor waktu, faktor perencanaan kegiatan yang tidak matang, faktor dalam memahami peraturan, faktor lelang, faktor lambatnya pengesahan APBD 2012, faktor perpindahan pejabat/pegawai dan faktor Pekan Olahraga Nasional (PON) ke XVIII di Provinsi Riau tahun 2012.
Kata Kunci : Penyerapan Anggaran
ABSTRACT
Budget absorption is one indicator of the success of Regional Work Units in carrying out their programs. The purpose of this research is to find out the factors that caused the low absorption of the budget in the Regional Work Unit in Riau Province in the 2012 fiscal year. This study used survey research methods, the level of exploration was descriptive and used qualitative data analysis. The results of this study conclude that the causes of the low absorption of the budget are: Administrative factors, time factors, non-mature activity planning factors, factors in understanding regulations, auction factors, factors in slowing down the 2012 APBD, factor transfer of functionary and National Sports Week factors ( PON) XVIII in Riau Province in 2012.
Keyword : Absorbtion of Budget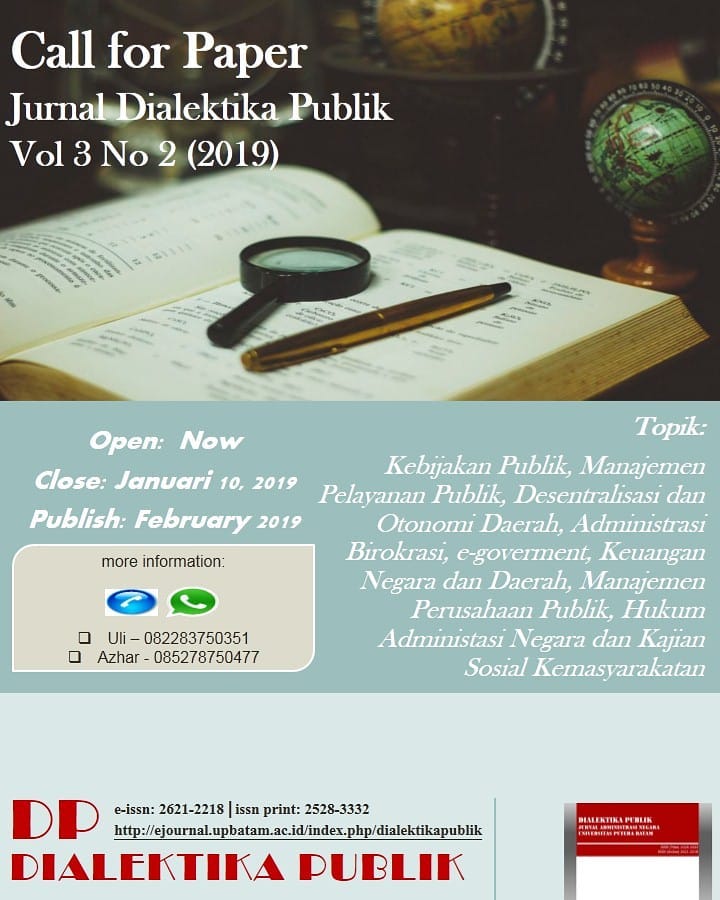 How to Cite
ANDRI, Alsar; HARUN, Askarmin; DOMPAK, Timbul. FAKTOR-FAKTOR PENYEBAB RENDAHNYA PENYERAPAN ANGGARAN SATUAN KERJA PERANGKAT DAERAH DI PROVINSI RIAU TAHUN ANGGARAN 2012.
Dialektika Publik : Jurnal Administrasi Negara Universitas Putera Batam
, [S.l.], v. 3, n. 2, p. 17-25, mar. 2019. ISSN 2621-2218. Available at: <
http://ejournal.upbatam.ac.id/index.php/dialektikapublik/article/view/1026
>. Date accessed: 30 july 2021.