PENGARUH ANALISIS KREDIT DAN PENGAWASAN KREDIT TERHADAP KREDIT BERMASALAH PADA PT BANK PERKREDITAN RAKYAT DANA NAGOYA DI KOTA BATAM
Jurnal Akuntansi Barelang

081263285030
Abstract
The purpose of this research to find out the influence of credit analysis and credit control to a bad debt partially or simultaneously. The population of this research is all the employees of PT Bank Perkreditan Rakyat Nagoya in Batam. The number of samples in this research is about 109 respondents that uses simple random sampling method. This research had been done by descriptive method and design of causality method. The results showed that the credit analysis and credit monitoring significant effect on non performing loans, this is evidenced by the significant value of credit analysis at t test of 0.000 <0.05 and 8.053 tcount> t table 1.982, and credit monitoring t test of 0.000 <0.05 and tcount 5.984> 1.982 t tabel. Partial test and simultaneous test shows that significant credit analysis of non performing loans and credit control influential significantly on non performing loans.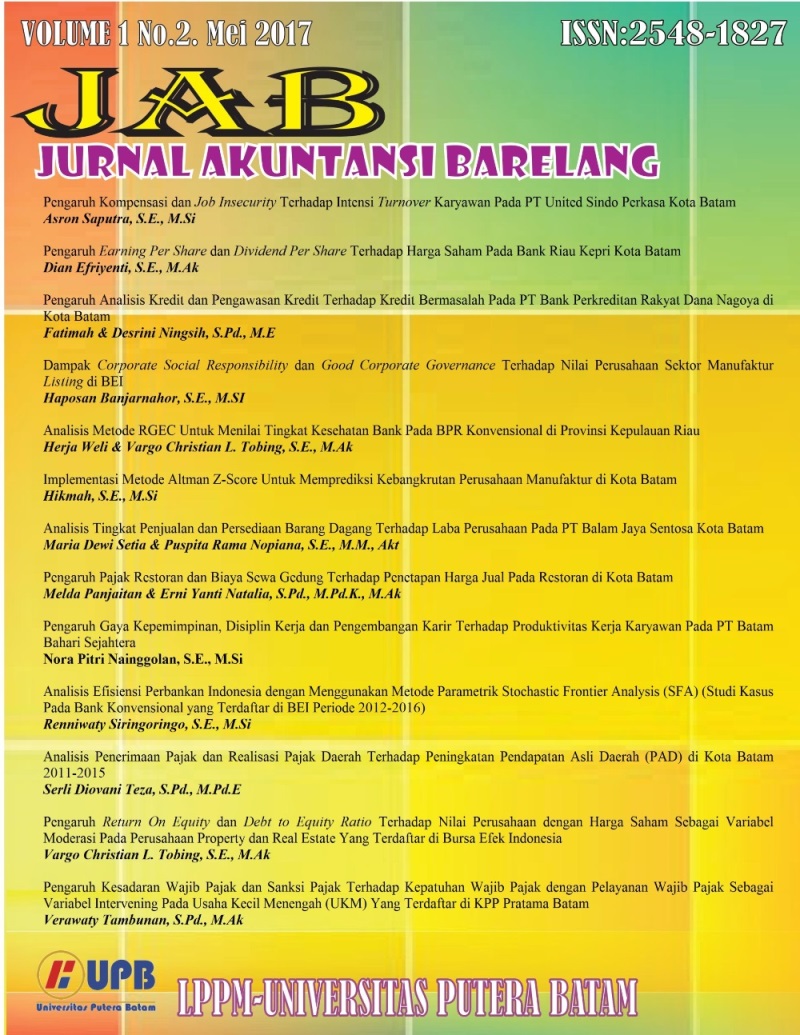 How to Cite
BARELANG, Jurnal Akuntansi. PENGARUH ANALISIS KREDIT DAN PENGAWASAN KREDIT TERHADAP KREDIT BERMASALAH PADA PT BANK PERKREDITAN RAKYAT DANA NAGOYA DI KOTA BATAM.
JURNAL AKUNTANSI BARELANG
, [S.l.], v. 1, n. 2, p. Fatimah dan Desrini (49-61), nov. 2017. ISSN 2580-5118. Available at: <
http://ejournal.upbatam.ac.id/index.php/jab/article/view/169
>. Date accessed: 16 jan. 2019.