PENGARUH PAJAK RESTORAN DAN BIAYA SEWA GEDUNG TERHADAP PENETAPAN HARGA JUAL PADA RESTORAN DI KOTA BATAM
Jurnal Akuntansi Barelang

081263285030
Abstract
This study was conducted to see how much influence the cost of renting a restaurant tax on the selling price of the issue at several restaurants in the Batam City. Desian descriptive data using a convenience survey method in which respondents 300 respondents taken as a population and a sample of 75 respondents drawn. Instrument of data collected techniques using the form questionnaire for analyzed. The research data were analyzed using correlation technique using the linear regression equation suggests that partial berganda. The results of the research is showed some result finding, there are: each variable tax and rent restaurant building positive and significant effect on the determination of the selling price is seen darihasil value t counted bigger than t table, ie 2.065 <​​1.992 so the statement hypothesis states that there is influence of variables x1 to variable y is acceptable. Judging from the T value greater than t table, ie 3.949 <1.992 so the statement hypothesis states that there is influence between variables x2 to variable y is acceptable. The study found that there is value contribution of the study variables are shown at 0.352 or 35.2% of the value of the contribution of research variables influence the restaurant tax and rent, while the remaining 64.8% is influenced by other variables not examined in this riset.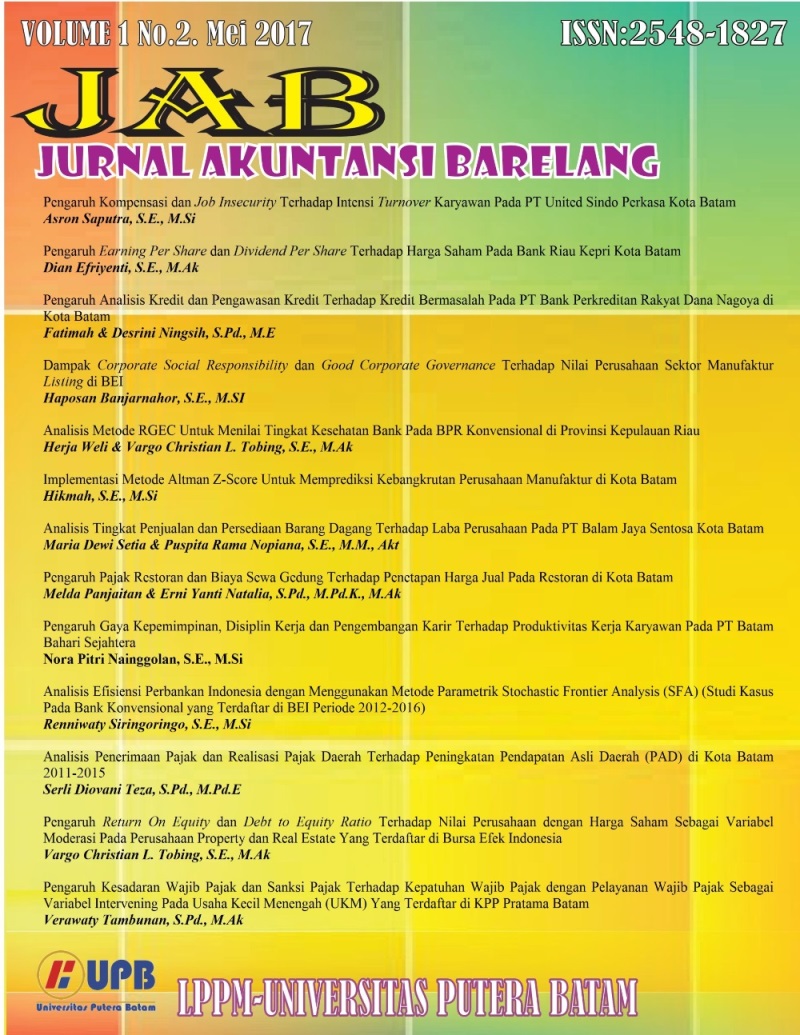 How to Cite
BARELANG, Jurnal Akuntansi. PENGARUH PAJAK RESTORAN DAN BIAYA SEWA GEDUNG TERHADAP PENETAPAN HARGA JUAL PADA RESTORAN DI KOTA BATAM.
JURNAL AKUNTANSI BARELANG
, [S.l.], v. 1, n. 2, p. Melda dan Erni (116-128), nov. 2017. ISSN 2580-5118. Available at: <
http://ejournal.upbatam.ac.id/index.php/jab/article/view/175
>. Date accessed: 16 jan. 2019.