ANALISIS PERSEPSI MASYARAKAT TERHADAP KINERJA BADAN PENGUSAHAAN BATAM (BP BATAM) DALAM MENGELOLA INFRASTRUKTUR (STUDI KASUS BANDAR UDARA HANGNADIM BATAM)
Jurnal Akuntansi Barelang

081263285030
Abstract
Batam city, one of the biggest  industry city in Riau Islands province, already evolves as an investation destination and becomes a center of business activities. Batam development accelerated by infrastructure development wich  increase investment rates. The main focused of infrastucture development is airport,  Hangnadim Batam Airport, with  BP Batam as the main managing. The aim of this research is for review  society perception, to find and the most prominent indicators that should improved by BP Batam to improve managing performance of Batam Hangnadim Airport. Analysis Cohran Q test was used as a research methodology, the results show as many as 13 stages obtained asymp sig 0.087> α of 5% and the  value Cochran Q Test is 30, 230 <table Chi Square of 123, 23 and from 35 indicators, researchers found  21 indicators that most affect Batam BP's performance, the other 14 indicators should evaluated by BP Batam to improves the managing performance of Batam Hangnadim Airport  infrastructure.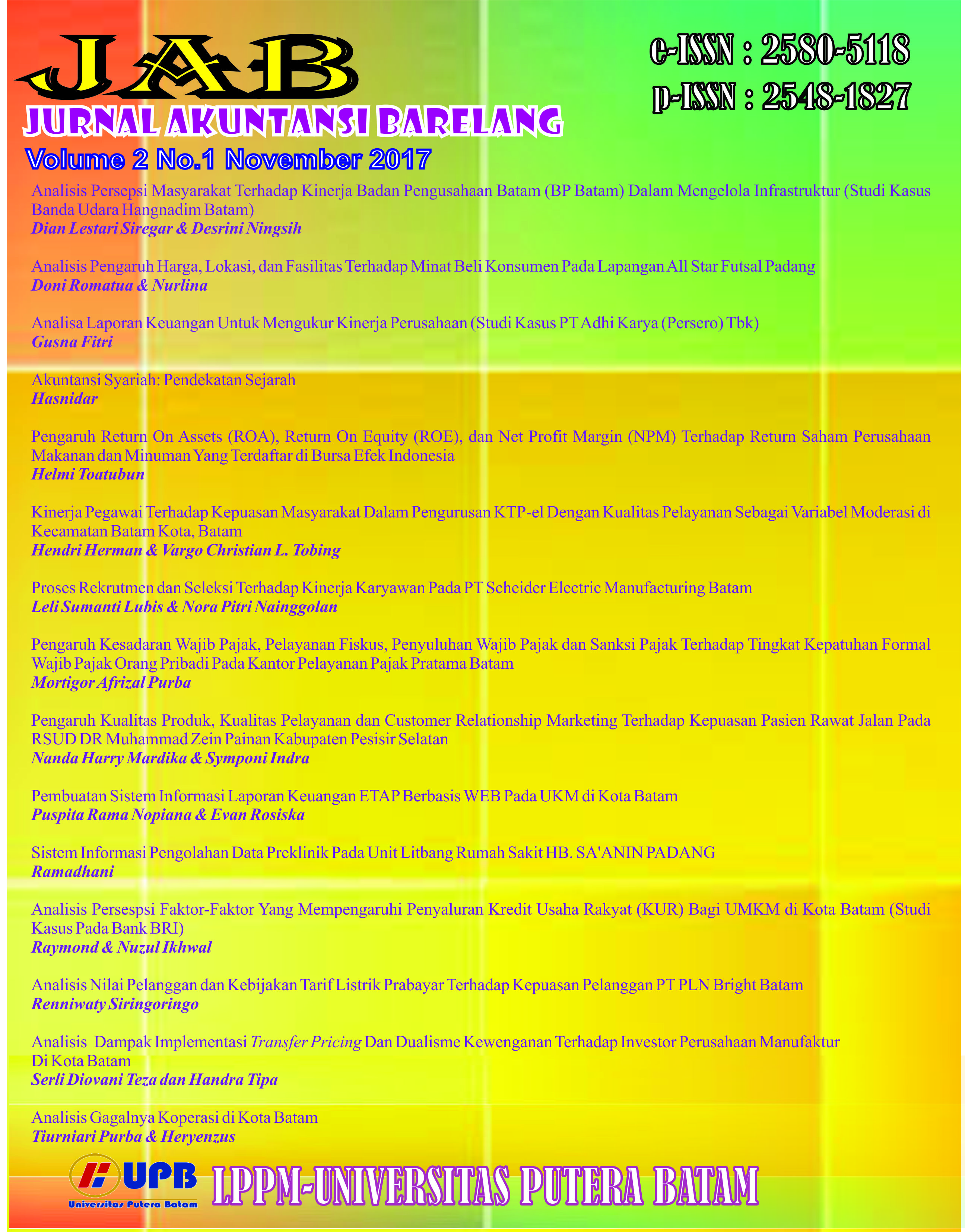 How to Cite
BARELANG, Jurnal Akuntansi. ANALISIS PERSEPSI MASYARAKAT TERHADAP KINERJA BADAN PENGUSAHAAN BATAM (BP BATAM) DALAM MENGELOLA INFRASTRUKTUR (STUDI KASUS BANDAR UDARA HANGNADIM BATAM).
JURNAL AKUNTANSI BARELANG
, [S.l.], v. 2, n. 1, p. Dian Siregar dan Desrini Ningsih (1-13), dec. 2017. ISSN 2580-5118. Available at: <
http://ejournal.upbatam.ac.id/index.php/jab/article/view/215
>. Date accessed: 22 sep. 2019.