KINERJA PEGAWAI TERHADAP KEPUASAN MASYARAKAT DALAM PENGURUSAN KTP-el DENGAN KUALITAS PELAYANAN SEBAGAI VARIABEL MODERASI DI KECAMATAN BATAM KOTA, BATAM
Jurnal Akuntansi Barelang

081263285030
Abstract
Public service is a government obligation in providing services needed by the community. In accordance with Act No. 23 of 2006 concerning the administration of population that to provide protection, recognition, determination of personal status and legal status of any important population events and events experienced by Indonesians and Indonesian citizens outside Indonesia, a regulation of population administration . Community as the recipient of services from government agencies will certainly receive services provided by the government agencies. The community as the recipient of services would want a high level of satisfaction in terms of the management of ID cards. Communities often issue complaints regarding bureaucratic tortuous, lack of transparency and loaded with collusion, corruption and nepotism. Therefore, it is necessary strategy and policy of public service which is based on the strengths, weaknesses, opportunities and threats owned by the local area. This research was conducted to fulfill the duty of lecturer in Tri Dharma Perguruan Tinggi. This study was conducted with the aim to see Employee Performance Against Public Satisfaction in the Management of KTP-el With Quality Service As Moderation Variables in Batam City Sub-district, Batam. This research is a quantitative descriptive research where research data is processed by using SPSS tools. The research was conducted in Kecamatan Batam Kota. The population in this research is the community of Baloi Permai village that conducts the KTP-el. The sample in this study amounted to 164 people. The results obtained from this study is the performance of employees significant effect on community satisfaction, and the quality of service does not affect the relationship between employee performance to community satisfaction.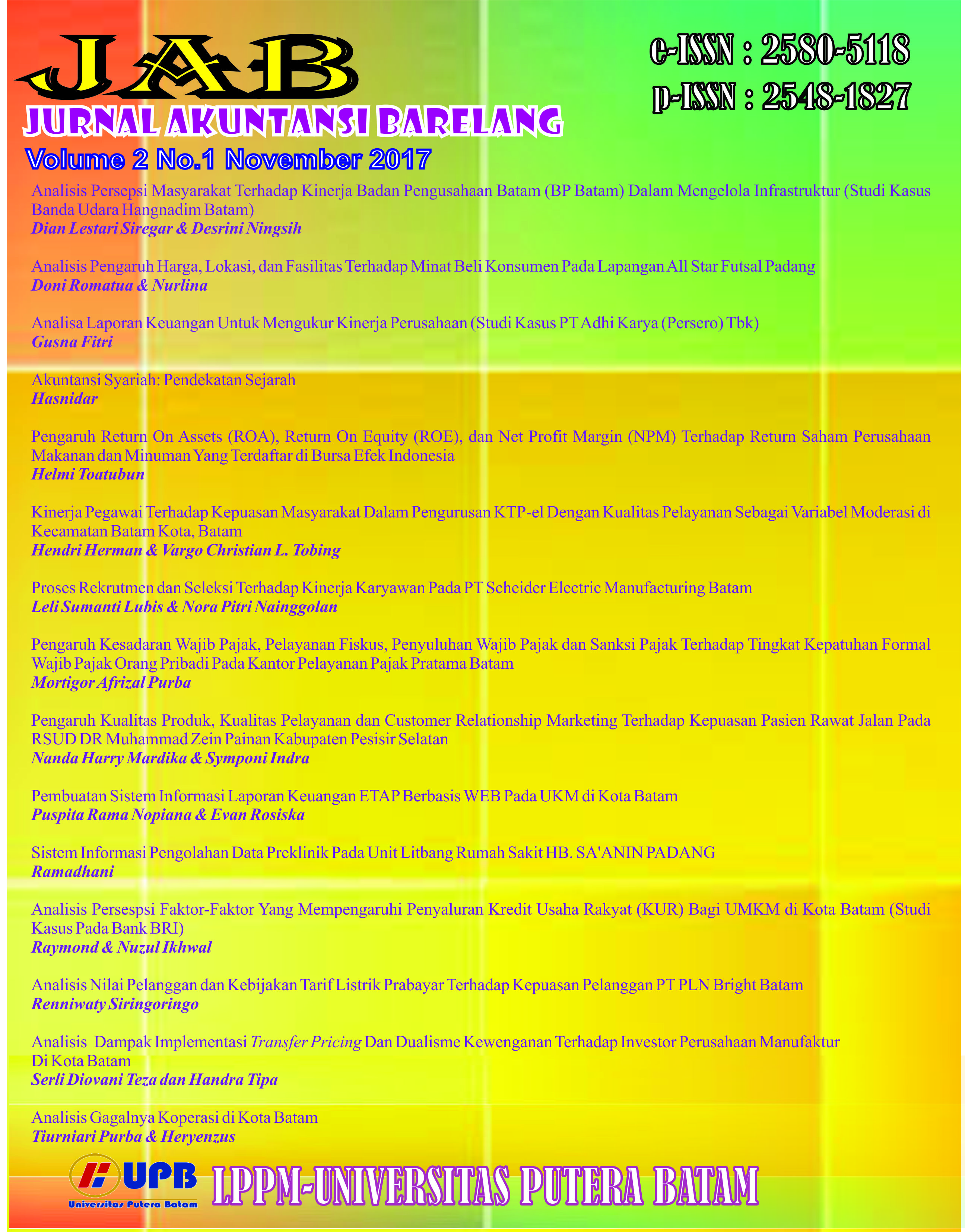 How to Cite
BARELANG, Jurnal Akuntansi. KINERJA PEGAWAI TERHADAP KEPUASAN MASYARAKAT DALAM PENGURUSAN KTP-el DENGAN KUALITAS PELAYANAN SEBAGAI VARIABEL MODERASI DI KECAMATAN BATAM KOTA, BATAM.
JURNAL AKUNTANSI BARELANG
, [S.l.], v. 2, n. 1, p. Hendri Herman dan Vargo(61-75), jan. 2018. ISSN 2580-5118. Available at: <
http://ejournal.upbatam.ac.id/index.php/jab/article/view/255
>. Date accessed: 17 nov. 2019.