Analisis Pertumbuhan Usaha Kecil Menengah, dan Tenaga Kerja Terhadap Pertumbuhan Ekonomi Kota Batam
Intan Utna Sari

Putera Batam University

Asron Saputra

Putera Batam University
Abstract
One of the important benchmarks in determining the success of economic development is economic growth. The role of the government in trying to achieve development success is to determine the direction of development policy and to achieve the development goals it is necessary to have good development planning to realize stable economic growth in order to improve the welfare of the community is by improving Small And Medium Enterprises and Labor. This research aims to find out the simultaneous and partial influence of Small and Medium Enterprises, and Labor on the economic growth of Batam city. The data source is secondary data using data panels consisting of three years of time series data and cross section data of nine sub-districts that produce 45 observations. The analytical technique used to solve the problem in this study is by multiple linear regression analysis models. The results of this study show that simultaneously Small and Medium Enterprises and labor have a significant effect on economic growth in Batam City. This indicates that the number of SMEs (Small and Medium Enterprises) and labor in batam city can be the determinant of the economic growth rate in batam city. This is because SMEs and Labor are activities that can produce goods or services. In part, Small and Medium Enterprises and labor have a positive and significant effect on economic growth in Batam City, meaning that if the number of SMEs and labor is increased then economic growth will also increase.
References
Awandari, L., & Indrajaya, I. (2016). Pengaruh Infrastruktur, Investasi, dan Pertumbuhan Ekonomi Terhadap Kesejahteraan Masyarakat Melalui Kesempatan Kerja. E-Jurnal Ekonomi Pembangunan Universitas Udayana.
BPS-Statistics Indonesia. (2020). Statistik Indonesia. Statistical Yearbook of Indonesia. https://doi.org/10.3389/fpsyg.2015.00002
Giulietti, & Assumpção. (2019). UU REPUBLIK INDONESIA NOMOR 20 TAHUN 2008 TENTANG USAHA MIKRO, KECIL, DAN MENENGAH. Journal of Chemical Information and Modeling. https://doi.org/10.1017/CBO9781107415324.004
Hellen, H., Mintarti, S., & Fitriadi, F. (2018). Pengaruh investasi dan tenaga kerja serta pengeluaran pemerintah terhadap pertumbuhan ekonomi serta kesempatan kerja. INOVASI. https://doi.org/10.29264/jinv.v13i1.2490
Oliver, J. (2019). pengertian pertumbuhan ekonomi. Pengantar Ekonomi Pembangunan. https://doi.org/10.1017/CBO9781107415324.004
Priyatno, D. (2014). SPSS 22 Pengola Data Terpraktis. Yogyakarta, Andi.
Rakhmawati.R. (2016). Pengaruh Indeks Pembangunan Manusia (IPM), Tenaga Kerja, Dan Pendidikan Terhadap Pertumbuhan Ekonomi Di Provinsi Jawa Tengah. Ekonomi Pembangunan.
Sukirno, S. (2011). Teori Pengantar Ekonomi Makro. Jakarta.
Talangamin, O. B., Kindangen, P. ., & Koleangan, R. A. M. (2019). PENGARUH PENDAPATAN ASLI DAERAH (PAD), DANA ALOKASI UMUM DAN DANA ALOKASI KHUSUS TERHADAP PERTUMBUHAN EKONOMI DI KOTA TOMOHON. JURNAL PEMBANGUNAN EKONOMI DAN KEUANGAN DAERAH. https://doi.org/10.35794/jpekd.19897.19.7.2018
Wihastuti, L., & Rahmatullah, H. (2018). Upah Minimum Provinsi ( UMP ) Dan Penyerapan Tenaga Kerja di Pulau Jawa. Gamma Societa.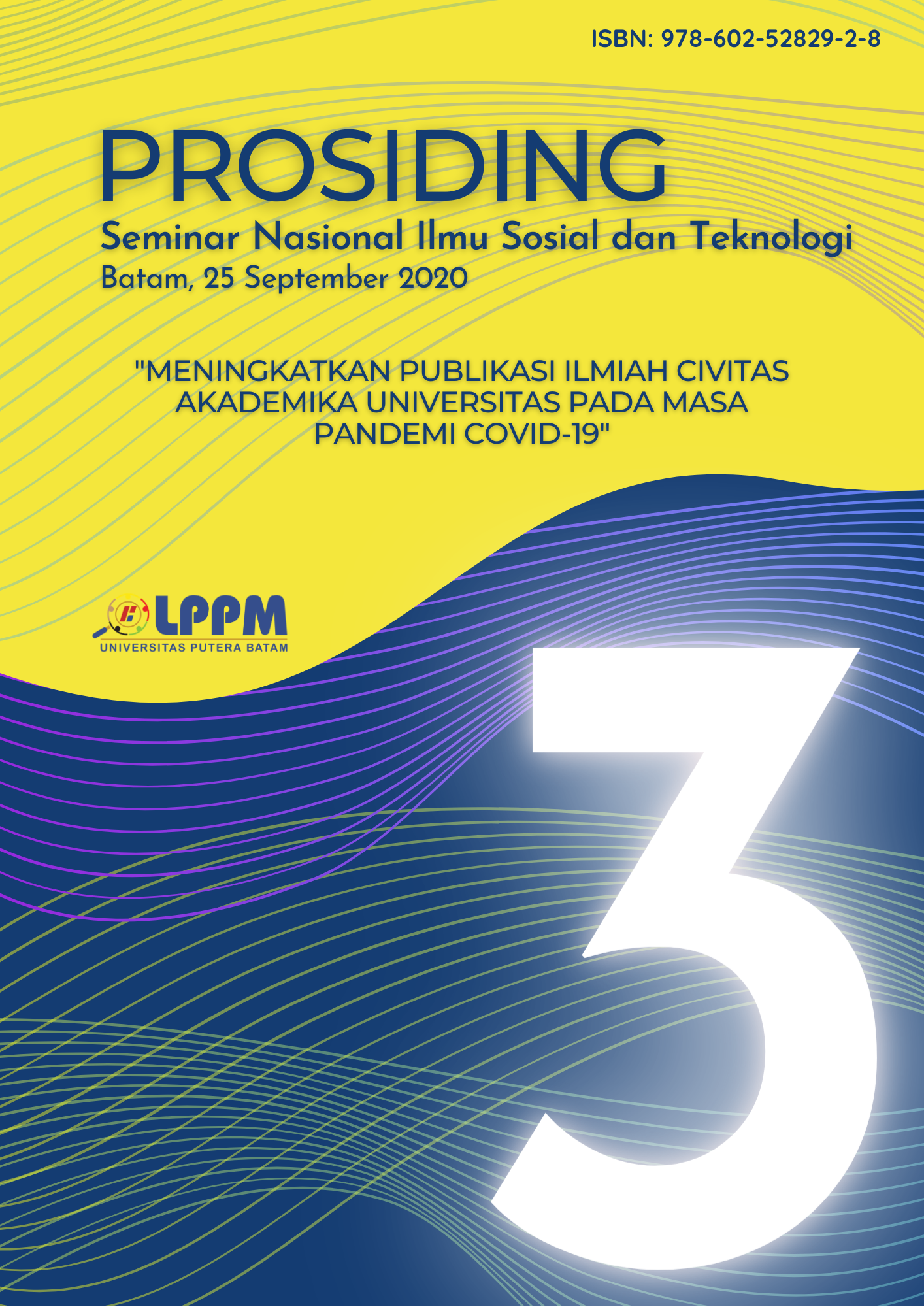 How to Cite
SARI, Intan Utna; SAPUTRA, Asron. Analisis Pertumbuhan Usaha Kecil Menengah, dan Tenaga Kerja Terhadap Pertumbuhan Ekonomi Kota Batam.
Prosiding Seminar Nasional Ilmu Sosial dan Teknologi (SNISTEK)
, [S.l.], n. 3, p. 73-78, jan. 2021. Available at: <
http://ejournal.upbatam.ac.id/index.php/prosiding/article/view/3617
>. Date accessed: 11 apr. 2021.
This work is licensed under a Creative Commons Attribution 4.0 International License.