Analisis Faktor-Faktor Yang Mempengaruhi Kecenderungan Kecurangan Akuntansi Pada Perusahaan Di Kota Batam
Erni Yanti Natalia

Suryo Budi Pranoto
Abstract
Some phenomena that occurred in recent years shows the number of fraudulent practices that occur within the company that involves accounting and directors of companies in the city of Batam. In 2015, the Batam District Court again tried the alleged embezzlement case worth Rp.36 billion with the defendant Director of PT EMR Indonesia. Owner of PT EMR Indonesia sued the director and his accounting. Owner questioned the difference of financial statements of companies engaged in the trade of plastics and metal goods in Tanjung Uncang, Batam. This study aims to determine several factors that influence the tendency of accounting fraud in the existing company in Batam City. The population in this study are employees of companies working in the department of accounting, finance, purchasing and the like. Sampling technique in this research use non-probability sampling. The method used is judgmental sampling where sampling is done by based on criteria, so the total sample is 75 respondents. The result of the research shows that Compliance of Compensation has no effect on Accounting Fraud Trend with value of sig 0,829>0,05; Unethical Behavior influences Accounting Fraud Trend with sig value 0,000<0,05; Compliance of Compensation and Unethical Behavior simultaneously affect the Accounting Fraud Trend with sig value 0,000<0,05. The value of determination coefficient (R Square) of 0.267 (26.7%), which means 26.7% variation of variables can be explained by the variable Compliance and Unethical Compliance, while the remaining 73.3% is explained by variations of other variables that are not contained in this research model.
References
Adelin, V. (2013). Pengaruh pengendalian intern, ketaatan aturan akuntansi, dan perilaku tidak etis terhadap kecenderungan kecurangan akuntansi (Studi Empiris pada BUMN di Kota Padang). Program Studi Akuntansi. Universitas Negeri Padang. Padang.
Fauwzi, M., G H. (2011). Analisis pengaruh keefektifan pengendalian intern, persepsi kesesuaian kompensasi, moralitas manajemen terhadap perilaku tidak etis dan kecenderungan kecurangan akuntansi. Universitas Diponegoro. Semarang.
http://www.antarakepri.com/berita/36262/pn-batam-kembali-sidangkan-terdakwa-penggelapan-rp36-miliar per tanggal 22 Desember 2015.
http://m.batamtoday.com/berita-69488-Gelapkan-Uang-Perusahaan,-Ivone-Dituntut-27-Bulan-Penjara.html per tanggal 31 Maret 2016.
http://batam.tribunnews.com/2014/12/19/akibat-tindakan-culas-rm-pt-yeb-alami-kerugian-hingga-rp1-miliar per tanggal 12 Desember 2014.
Kusumastuti, N R. (2012). Analisis faktor-faktor yang berpengaruh terhadap kecenderungan kecurangan akuntansi dengan perilaku tidak etis sebagai variabel intervening. Universitas Diponegoro. Semarang.
Rumengan, Jemmy, dkk. 2013. Statistik Penelitian. Bandung: Cipta Pustaka.
Sekaran, Uma. (2006). Metodologi Penelitian untuk Bisnis. Jakarta: Salemba Empat.
Sutrisno, E H. (2013). Manajemen Sumber Daya Manusia. Cetakan kelima. Edisi Pertama. Jakarta: Kencana Prenada Media Group.
Tuanakotta, T M. (2010). Akuntansi Forensik & Audit Investigatif. Salemba Empat. Jakarta.
William, Boynton. (2006). Modern Audit. Edisi 7 Jilid 1. New York: John Wiley and Sons, Inc.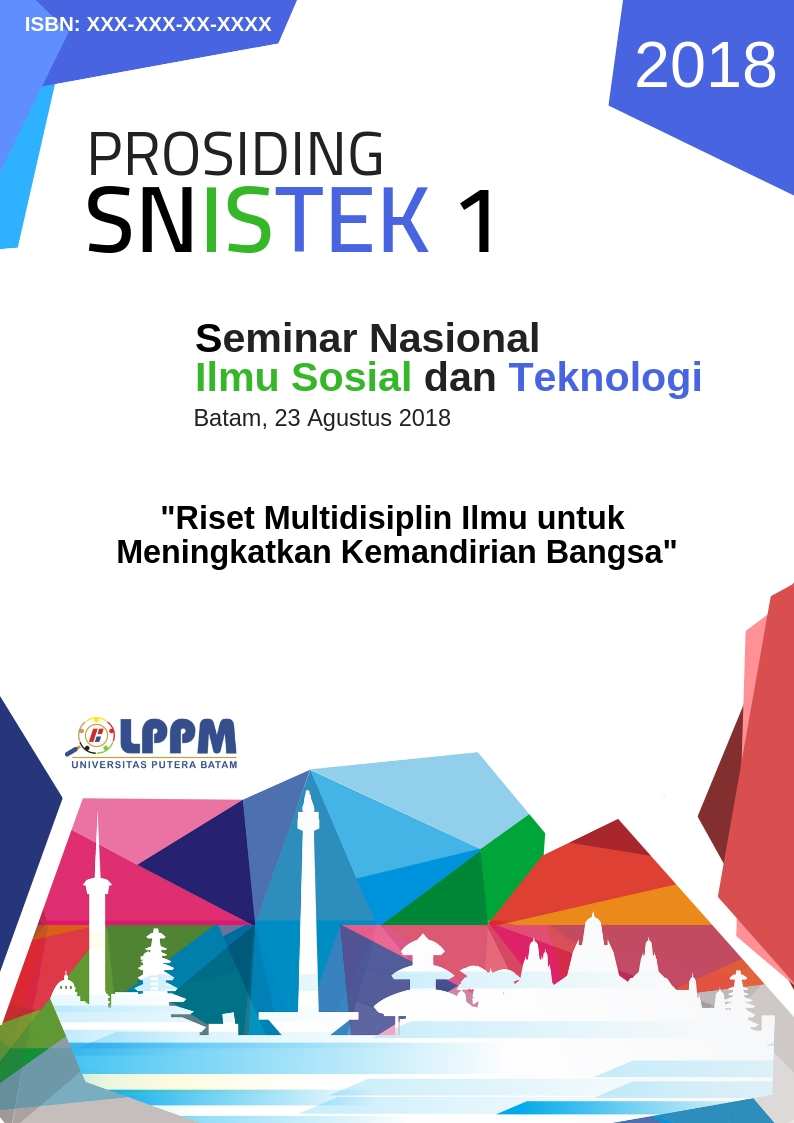 How to Cite
NATALIA, Erni Yanti; PRANOTO, Suryo Budi. Analisis Faktor-Faktor Yang Mempengaruhi Kecenderungan Kecurangan Akuntansi Pada Perusahaan Di Kota Batam.
Prosiding Seminar Nasional Ilmu Sosial dan Teknologi (SNISTEK)
, [S.l.], n. 1, p. 49-54, oct. 2018. Available at: <
http://ejournal.upbatam.ac.id/index.php/prosiding/article/view/743
>. Date accessed: 27 may 2020.
This work is licensed under a Creative Commons Attribution 4.0 International License.