Analisis Bunga Bank Dan Jaminan Terhadap Pengambilan Kredit Oleh Pelaku Usaha Property Di Kota Batam
Handra Tipa

Mortigor Afrizal Purba
Abstract
One of the factors that become an aspect of the failure of property businesses in accessing Working Capital Loans and Investment Loans is the misunderstanding of the business actors referred to what factors are important assessments of banks in lending. This study aims to analyze the factors that influence credit taking by property businesses in Batam City. So that it will be obtained the most dominant factor that influences the debtor in making credit decisions. This study also aims to provide input to policy makers related to the progress and development of property businesses in Batam City in particular, because land ownership status in Batam is different from other regions in Indonesia. Based on data processing in the field of interest has a significant influence on the taking of credit by property businesses in the city of Batam because the credit period greatly affects the decision of property businesses who want profits in doing business or using it as capital in running the business. Guarantee is also a determining factor by property businesses in making credit decisions. The greater the collateral used in taking credit will also get greater capital, especially for businesses that can be said to be relatively small so that they have difficulty getting larger business capital as well.
References
Bank Indonesia. (2016). Peraturan Bank Indonesia tentang usaha mikro, kecil, dan menengah.
Efriyenti Dian, & Syukrina Viola. (2016). ANALISIS FAKTOR YANG MEMPENGARUHI PENGAMBILAN KREDIT PELAKU UKM PADA DEBITUR BPR KOTA BATAM.
Gandhiar, & Nova. (2013). Peran Kredit BPR Bank Pasar Pada Perkembangan UMKM Di Kota Pontianak. Curvanomic, Vol 2.
Kasmir. (2012). Dasar Dasar Perbankan. Raja Grafindo Persada.
Malik, & Tajuddin. (2008). Pengaruh Pemberian Kredit Kepada Sektor Usaha Mikro, Kecil, Dan Menengah Terhadap Kinerja Keuangan Perbankan Di Sulawesi Selatan. STIELPI, vol 5, 65–75.
Taswan. (2010). Manajemen Perbankan: Konsep, Teknik & Aplikasi (Edisi II). Yogyakarta: Unit Penerbit dan Percetakan STIM YKPN.
Wiyono, & Gendro. (2011). Merancang Penelitian Bisnis dengan Alat Analisis SPSS dan SmartPLS. Yogyakarta: Unit Penerbitan dan Percetakan STIM YKPN.
Zahro, & Inazatuz, B. (2010). Peranan Lembaga Keuangan Mikro Syariah (Lkms) Serta Pengaruhnya Terhadap Usaha Mikro, Kecil Dan Menengah (Umkm) Sebagai Penggerak Perekonomian Di Indonesia. Surabaya: FEB Universitas Airlangga.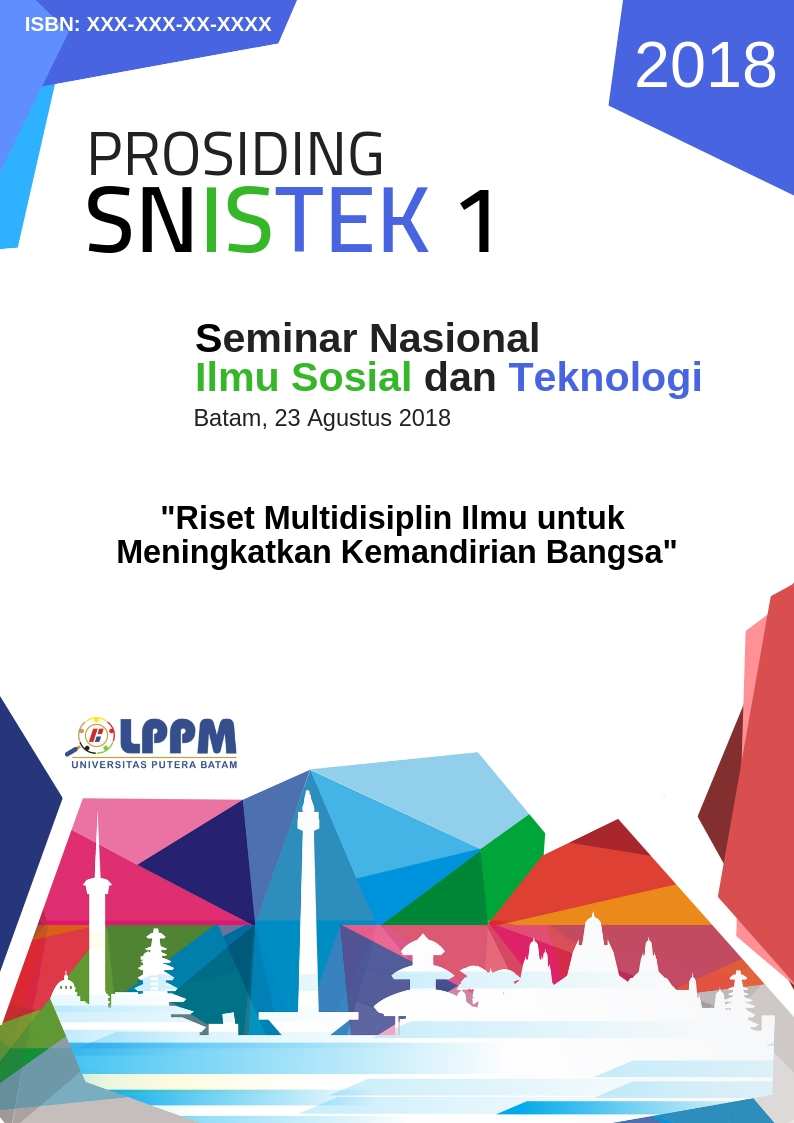 How to Cite
TIPA, Handra; PURBA, Mortigor Afrizal. Analisis Bunga Bank Dan Jaminan Terhadap Pengambilan Kredit Oleh Pelaku Usaha Property Di Kota Batam.
Prosiding Seminar Nasional Ilmu Sosial dan Teknologi (SNISTEK)
, [S.l.], n. 1, p. 73-78, oct. 2018. Available at: <
http://ejournal.upbatam.ac.id/index.php/prosiding/article/view/747
>. Date accessed: 17 nov. 2019.
This work is licensed under a Creative Commons Attribution 4.0 International License.