TEKNIK PENYERAPAN LIMBAH INDUSTRI LOGAM BERAT Cd DENGAN MENGGUNAKAN NANOPARTIKEL HIDROKSIAPATIT
Abstract
The development of industry in the field of electronics is increasingly developing along with the development of technology. The negative impact of these developments is Cd waste (Cadmium). This study aims to measure the absorption capacity of hydroxyapatite nanoparticles in absorption of Cadmium metal which is usually present in electrolytic industrial waste. The absorption of Cd metal is carried out through the technique of hydroxyapatite nanoparticles. The absorption of Cadmium metal is carried out by heating 75oC and carried out by precipitation technique of hydroxyaptite Nanoparticles. Atomic absorption spectrophotometry instrument tools are required in this study. The absorption results show an absorption of 66.36% of the cadmium solution or has a Quantity of 6.77 to the hydroxyapatite nanoparticles.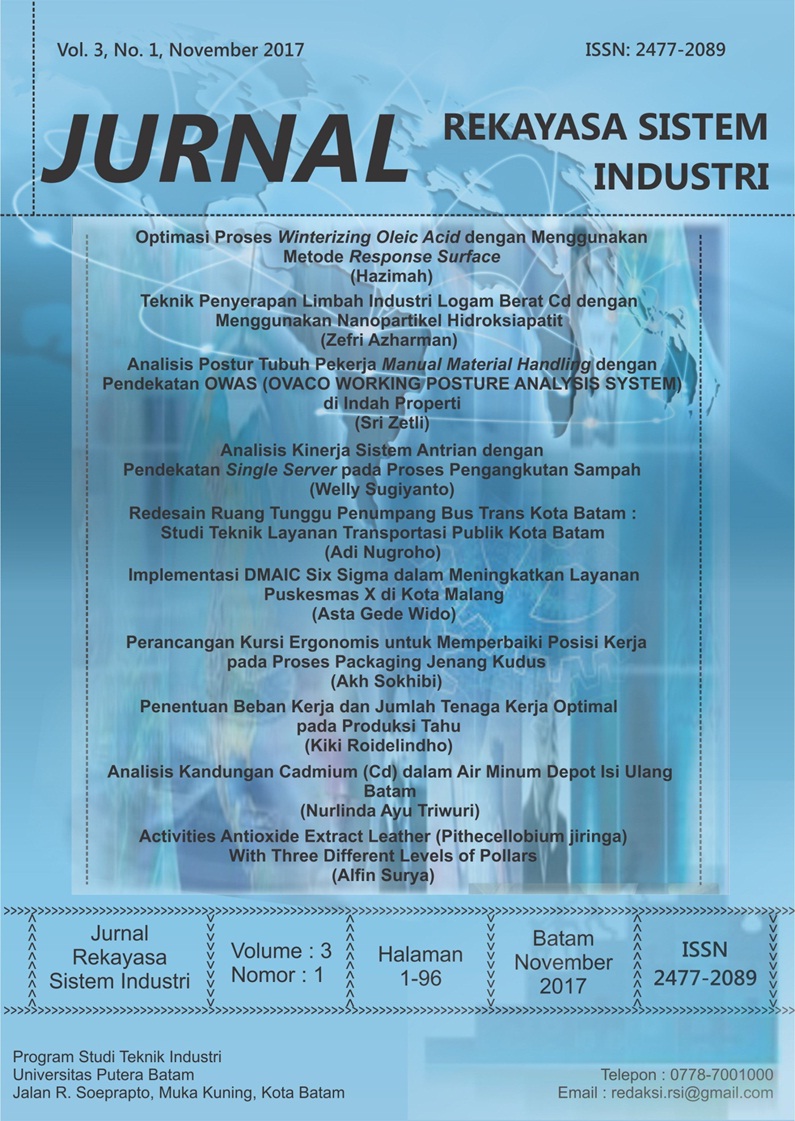 How to Cite
AZHARMAN, Zefri. TEKNIK PENYERAPAN LIMBAH INDUSTRI LOGAM BERAT Cd DENGAN MENGGUNAKAN NANOPARTIKEL HIDROKSIAPATIT.
JURNAL REKAYASA SISTEM INDUSTRI
, [S.l.], v. 3, n. 1, p. 9-15, dec. 2017. ISSN 2621-1262. Available at: <
http://ejournal.upbatam.ac.id/index.php/rsi/article/view/183
>. Date accessed: 16 jan. 2019.