OPTIMASI PROSES WINTERIZING OLEIC ACID DENGAN MENGGUNAKAN METODE RESPONSE SURFACE
Hazimah - Hazimah

Program Studi Teknik Industri Universitas Putera Batam

Evanto Ginting

Program Studi Teknik Industri, Universitas Putera Batam
Abstract
Winterizing is a limited form separation of saturated fatty acids and unsaturated fatty acids, to remove wax and fat has a higher boiling point. To obtain the product specifications, parameters must be control  is cloud point ≤ 7 oC. Response surface method use as a tool to determine the optimum operating conditions in the process of winterizing, the control parameter C16 feed composition, temperature, time. Feed C16 varied 19%, 20%, 21%, temperature varied 10 oC, 10 oC, 11 °C, time varied 14 hours, 14,5 hours, 15 hours for order I and central composite disgn in order II. The results showed feed C16 and temperature are significantly influence the cloud point. Model is Y = 6.920 + 1,429X1 0,636X2 + 1,030X22 1,080X12 - 0,650X1X2. Winterizing process optimization point C16 feed obtained 19.20% and temperature 9.93 oC.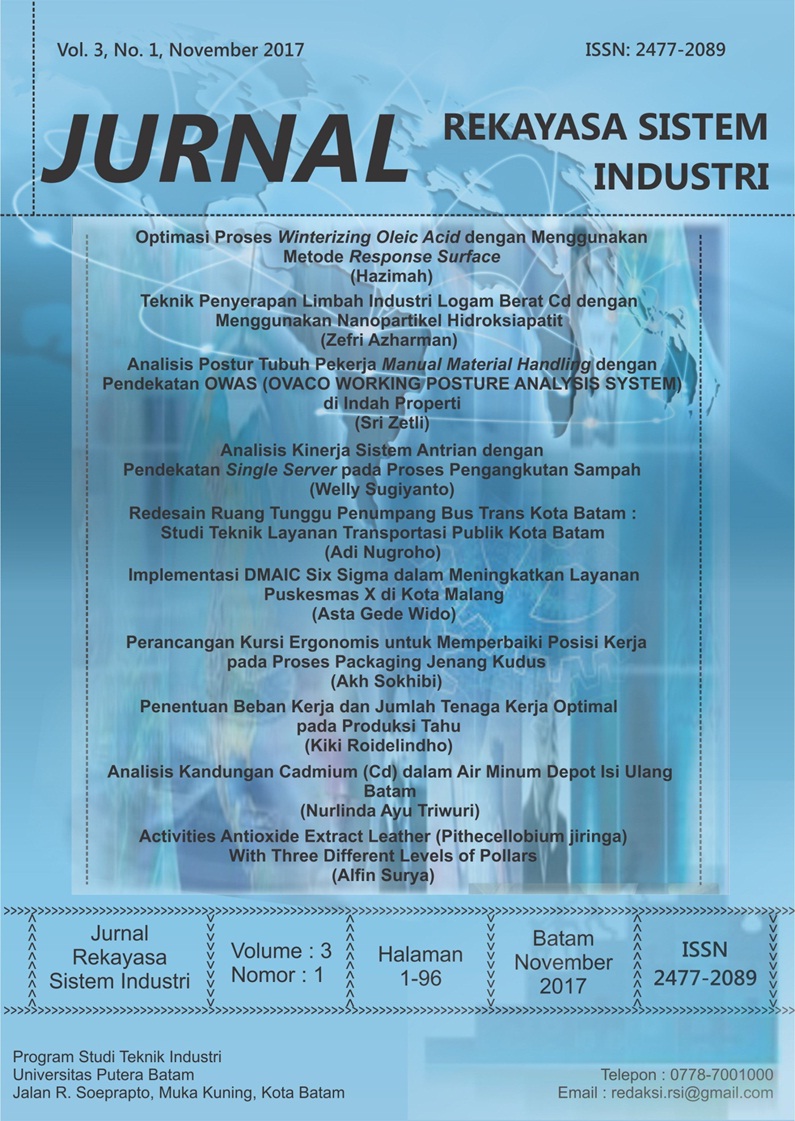 How to Cite
HAZIMAH, Hazimah -; GINTING, Evanto. OPTIMASI PROSES WINTERIZING OLEIC ACID DENGAN MENGGUNAKAN METODE RESPONSE SURFACE.
JURNAL REKAYASA SISTEM INDUSTRI
, [S.l.], v. 3, n. 1, p. 1-8, dec. 2017. ISSN 2621-1262. Available at: <
http://ejournal.upbatam.ac.id/index.php/rsi/article/view/186
>. Date accessed: 16 jan. 2019.