PENGUKURAN KELELAHAN KERJA PADA SOPIR ANGKUTAN UMUM DALAM UPAYA MENGETAHUI FAKTOR KECELAKAAN TRANSPORTASI UMUM DI KOTA BATAM
Sri Zetli

universitas putera batam
Abstract
Fatigue is one of the problems of helath and safety than can become risk factors the occurrence of an accident at work. The exhaustion of causal work and mental as a result of excessive use of the physical or emotional can reduce almost all physical abilities including strength, reaction speed, coordination and decision making or balance. Fatigue in the driver may result in decreased alertness and attention, perceptions and barriers and reaction time during driving. In addition the driver will be sleepy and will likely lose vigilance. In this research took 30 driver Bimbar as sample research. Sources of data used in this study are primary data that is subjective complaints data fatigue with questionnaire using 30 items of common fatigue phenomenon adopted from IFRC (International Fatigue Research Committee of Japan Association of Industrial Health), and interview to the driver to know the age, stats of worker nutrition. As for environmental conditions such as temperature and noise measured directly by using a measuring device. Data analysis using for uni relationship is chi square test and correlate bivariate. The chi square test was obtained for age with p-value was 0.036 (α <0.05), nutritional status (IMT) with p-value was 0.398 (α> 0.05) and the p-value was 0.020 (α < 0.05). While correlate bivariate test results obtained that the environmental temperature with p-value is 0.004 (α <0.05) and for noise level with p-value is 0.010 (α <0.05). So from the test conducted relationship obtained age, working period, temperature and noise there is a significant relationship to work fatigue. While the nutritional status (IMT) there is no significant relationship with fatigue work of public transportation driver Bimbar in Batam City.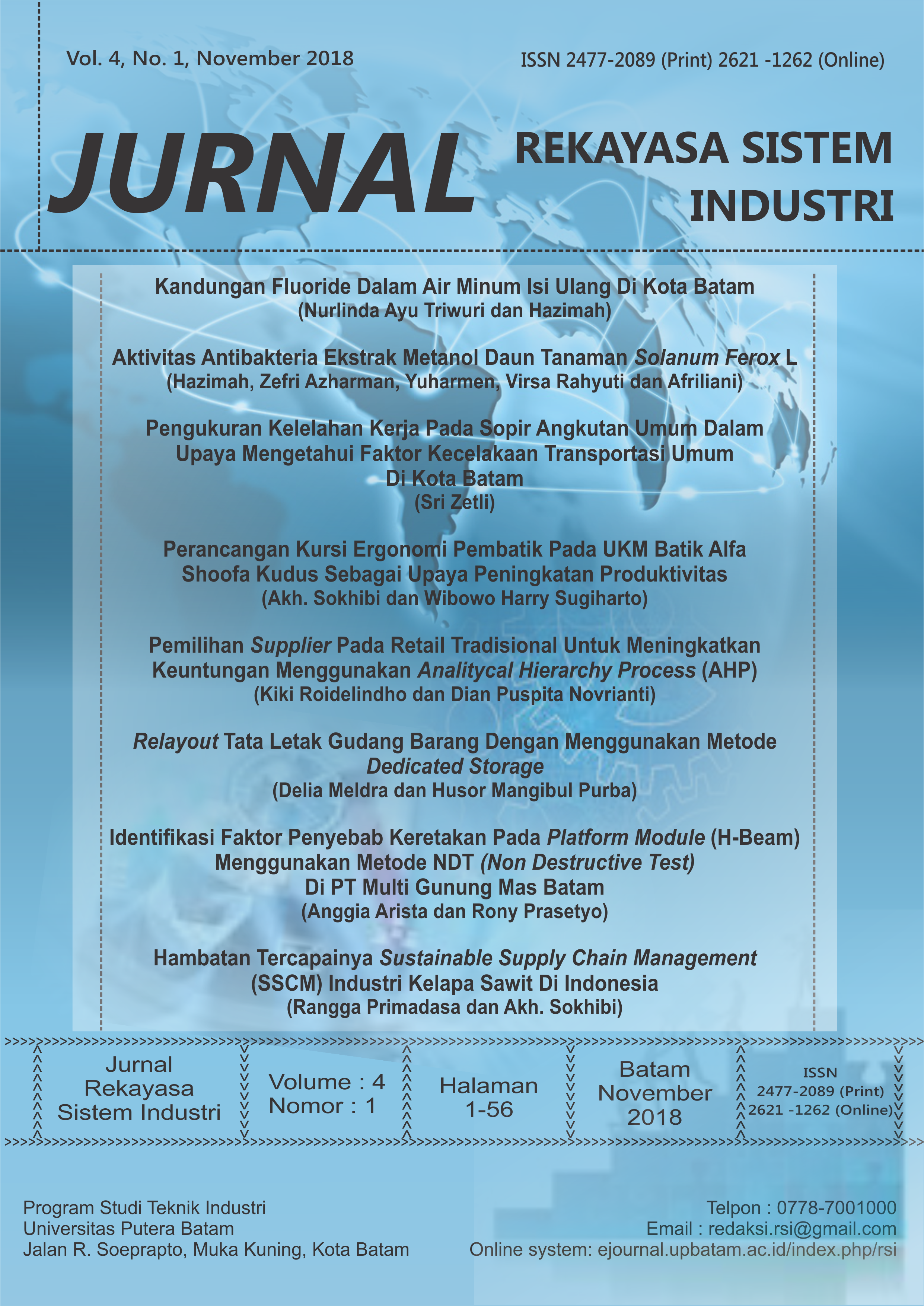 How to Cite
ZETLI, Sri. PENGUKURAN KELELAHAN KERJA PADA SOPIR ANGKUTAN UMUM DALAM UPAYA MENGETAHUI FAKTOR KECELAKAAN TRANSPORTASI UMUM DI KOTA BATAM.
JURNAL REKAYASA SISTEM INDUSTRI
, [S.l.], v. 4, n. 1, p. 11-17, nov. 2018. ISSN 2621-1262. Available at: <
http://ejournal.upbatam.ac.id/index.php/rsi/article/view/576
>. Date accessed: 21 feb. 2019.