THE UNFULFILLED LOVE AND BELONGING NEEDS FOUND BY THE MAIN CHARACTER IN "ANNA KARENINA" BY LEO TOLSTOY: PSYCHOLOGICAL APPROACH
Almita Rumiris Sianipar

Universitas Putera Batam

Ance Jusmaya

Universitas Putera Batam
Abstract
The purpose of this research is to figure out what are causes and effects of unfulfilled love and belonging needs through intimacy in a couple in the main character in Anna Karenina by Leo Tolstoy (1877). In this research, researcher used the theory of Abraham H. Maslow (1970), the Hierarchy of Needs. This research is descriptive qualitative research, In the process of collecting data, researcher used the documentation method by reading the novel "Anna Karenina" and looking for the quotes that related to the formulation of the problem. In the process of analyzing data, researcher used the qualitative method by doing deeper reading technique. The finding of this research are: First, the causes of unfulfilled love and belonging needs towards Anna Karenina's character are getting married without love and affection, age difference, many lies and deception in the family, and Karenin's work and reputation. Second the effects of unfulfilled love and belonging needs in Anna Karenina's character are Anna's affair with another man, Vronsky, driven away from home, hopeless and depressed, losing her good name, almost divorced, Anna was pregnant from Vronsky, and committing suicide. Thus, it can be concluded that the love and belonging needs towards Anna is unfulfilled.
References
Andryushchenko. (2017). The Incident In Forming Adultery Motif In The Artistic Structure Of The Novel "Anna Karenina" By Leo Tolstoy, 3(13), 111–
115.
Arum, E. O., & Melvins Enwuvesi Hanachor. (2017). Abraham Maslow's Hierarchy Of Needs And Assessment Of Needs In Community Development, 5(7), 15–27.
Bennett, A., & Royle, N. (2004). Literature , Criticism, 328.
Creswell, J. W. (2009). Research Design (Third). United States Of America Library: Sage Publications, Inc.
Datta, Y. (2013). Maslow ' S Hierarchy Of Basic Needs : An Ecological View. Oxford Journal: An International Journal Of Business & Economics, 8(1),
53–67.
Deviga, R. (2018). Marriages And Adultery In
Tolstoy ' S Anna Karenina, 4(4), 929–
931.
Garcia, A. (2014). Love, Family And Friendship: A Latin American Perspective, Edited By Agnaldo Garcia. (A. Garcia, Ed.). Cambridge Scholars.
Griffin, E. (2006). Hierarchy Of Needs Of Abraham Maslow. In A First Look At Communication Theory (Pp. 124–133). Mcgraw-Hill.
Goh, M., & Arianto, T. (2019). An effect of psychological conflict to elsa personality development in frozen: psychological approach. Journal BASIS, 6(2), 163–172. https://doi.org/https://doi.org/10.33884/basisupb.v6i2.1412

Kaur, A. (2013). Maslow ' S Need Hierarchy Theory : Applications And Criticisms. Global Journal Of Management And
Business Studies, 3(10), 1061–1064. Mordechai, G. (2015). Educational
Philosophy And Theory Friendship ,
Intimacy And
Humor,(March).Https://Doi.Org/10.108
0/00131857.2012.721732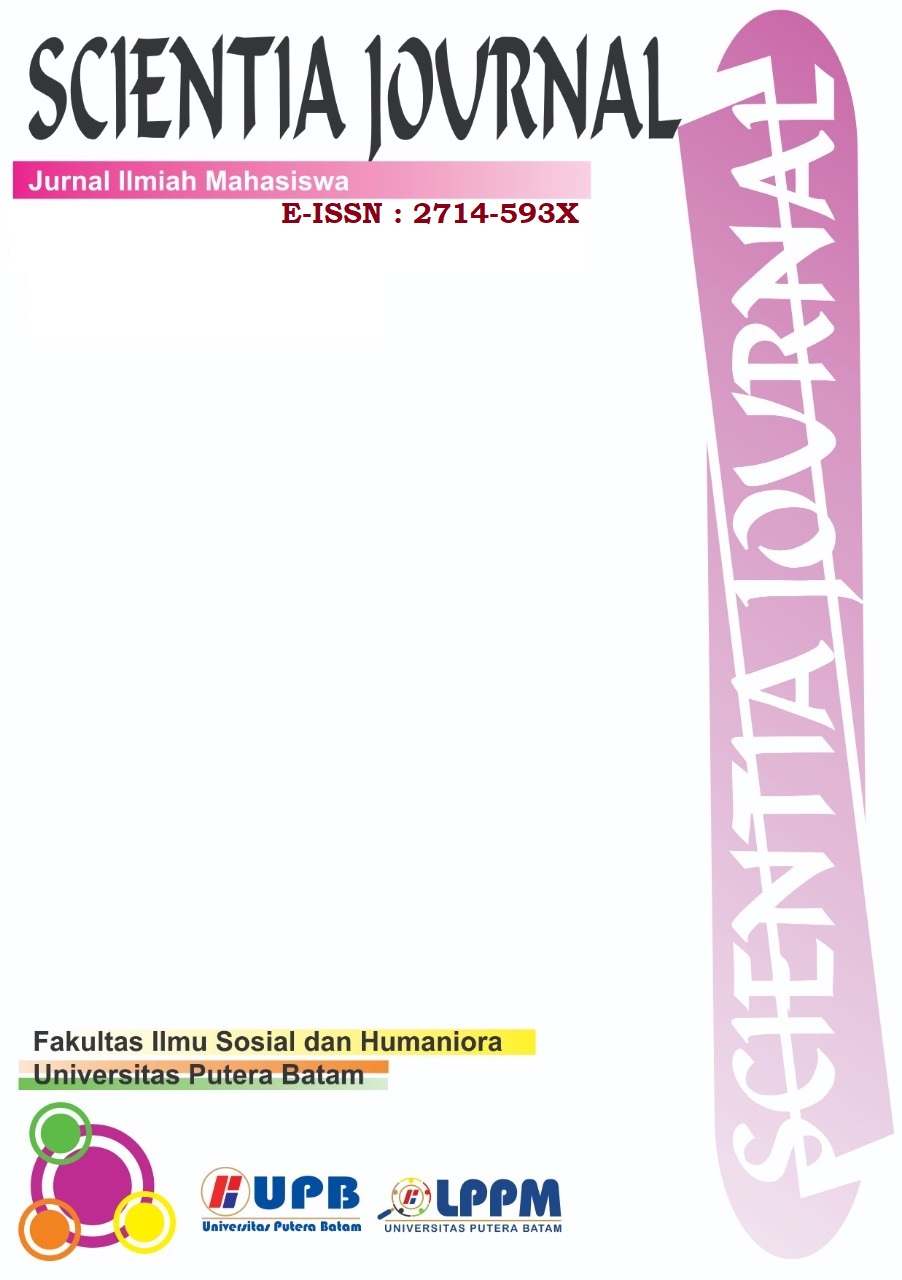 How to Cite
SIANIPAR, Almita Rumiris; JUSMAYA, Ance. THE UNFULFILLED LOVE AND BELONGING NEEDS FOUND BY THE MAIN CHARACTER IN "ANNA KARENINA" BY LEO TOLSTOY: PSYCHOLOGICAL APPROACH.
SCIENTIA JOURNAL : Jurnal Ilmiah Mahasiswa
, [S.l.], v. 1, n. 2, july 2019. ISSN 2714-593X. Available at: <
http://ejournal.upbatam.ac.id/index.php/scientia_journal/article/view/2516
>. Date accessed: 01 mar. 2021.