PENGARUH KUALITAS PELAYANAN DAN FASILITAS TERHADAP KEPUASAN KONSUMEN (STUDI KASUS PADA PENGGUNA TRANSPORTASI UMUM BUS TRANS BATAM)
Ardida Ponty Basowa

Universitas Putera Batam

Joko Setiawan

Universitas Putera Batam
Abstract
Trans Batam is a mode of public transportation offered by the Batam city government to the public. In an effort to maintain relationships with customers, the quality of services and facilities is key in maintaining customer and providing high value through customer satisfaction. The purpose of this study was to determine the effect of service quality and facilities on consumer satisfaction on users of Trans Batam bus transportation. The method used is a quantitative method with a type of causality research. The population in this study were trans Batam bus passengers. While the study sample consisted of 100 respondents who used purposive sampling technique. Based on this research, the hypothesis testing between service quality and facility variables partially and simultaneously has a significant effect on consumer satisfaction, case studies on Transs Batam bus public transportation users. These results indicate that the better the quality of services and facilities provided will increase customer satisfaction as users of public transportation services.
References
Assauri, S. (2013). Manajemen Pemasaran. Jakarta: PT. Raja Grafindo Persada. Azhari, A. R., & Lubis, N. (n.d.). Pengaruh Kualitas Pelayanan , Tarif dan Fasilitas Terhadap Kepuasan Penumpang Bus BRT Trans Semarang ( Studi Kasus : Penumpang Bus BRT Trans Semarang koridor II ) Pendahuluan.
Ghozali, I. (2009). "Aplikasi Analisis Multivariate dengan Program SPSS. Aplikasi Analisis Multivariate Dengan Program SPSS, 147.
Intan, M., Rumengan, G., & Arianto, T. (2010). Hybridity of the characters in my son the fanatic. 197–208.
Rambat, L. (2013). Manajemen Pemasaran Jasa (Edisi 3). Jakarta: Salemba Empat.
Suliyanto. (2011). Ekonometrika Terapan : Teori & Aplikasi Dengan SPSS. Yogyakarta: ANDI Offset.
Sunyoto, D. (2014). Konsep Dasar Riset Pemasaran dan Perilaku Konsumen. Yogyakarta: CAPS.
Tjiptono, F. (2014). Pemasaran Jasa - Prinsip, Penerapan dan Penelitian. Yogyakarta: Andi Offset. Tjiptono, F., & Diana, A. (2015). PELANGGAN PUAS ? TAK CUKUP ! Yogyakarta: C.V Andi Offset (Penerbit Andi).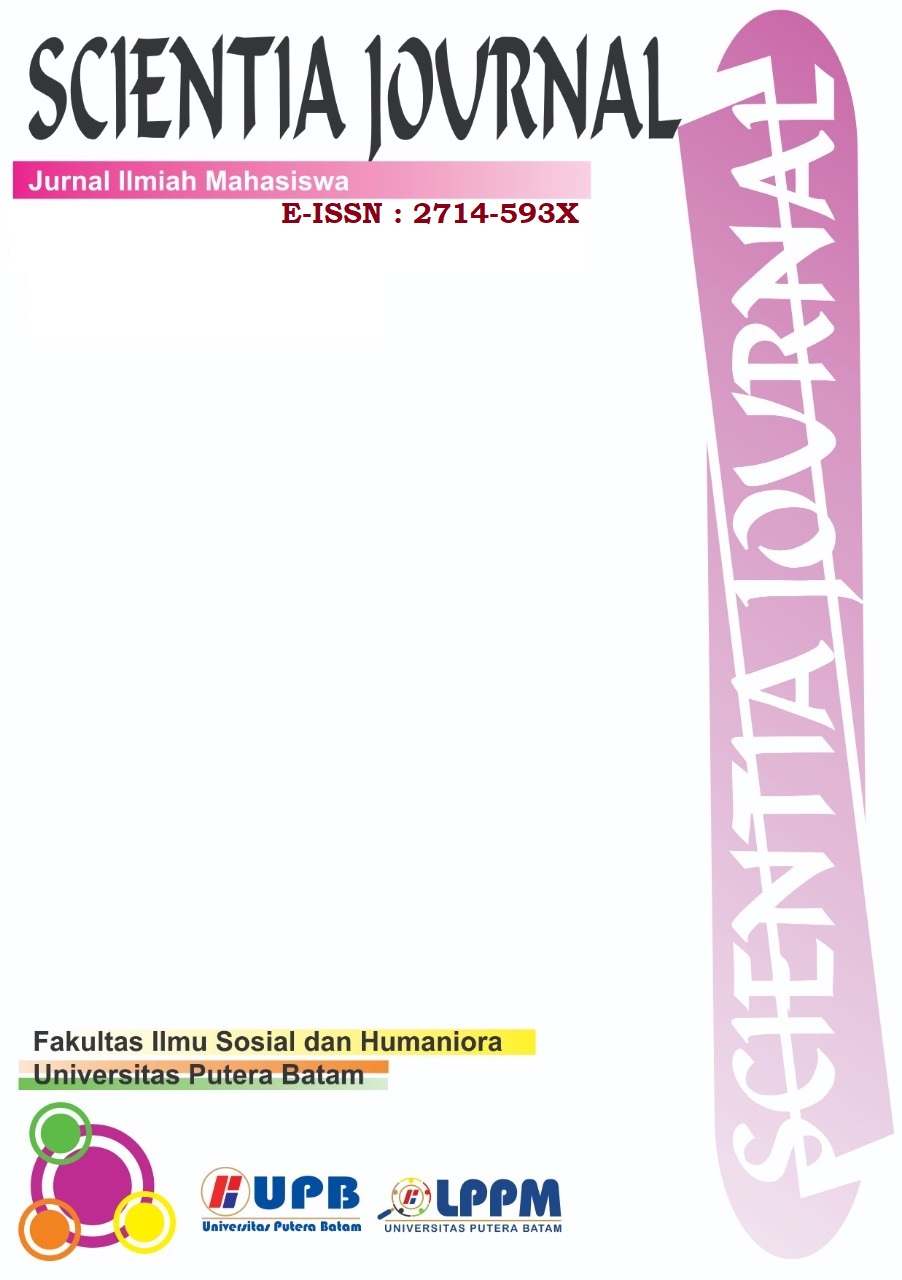 How to Cite
BASOWA, Ardida Ponty; SETIAWAN, Joko. PENGARUH KUALITAS PELAYANAN DAN FASILITAS TERHADAP KEPUASAN KONSUMEN (STUDI KASUS PADA PENGGUNA TRANSPORTASI UMUM BUS TRANS BATAM).
SCIENTIA JOURNAL : Jurnal Ilmiah Mahasiswa
, [S.l.], v. 1, n. 2, july 2019. ISSN 2714-593X. Available at: <
http://ejournal.upbatam.ac.id/index.php/scientia_journal/article/view/2537
>. Date accessed: 28 feb. 2021.