ECONOMIC VALUE ADDED (EVA) DAN MARKET VALUE ADDED (MVA) SEBAGAI ALAT UKUR KINERJA KEUANGAN PADA PT BNI (PERSERO) TBK
Keywords:
financial performance, EVA,MVA
Abstract
The purpose of this study was to determine the company's financial performance using the Economic Value Added (EVA) and Market Value Added (MVA) methods. The type of research used is descriptive using a quantitative approach. The object of research is PT BNI (Persero), Tbk  for the 2016-2021 period. The data used is secondary data in the form of a Statement of Financial Position and Income Statement obtained from the official website of PT BNI (Persero) Tbk. Data analysis technique using EVA and MVA methods. The results of the research conducted show that in 2016, 2017, 2018, 2019 and 2021 always produce positive EVA and MVA values, this shows that PT BNI (Persero) Tbk is able to generate economic and market added value for shareholders and have good financial performance. But in 2020 PT BNI (Persero) Tbk only produced a positive MVA value while EVA was negative, this indicates that the company does not always generate economic added value for the company.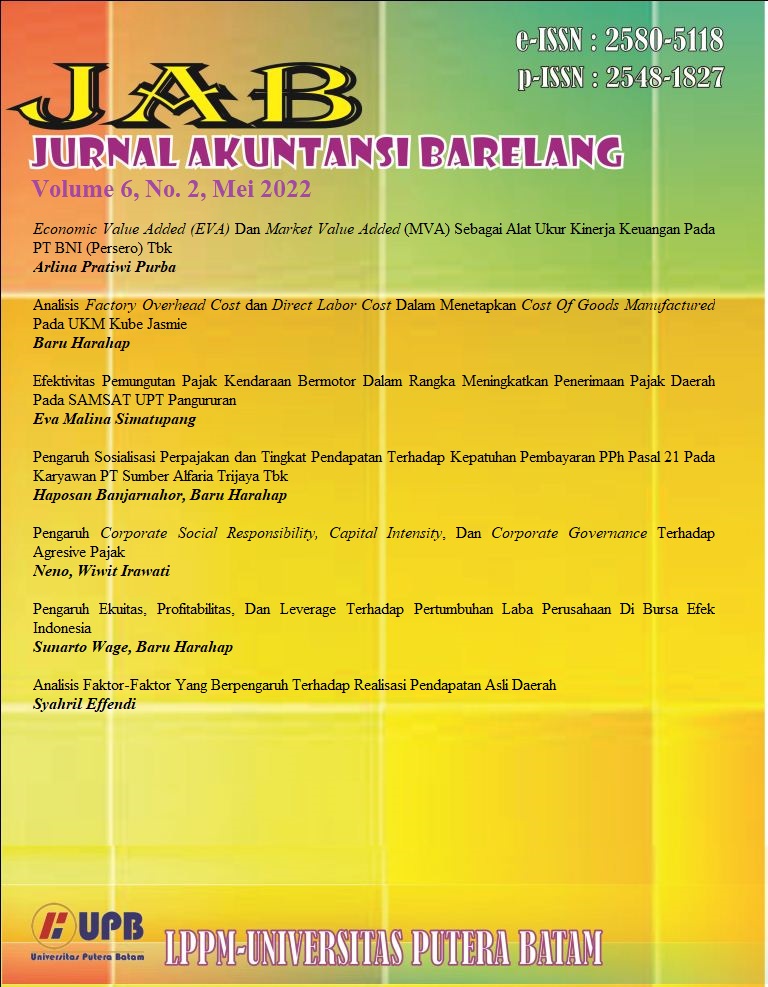 Downloads
How to Cite
Pratiwi Purba, A. (2022). ECONOMIC VALUE ADDED (EVA) DAN MARKET VALUE ADDED (MVA) SEBAGAI ALAT UKUR KINERJA KEUANGAN PADA PT BNI (PERSERO) TBK. JURNAL AKUNTANSI BARELANG, 6(2), 1–10. https://doi.org/10.33884/jab.v6i2.5562