Pengaruh Laba Bersih dan Arus Kas Aktivitas Pendanaan Terhadap Dividen Pada Perusahaan Manufaktur Di Kota Batam Periode 2012-2016
Keywords:
net profit, cash flow financing activities, dividend policy
Abstract
This study aims to determine the effect of net income and financing activities cash flow on dividend policy of Manufacturing companies in Batam. The study population Manufacturing company in Batam City period 2012-2016. The sampling technique used in this research is purposive sampling method and based on the technique, the number of samples qualified are 11 companies with a period of 5 years (2012-2016), the sample is 44 samples. The method of analysis used is multiple linear regression analysis. The results of the data analysis show that there are positive influence which significant between net income on dividend policy. There is no positive influence between the financing activities cash flow on dividend policy.
 Keywords: net profit, cash flow financing activities and dividend policy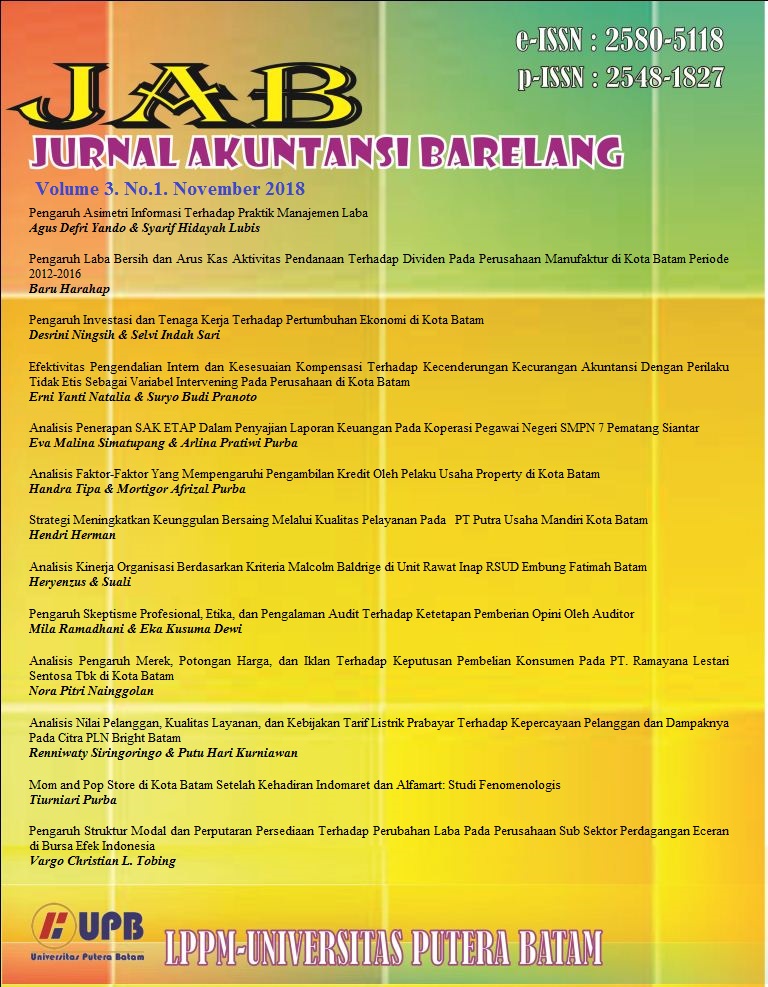 Downloads
How to Cite
Harahap, B. (2018). Pengaruh Laba Bersih dan Arus Kas Aktivitas Pendanaan Terhadap Dividen Pada Perusahaan Manufaktur Di Kota Batam Periode 2012-2016. JURNAL AKUNTANSI BARELANG, 3(1), 11–20. Retrieved from https://ejournal.upbatam.ac.id/index.php/jab/article/view/711