Sistem Pemantauan Ketinggian Gelombang Dan Ketinggian Permukaan Air Laut Berbasis Internet of Things (IoT) Menggunakan LPWAN LoRa
Keywords:
Wave Height, Sea Level, Mean Sea Level, LoRa, Ultrasonic Sensor
Abstract
Information on wave height and sea level is the information needed in the field of hydrography, especially in determining the Mean Sea Level. In addition, it is useful for predicting the tides of sea water, and also supports an early warning system for tsunamis. Therefore, a monitoring system will be created that can provide this information, which will then analyze the data from the observations that have been obtained at the Cikidang Pangandaran Fishing Port for 4.5 hours in real-time (1 minute). This monitoring system is located at the Port of Pangandaran with electric power obtained from PLN. Batteries are added in the system to anticipate when PLN power blackout. By using the ultrasonic sensor MB-7383, information of wave height and sea level is obtained with the properties of ultrasonic waves. The raw data obtained from the sensors is processed and transmitted using the LoRa network provided by Antares. Observation data sent via the LoRa network will be stored and can be observed on the official Antares website. The performance of the MB-7383 Ultrasonic sensor is very good against the water surface which can be seen from the accuracy and precision of the sensor, which are 98.60% and 99.72%, respectively. Observations were made in real-time for 4.5 hours at the Cikidang Fishing Port, Pangandaran. Based on observations, there was a high tide from 9.00 to 13.30 and was accompanied by an increase in the height of the sea waves. With this monitoring system, it is hoped that it will support the tsunami or earthquake early warning system in Indonesia.
References
Anggara, P. D., Adrianto, D., Pranowo, W. S., & Alam, T. M. (2017). Analisis Karakteristik Gelombang Laut Guna Mendukung Data Informasi Operasi Keamanan Laut Di Wilayah Laut Natuna Dan Laut Natuna Utara. Jurnal Chart Datum, 3(2), 107–131.
Annunziato, A. (2015). The Inexpensive Device For Sea Level Measurements. Tsunami Society International, 34(4), 199–211.
Fadly, R., & Dewi, C. (2019). Pengembangan Sensor Ultrasoic Guna Pengukuran Pasang Surut Laut Secara Otomatis Dan Real Time. Jurnal Rekayasa, 23(1), 1–16.
Fathur Rahman N, M., Salama, M., & Zahir, Z. (2017). Water Level Monitoring Using Ultrasonic-Pipe In Open Channel. International Symposium On Electrical And Computer Engineering, 262–266. Ieee.
Hadi, N. P., Kusuma, A. N., & Setiyadi, J. (2016). Prototipe Alat Ukur Pasang Surut Menggunakan Microcontroller Arduino Dengan Sensor Ultra Sonic. Jurnal Hidropilar, 2(2), 89–97.
José, S., Ramon, S.-I., Pablo, R.-R., Luis, B.-E., & Antonio, F. S. (2019). Lpwan-Based Vehicular Monitoring Platform With A Generic Ip Network Interface. Sensors, 19(2), 1–17.
Naras, K., Nikom, O., Supawat, I., & Narit, K. (2017). The Wireless Sensor Network Monitoring Of Sea Level And Wind Speed. 9th International Conference On Information Technology And Electrical Engineering. Phuket: Ieee.
Prabowo, R. A. (2021). Rancang Bangun Lorawan Gateway Untuk Komunikasi Perangkat Dalam Gedung Design And Build Lorawan Gateway For Device Communication In Building.
Ruchlihadiana Tisnasendjaja, A., Martoyo, E., & Wardana, M. (2017). Pemilihan Rentang Waktu Yang Optimum Pengamatan Pasang Surut Sungai. Geoplanart, 1(1).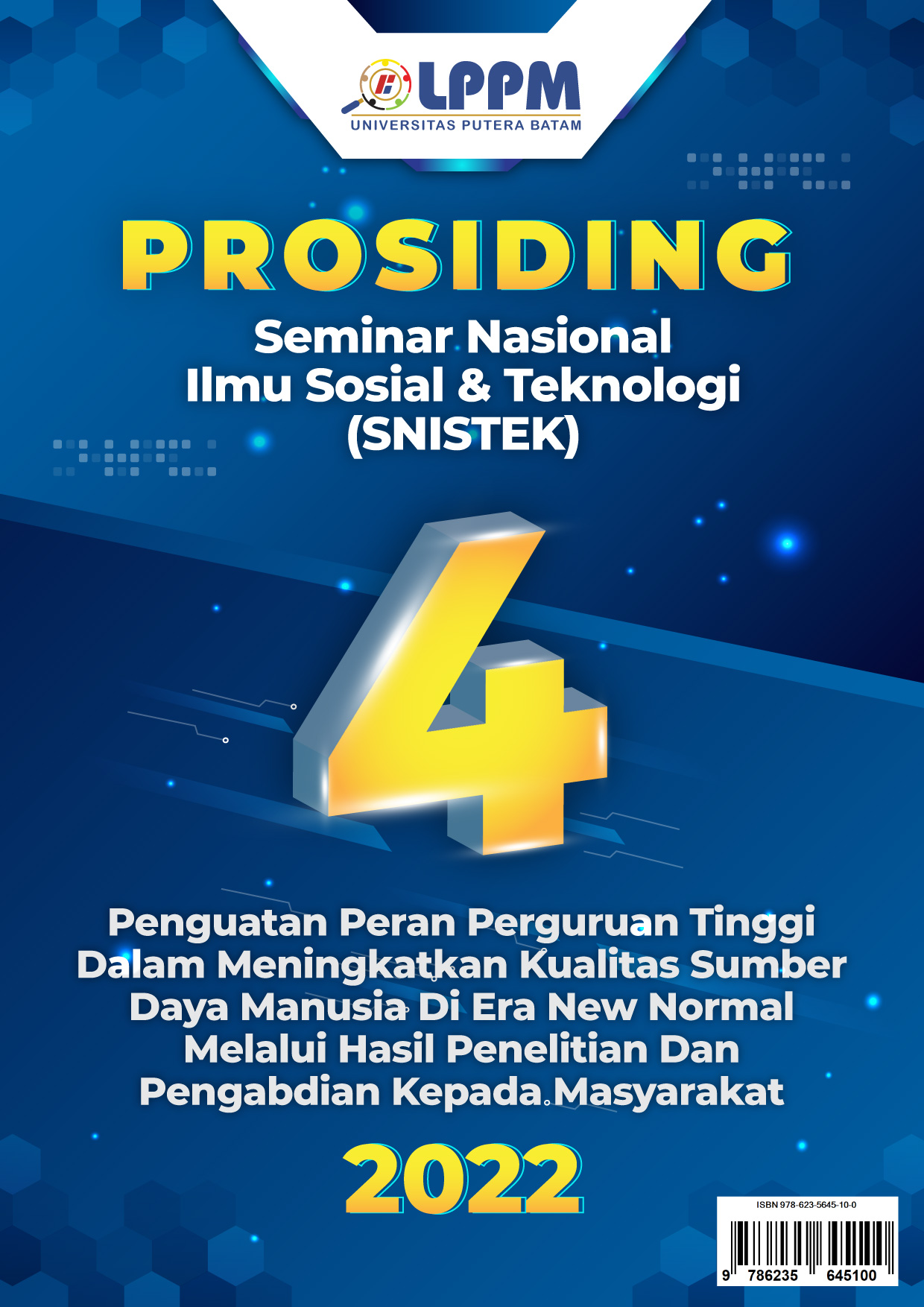 Downloads
How to Cite
Hartono, R., Murti, M. A., & linursafa, I. (2022). Sistem Pemantauan Ketinggian Gelombang Dan Ketinggian Permukaan Air Laut Berbasis Internet of Things (IoT) Menggunakan LPWAN LoRa. Prosiding Seminar Nasional Ilmu Sosial Dan Teknologi (SNISTEK), (4), 157–163. Retrieved from https://ejournal.upbatam.ac.id/index.php/prosiding/article/view/5232
License
Copyright (c) 2022 Prosiding Seminar Nasional Ilmu Sosial dan Teknologi (SNISTEK)
This work is licensed under a Creative Commons Attribution 4.0 International License.