OPTIMASI IMPLEMENTASI SOFT SKILL BERBASIS TEKNOLOGI INFORMASI DALAM AKADEMIK PENDIDIKAN DI SEKOLAH KEJURUAN
Keywords:
Coaching, Softskill, Design Thinking, Problem Solving
Abstract
The implementation of community service activities that will be carried out in the form of soft skill  education development for vocational students at SMK Putera Jaya Batam in Batam City. Soft skill s education is very useful for vocational school graduates who will enter the world of work, with this ability it will make it easier for graduates to adapt to the work environment. Besides that, the soft skill  competencies possessed by vocational school graduates will help in training a good work ethic and the ability to solve problems with any method and supported by a good leadership spirit, making it easier for graduates to work in a team. There are several soft skill s that need to be mastered by vocational school graduates including creative thinking skills, problem solving skills, interpersonal skills, intrapersonal skills, communication skills, leadership skills. From some of these abilities, an activity is made that is able to optimize the implementation of information technology-based soft skill s in academic education in vocational schools through community service activities by applying design thinking methods, leadership training and implementing simple applications commonly used by the community, with the hope that this activity is able to provide an overview of how to implement soft skill s in the world of work, and students also know the importance of soft skill s in the world of work so as to increase the interest of students to continue to explore and master soft skill s education as an answer to future challenges as quality vocational graduates
References
Arnomo, S. A., & Siyamto, Y. (2021). Pelatihan pemanfaatan teknologi informasi pada masyarakat di kelurahan belakang padang kecamatan belakang padang kota batam. Puan indonesia, 2(2), 103-112. https://doi.org/10.37296/jpi.v2i2.34
Kaswan, (2016). 101 Soft skill s: Untuk Mencapai Puncak Kinerja dan Kepemimpinan, Alfabeta
Lambert Joan and Curtis Fryye, Microsoft Office 2016. Step By Step Acquisitions Editor: Rosemary
Ramdhan Hendry E.. (2016). Startupreneur: Menjadi Enterpreneur startup, Penebar Swadaya Plus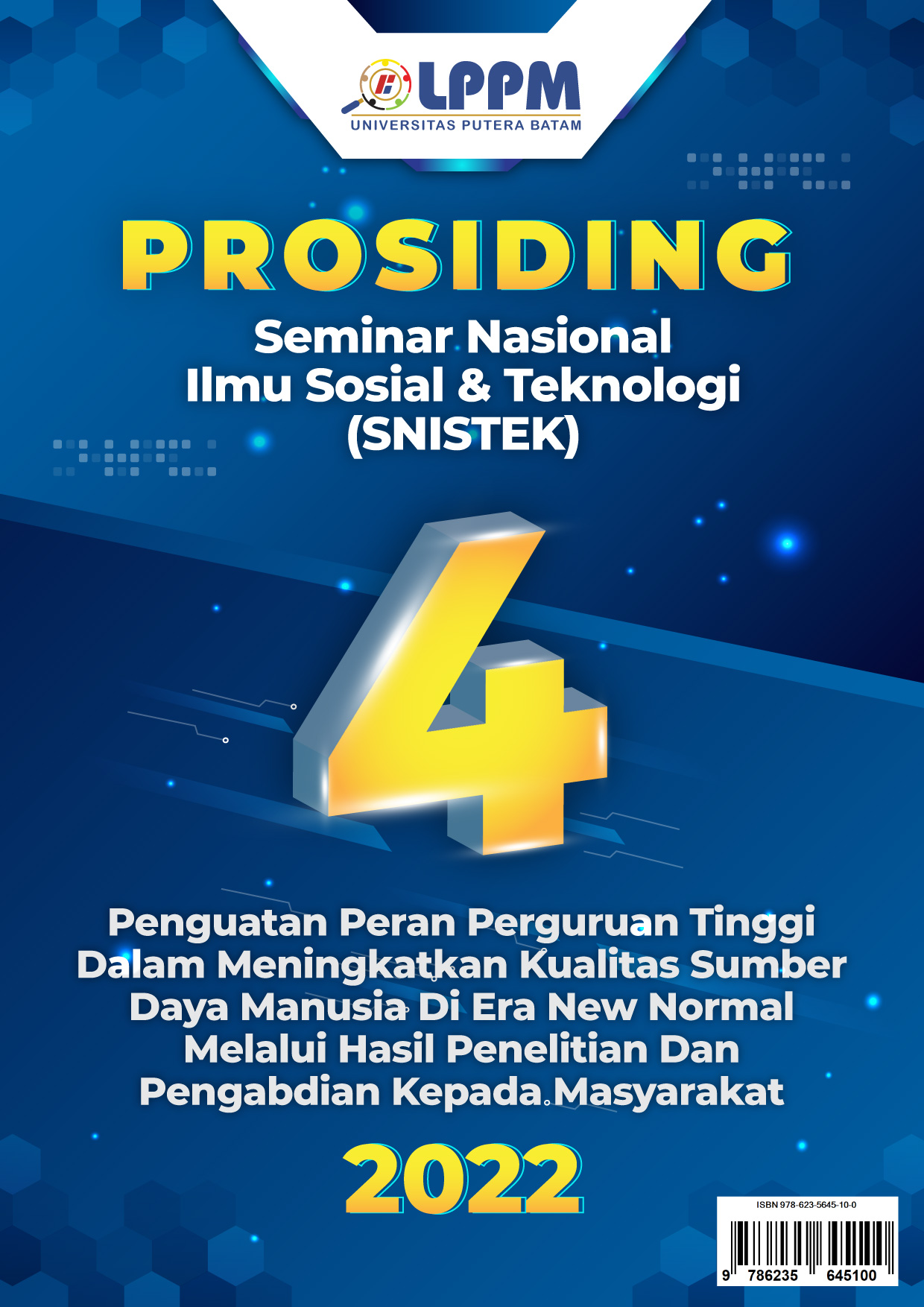 Downloads
License
Copyright (c) 2022 Prosiding Seminar Nasional Ilmu Sosial dan Teknologi (SNISTEK)
This work is licensed under a Creative Commons Attribution 4.0 International License.