Perencanaan Strategis Sistem Informasi Menggunakan Metode Tozer Pada PT Berita Bali Media
Keywords:
Strategic Planning, Information System, Tozer Method
Abstract
PT Berita Bali Media does not yet have a strategic information system that can assist organizations in developing information systems to help achieve the vision, mission, and organizational goals in the future. On this basis, strategic planning of information systems is needed which in the future can support the information systems needed by PT Berita Bali Media. This study aims to carry out strategic planning of information systems at PT Berita Bali Media.The method used in strategic planning of this information system is the tozer method. This method has 5 phases of strategic planning. The tools used in this research are SWOT, Value chain, Five force competitive model, CSF, PEST, and McFarlan Grid's. Information system strategic planning using the tozer method at PT Berita Bali Media produces a portfolio of information systems obtained from the results of CSF, SWOT, PEST, analysis Value Chain, and McFarlan Grid's. In the information system portofolio there are 4 new information systems, and 12 continued information systems.
References
W. I. Yudhistyra and E. Nugroho, "Lima Metode Perencanaan Strategis Sistem Informasi Dan Teknologi Informasi Untuk Pengembangan E-Goverment," J. Nas. Teknol. Inf. dan Komun., vol. 2014, no. Sentika, pp. 240–241, 2014.
V. R. B. Prawestri and A. F. Wijaya, "Penerapan Metodologi Tozer Dalam Perencanaan Strategis Sistem Informasi Pada PT Telekomunikasi Indonesia Tbk Witel Bandung," J. Comput. Inf. Syst. Ampera, vol. 1, no. 2, pp. 112–132, 2020, doi: 10.51519/journalcisa.v1i2.34.
H. Firiski, "Perencanaan Strategis Sistem Informasi Dan Teknologi Informasi : Studi Kasus PT TAT," Perenc. Strateg. Sist. Inf. dan Teknol. Inf. Stud. Kasus PT . Tat., pp. 1–9, 2014.
faiz Ramadhan, Perencanaan strategis sistem informasi pada rsud tangerang selatan skripsi. 2019.
S. Informasi, "PERENCANAAN STRATEGIS SI / TI DENGAN MENGGUNAKAN METODOLOGI TOZER," vol. III, no. 2, pp. 246–252, 2014.
E. Sutinah, "Informasi Perusahaan Dagang Studi Kasus : Pd . Stb Motor," vol. 3, no. 2, pp. 281–289, 2014.
D. W. I. G. Noviana, "Perencanaan strategi bisnis dan strategi sistem informasi menggunakan analisis critical success factor's (studi kasus: pt. rambang)," 2018.
"3.SNIK2014_Alat Monitoring.pdf." .
G. AAmaral, "Perencanaan Strategis Teknologi Informasi Pondok Pesantren Al-Ishlah Bondowoso dengan metode tozer," J. Petrol., vol. 369, no. 1, pp. 1689–1699, 2013.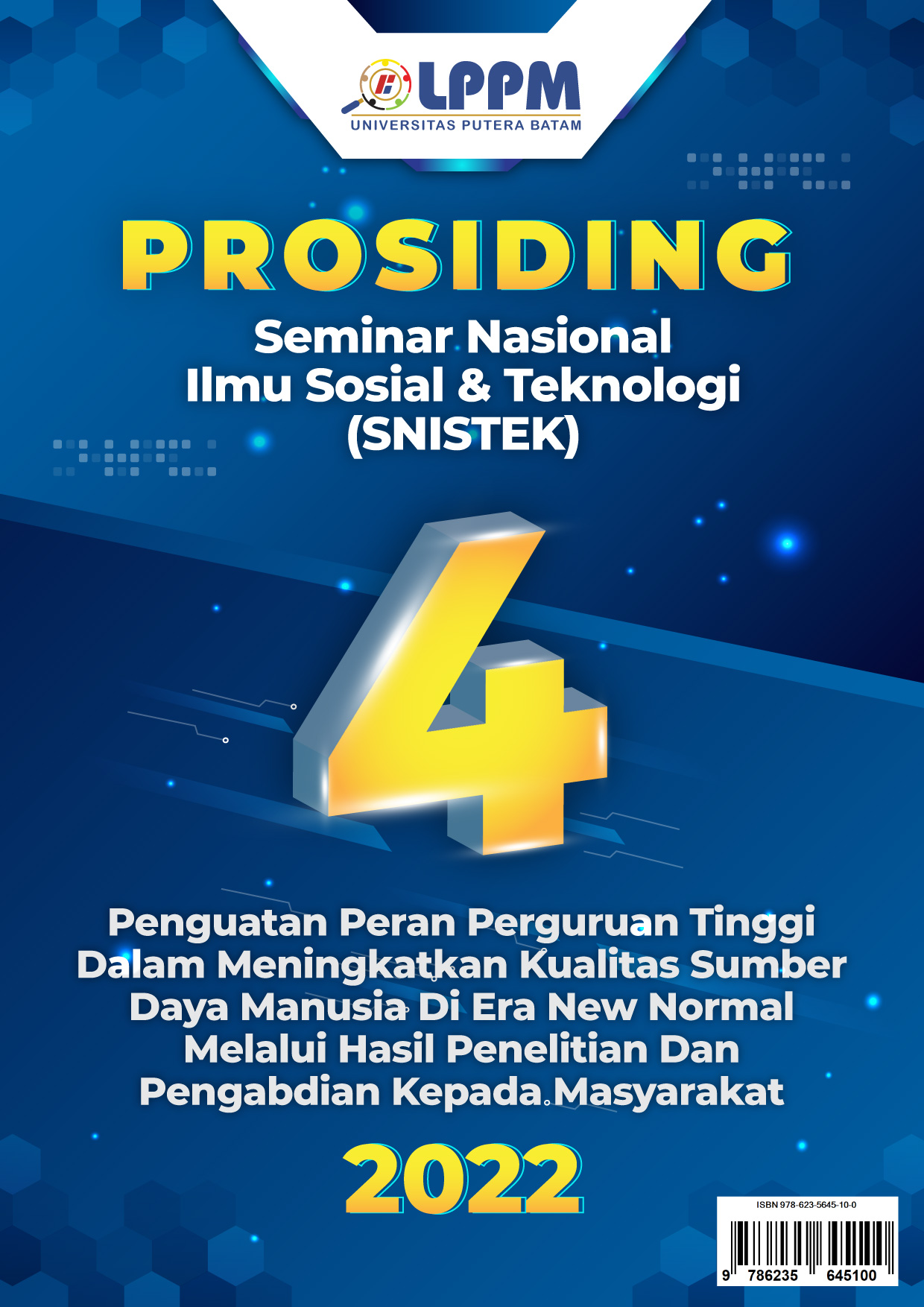 Downloads
License
Copyright (c) 2022 Prosiding Seminar Nasional Ilmu Sosial dan Teknologi (SNISTEK)
This work is licensed under a Creative Commons Attribution 4.0 International License.