Digitalisasi UMKM Ternak Ayam di Masa Pandemi Covid-19 Dengan Penjualan dan Marketing Berbasis Web
Keywords:
Digitization, ; Micro small medium enterprises, Website, Sales
Abstract
Almost all sectors are affected by restrictions on community activities due to the Covid-19 pandemic which then has an impact on the community's economic decline. Many business actors ranging from large industries to home industries or SMEs are innovating by utilizing information technology in business operations. Business actors place orders for raw materials, marketing, sales and so on through online media. Currently, SMEs are one of the engines of Indonesia's economic growth, especially during the Covid-19 pandemic. This restriction on community activities forces SMEs actors to explore digital platforms to carry out various activities. This research is intended to design a website to digitize the sales and marketing process for chicken farming SMEs, build a website to digitize the sales and marketing process for chicken livestock SMEs. Website with the domain ayamsuperjovan.odoo.com was built following the flow of the System Development Life Cycle with the waterfall method and design using UML diagrams. The findings in this study are that the website that is built greatly increases efficiency and effectiveness because the sales and marketing transaction process is very fast and easy. The existence of this website is one of the efforts to digitize the chicken farming SMEs business during the COVID-19 pandemic. The construction of this website is one of the efforts to reduce the spread of the covid-19 virus because customers and the public can simply shop through the website without having to visit the location of the farm and there is no need to make physical contact with the farm
References
, A. (n.d.). Kepala Dinas Koperasi dan UKM Kota Batam, Suleman Nababan. Https://Kepri.Antaranews.Com/.
Adrian, Q. J., & Pramono, D. (2017). Rancang Bangun Sistem Informasi Penjualan dan Pengelolaan Stok Barang Pada Ud. Puspa Berbasis Web. Jurnal TEKNO KOMPAK, 11(2), 38–40.
Alfarizi, S., Mulyawan, A. R., & Basri, H. (2018). Rancang Bangun Sistem Informasi Penjualan Berbasis Web Dengan Pemanfaatan Uml ( Unified Modelling Language ) Pada Cv Harum Catering Karawang. Indonesian Journal on Networking and Security, 7(4), 27–31.
Andrianof, H. (2018). Rancang Bangun Sistem Informasi Promosi dan Penjualan pada Toko Ruminansia Berbasis Web. Jurnal Pendidikan Dan Teknologi Informasi, 5(1), 11–19. lppm.upiyptk.ac.id/ojs3/index.php/PTI/article/download/52/22/%0A
Husnurrosyidah. (2019). E-Marketplace Umkm Menghadapi Revolusi Industri 4.0 Dalam Perspektif Islam. Equilibrium: Jurnal Ekonomi Syariah, 7(2), 224–239.
Ilmi, M. N., & Metandi, F. (2020). Perancangan Sistem Informasi Produksi Dan Penjualan Pada Umkm Bakpia (Studi Kasus Aa Bakery). Just TI (Jurnal Sains Terapan Teknologi Informasi), 12(1), 17–20. https://doi.org/10.46964/justti.v12i1.180
Mukmin, M., & Lestiyani, L. (2019). RANCANG BANGUN SISTEM INFORMASI KOMODITAS TERNAK PADA DINAS PERTANIAN KABUPATEN BUTON SELATAN. Jurnal Informatika, 8(1), 50–59.
Purwana, D., Rahmi, & Aditya, S. (2017). Pemanfaatan Digital Marketing Bagi Usaha Mikro, Kecil, Dan Menengah (UMKM) Di Kelurahan Malaka Sari, Duren Sawit. Jurnal Pemberdayaan Masyarakat Madani (JPMM), 1(1), 1–17. https://doi.org/10.21009/jpmm.001.1.01
Sebayang, I. (2019). Ada 81.486 Usaha Mikro Kecil dan Menengah di Kota Batam. Https://Batampos.Co.Id/.
Subowo, E., & Saputra, M. (2019). Sistem Informasi Peternakan Ayam Broiler Android. Surya Informatika, 6(1), 53–65.
Wati, F. F., & Khasanah, U. (2019). Sistem Informasi Penjualan Berbasis Web pada UD Dwi Surya Aluminium dan Kaca Yogyakarta. Paradigma - Jurnal Komputer Dan Informatika, 21(2), 149–156. https://doi.org/10.31294/p.v21i2.6026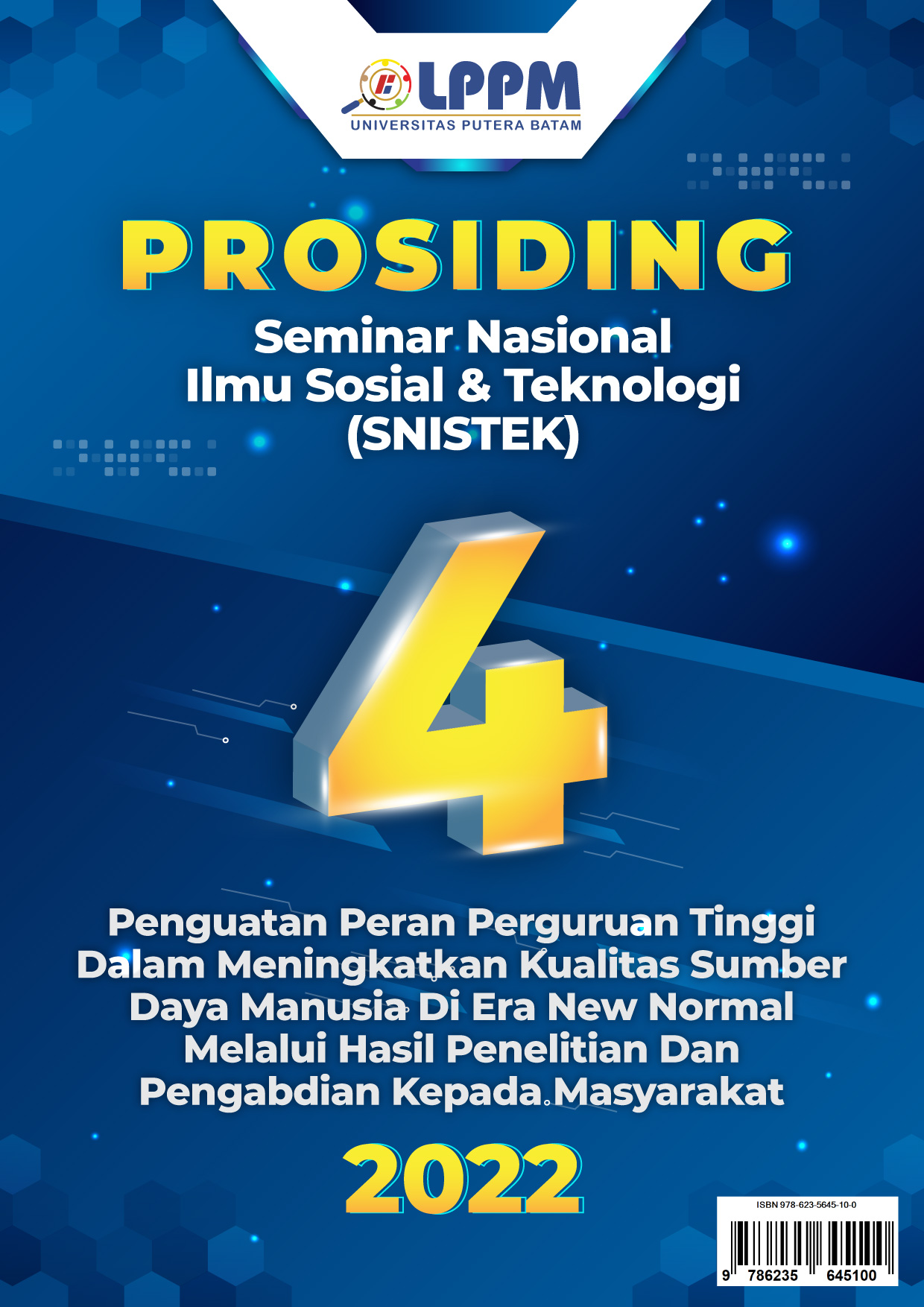 Downloads
License
Copyright (c) 2022 Prosiding Seminar Nasional Ilmu Sosial dan Teknologi (SNISTEK)
This work is licensed under a Creative Commons Attribution 4.0 International License.