Audit Tata Kelola Sistem Informasi Menggunakan Framework COBIT 5 Studi Kasus Pada LPD Desa Temesi
Keywords:
IT governance, COBIT 5, LPD Desa Temesi
Abstract
The LPD Desa Temesi is one of the village credit institutions that aims to provide decent financial services for village manners (customers), encourage the development of UMKM in Pakraman village manners, and create technology-based and targeted innovations. To realize this goal, the LPD Desa Temesi must be able to adapt information technology to the times. This study aims to find out how governance on a desktop-based system has been implemented by LPD Desa Temesi and to know the maturity level of IT governance so that it can provide recommendations in improving IT governance. This research method was carried out qualitatively and quantitatively. Data was collected by means of interviews, questionnaires and documentation studies. The data obtained will be analyzed by ISO/IEC 15504 from IT governance, so that the level of capability of IT governance can be known. Based on the results of the analysis, the average capability level in the domains EDM04, APO01, APO06, APO07, APO12, BAI09, DSS03, MEA01 is established and the level of maturity expected by LPD Desa Temesi is at level 4 (predictable) so that the results can be used as a reference in improvement of IT governance processes in the LPD Desa Temesi
References
Alfia Miranti. (2019). EVALUASI TATA KELOLA TEKNOLOGI INFORMASI MENGGUNAKAN FRAMEWORK COBIT 5 (Studi Kasus : PT Praweda Ciptakarsa Informatika). Evaluasi Tata Kelola Cobit 5.
Dasaratha V, R. L. J. (2008). Sistem Informasi Akuntansi (Setyaningsih Nina (ed.); 18 th ed). Salemba Empat.
Faruq, A. (2020). Analisis Tingkat Kapabilitas Tata Kelola Teknologi Informasi Menggunakan COBIT 5. 1–86.
Ika, C., Ady, P., Ngesti Basuki, P., & Manuputty, A. D. (2019). Analysis of Information Technology Governance Using the COBIT 5 Framework (Case Study: E-Legal Drafting Legal Section of the Regional Secretariat of Salatiga City) Analisis Tata Kelola Teknologi Informasi Menggunakan Kerangka Kerja COBIT 5 (Studi Kasus: B. Journal of Information Systems and Informatics, 1(2).
Khairuna, D., Wibowo, S., & Gamayanto, I. (2020). Evaluasi Pengelolaan Risiko Teknologi Informasi Menggunakan Framework COBIT 5 Berdasarkan Domain APO12 (Manage Risk) Pada Kantor Pusat BPR Agung Sejahtera. JOINS (Journal of Information System), 5(1), 18–26. https://doi.org/10.33633/joins.v5i1.3088
Nugroho, R., Suryono, R. R., & Darwis, D. (2016). Audit Tata Kelola Teknologi Informasi Untuk Integritas Data Menggunakan Framework Cobit 5 Pada PT Kereta Api Indonesia (Persero) Divre IV TNK. Jurnal Teknoinfo, 10(1), 20. https://doi.org/10.33365/jti.v10i1.22
Putri, R. E. (2016). Penilaian kapabilitas proses tata kelola TI berdasarkan proses DSS01 pada framework COBIT 5. J. CoreIT, 2(1), 41–54.
Samosir, F. K. B. (2020). Pengukuran Tingkat Kapabilitas Aplikasi Mobile Banking Dengan Menggunakan Framework Cobit 5 Pada Domain Apo Dan Dss (Studi …. Senamika, 373–382.
Shamgita, I. G. Y., Raditya, I. G. L. A., & Putra, I. G. J. E. (2020). Analisis Dan Evaluasi Tata Kelola Teknologi Informasi USSI Software Menggunakan Framework COBIT 5 Pada PT . BPR Naga. Jurnal Ilmiah Teknik Informatika Dan Sistem Informasi, 9(1), 67–74.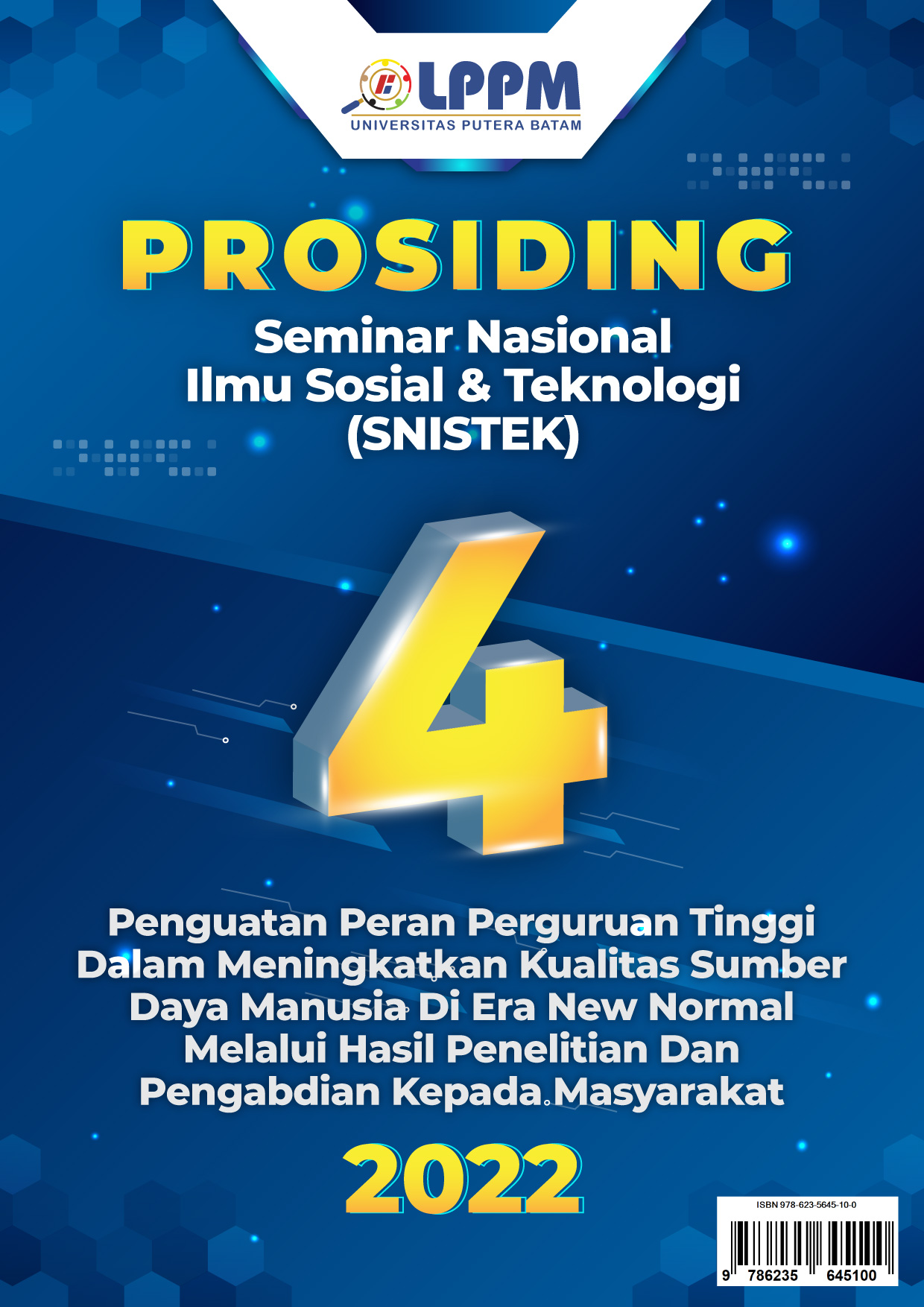 Downloads
License
Copyright (c) 2022 Prosiding Seminar Nasional Ilmu Sosial dan Teknologi (SNISTEK)
This work is licensed under a Creative Commons Attribution 4.0 International License.