Eksistensi Kepala Daerah Perempuan Terhadap Performa Ekonomi Daerah Di Indonesia
Keywords:
Gender, Women, Gross Regional Income, Unemployment
Abstract
This study aims to look at the existence of women as regional heads and their performance in the economic dimension.  The descriptive method is employed to investigate the pattern using district/city regional data in Indonesia from 2015-2018. The data consist of economic dimensions using Gross Regional Domestic Income (GRDP) and Unemployment. The results of the study indicate that the existence of women in leading executive institutions is on average able to improve economic performance based on the GRDP indicator; but on the other hand on average it has not been able to solve the unemployment problem.
References
Araujo, & Romero. (2016). Women Political Representation and Transparency in Local Governance. Local Government Studies.
Barnes, & Beaulieu. (2014). Gender Stereotypes and Corruptions: How Candidate Affect Perceptions of Election Fraud. The Women and Politics Research Section of the American Political Science Association.
Barnes, & Beaulieu. (2018). Women Politicians, Institutions, and Perceptions of Corruption. Sage Journals: Comparative Political Studies , 1–34.
Bungin, B. (2008). Penelitian Kualitatif :Komunikasi, Ekonomi, Kebijakan Publik, dan Ilmu Sosial Lainya. Prenada Media Group.
Deininger, Nagarajan, & Singh. (2020). Women Political Leadership and Economic Empowerment: Evidence from Public Works in India. Elsevier: Journal of Comparative Economics , 48, 277–201.
Deliarnov. (2006). Ekonomi Politik. Erlangga.
Fakih, M. (2008). Analisis Gender & Transformasi Sosial. Pustaka Belajar.
Funk, & Philiphs. (2018). Representative Budgeting: Women Mayors and The Compositions of Spending in Local Governments. University of Utah: Political Research Quarterly , 1–15.
Indiarto, N., & Supomo, B. (2002). Metodologi Penelitian. BPPFE Yogyakarta.
Kaufaman, & Hothckiss. (1999). The Economic Labor Markets. Georgia State University.
Maharani, D. (2016). Analisis Pengaruh Investasi dan Tenaga Kerja terhadap Produk Domestik Regional Bruto (PDRB) di Sumatera Utara. Intiqad, 8(2).
Muawanah, E. (2009). Pendidikan Gender dan Hak Asasi Manusia. Penerbit Teras.
Muhadjir, N. (1996). Metode Penelitian Kualitatif. Rake Sarasin.
Notoatmojo, S. (2002). Metodologi Penelitian Kesehatan. Rineka Cipta.
Priebe. (2017). Political Reservation and Female Empowerment: Evidence from Maharashtra, India. Oxford Development Studies.
Rasyidin & Fidhia Aruni ·. (2016). GENDER DAN POLITIK ; Keterwakilan Perempuan Dalam Politik. Unimasl Press. https://www.researchgate.net/publication/324594910
Samudro, B. R. (2010). Political Economy of Uneven Regional Development and Local Election in Indonesia . 10th International Conference Indonesian Regional Science Association.
Sastriyani, & Sugihastuti. (2007). Glosarium Seks dan Gender. Carasvati Books.
Sholeh, A. (2017). Masalah Ketenagakerjaan dan Pengangguran di Indonesia. Jurnal Ilmiah Cano Ekonomis, 6(2).
Sukirno, S. (1994). Pengantar Teori Ekonomi Makro. Raja Grafindo.
Sukwiaty, Jamal, S., & Sukamto, S. (2006). Ekonomi. Yudhistira.
Yustika, A. (2009). Ekonomi Politik, Kajian Teoritis dan Analisis Empiris. Pustaka Belajar.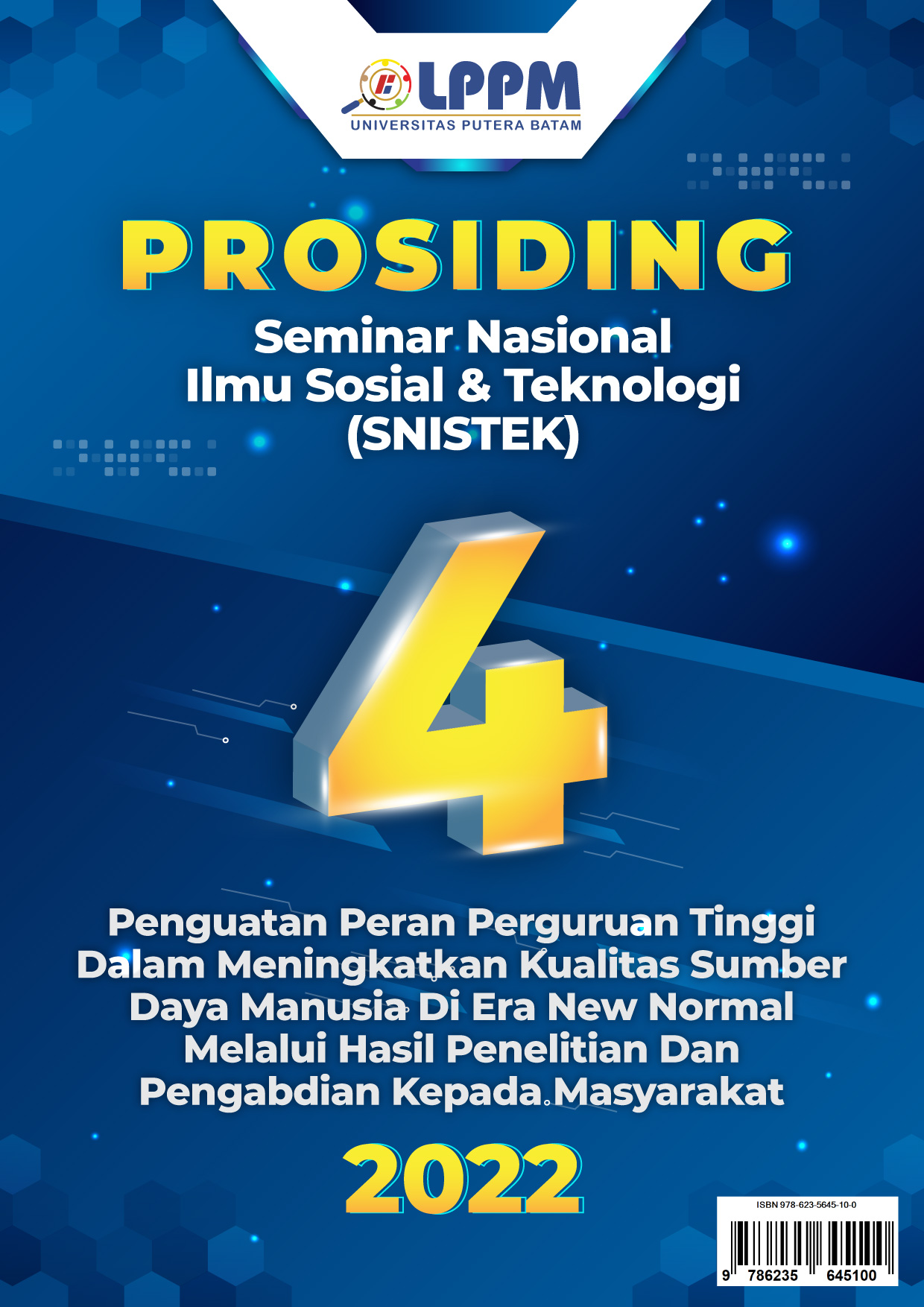 Downloads
License
Copyright (c) 2022 Prosiding Seminar Nasional Ilmu Sosial dan Teknologi (SNISTEK)
This work is licensed under a Creative Commons Attribution 4.0 International License.