Validitas Media Pembelajaran Multimedia Pada Mata Pelajaran Simulasi Dan Komunikasi Digital
Keywords:
Multimedia, Instructional Media, Validity, Adobe Director
Abstract
Multimedia learning media are all tools used in learning activities. Through observations that have been made on simulation subjects and digital communication, problems were found, namely the ability of students to understand the material presented by the teacher is still low, while the activity and use of media that has not varied because learning is still focused on textbooks and the absence of learning media that multimedia in this subject. The method in this research is development research, with the procedure adopted using a 4-D model. Based on the results of data processing, it is stated that (1) User ease gets a validity value of 83.33%, with valid criteria, while for aspect (2) attractiveness of the display is 84.00%, with valid criteria, and the third aspect (3) Language and legibility with a value 80.00%, declared valid. In general, the media validator assesses the media designed to be 82.44% with valid criteria, while material experts assess the level of achievement of the material objectives as 85.64%, which is valid. Overall, the media and material expert validators rated the media as valid with a value of 83.24%. So that the designed media can be used in learning.
References
Alfirini, A., & Hutabri, E. (2017). Kepraktisan dan Keefektifan Modul Pembelajaran Bilingual Berbasis Komputer. Jurnal Kependidikan, 1(1), 12–23.
Dr. Rusman, M. P. (2017). Belajar dan Pembelajaran Berorientasi Standar Proses Pendidikan. Kencana.
Halimatun, K. L. (2021, March 26). Multimedia sebagai Media Pembelajaran. Kompasiana, 1. https://www.kompasiana.com/khoiri16/5c9a25c995760e3024023f02/multimedia-sebagai-media-pembelajaran
Hourihan, M. (2021). Review of Research & Development in the Final FY 2021 Omnibus. aaas.org.
Ihsan, H., Ilmu, F., Universitas, P., & Indonesia, P. (1995). VALIDITAS ISI ALAT UKUR PENELITIAN KONSEP DAN PANDUAN PENILAIANNYA.
Thiagarajan. (2020). MODEL PENGEMBANGAN MEDIA PEMBELAJARAN 4D. Universitas Negeri Surabaya. http://pe.feb.unesa.ac.id/post/model-pengembangan-media-pembelajaran-4d-dari-thiagarajan
Wati, E. R. (2016). Ragam Media Pembelajaran. Kata Pena.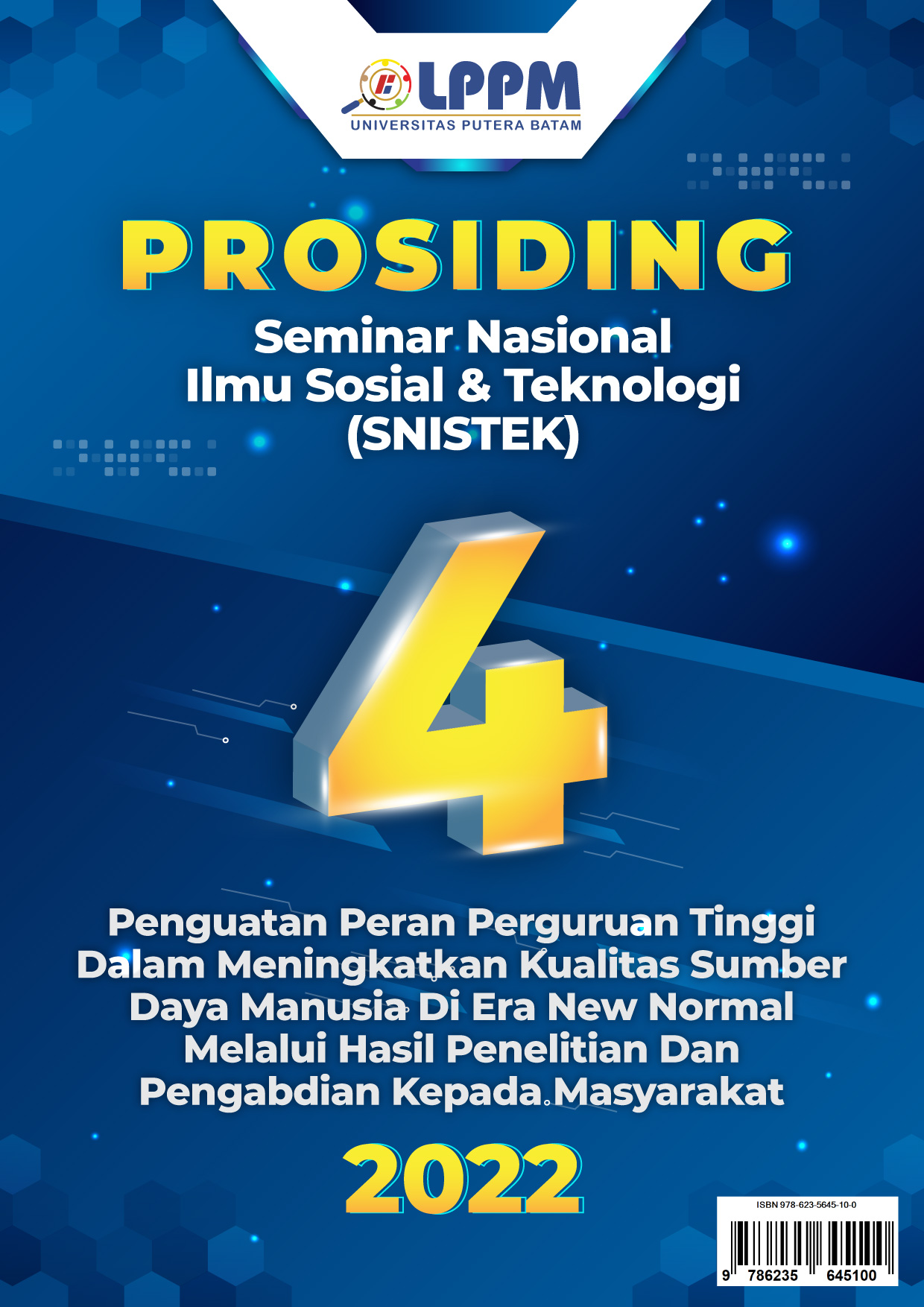 Downloads
License
Copyright (c) 2022 Prosiding Seminar Nasional Ilmu Sosial dan Teknologi (SNISTEK)
This work is licensed under a Creative Commons Attribution 4.0 International License.