Perancangan Sistem Informasi UMKM De'Sate Batam melalui Analisis Pengendalian Internal Menggunakan COSO Framework
Keywords:
Management Information System, UML Class Diagrams, UI Layout Forms, Internal control, COSO Framework
Abstract
With advances in technology in the current era, technology can make it easier for MSMEs to record more accurate financial reports so they can continue to survive and adapt to various conditions. The purpose of the research conducted was to analyze the state of MSME De'Sate through internal control using the COSO framework and then to design an information system through the UML Class Diagram and UI Layout Form modeling. The research approach was used by conducting direct observations and interviews with De'Sate MSME owners, with the types of data being primary data and secondary data obtained through literature studies. The research results obtained are as follows: (1) In maintaining the continuity of its business, De'Sate implements internal control with the COSO concept, (2) system design has been made using use case diagrams, UML class diagrams, and the creation of UI Layout forms and systems that made accompanied by a Point Of Sales (POS) so that De'Sate can improve the efficiency of the customer service process.
References
Abdurrahman, A., & Novita. (2021). Implementasi Pengendalian Internal Berdasarkan COSO Framework dan Good Corporate Governance Terhadap Kinerja Perusahaan: Studi Kasus pada PT Reasuransi Syariah Indonesia. Jurnal Ilmiah Mahasiswa Akuntansi, 10(1), 1–10. https://doi.org/10.33508/jima.v10i1.2779
Adagye, I. D. (2015). Effective Internal Control System in the Nasarawa State Tertiary Educational Institutions for Efficiency: A Case of Nasarawa State Polytechnic, Lafia. International Journal of Educational and Pedagogical Sciences, 9(11), 3902–3907.
Ahdiat, A. (2022). Indonesia Punya UMKM Terbanyak di ASEAN, Bagaimana Daya Saingnya? Databoks.Katadata.Co.Id. https://databoks.katadata.co.id/datapublish/2022/10/11/indonesia-punya-umkm-terbanyak-di-asean-bagaimana-daya-saingnya
Ahmad, T., Iqbal, J., Ashraf, A., Truscan, D., & Porres, I. (2019). Model-based testing using UML activity diagrams: A systematic mapping study. Computer Science Review, 33, 98–112. https://doi.org/10.1016/j.cosrev.2019.07.001
Akinleye, G. T., & Kolawole, A. D. (2020). Internal controls and performance of selected tertiary institutions in Ekiti state: A committee of sponsoring organisations (coso) framework approach. International Journal of Financial Research, 11(1), 405–416. https://doi.org/10.5430/IJFR.V11N1P405
Anardani, S., Yunitasari, Y., & Sussolaikah, K. (2023). Analisis Perancangan Sistem Informasi Monitoring dan Evaluasi Kerjasama Menggunakan UML. Remik, 7(1), 522–532. https://doi.org/10.33395/remik.v7i1.12070
Bergström, G., Hujainah, F., Ho-Quang, T., Jolak, R., Rukmono, S. A., Nurwidyantoro, A., & Chaudron, M. R. V. (2022). Evaluating the layout quality of UML class diagrams using machine learning. Journal of Systems and Software, 192, 111413. https://doi.org/10.1016/j.jss.2022.111413
Chan, K. C., Chen, Y., & Liu, B. (2021). The Linear and Non-Linear Effects of Internal Control and Its Five Components on Corporate Innovation: Evidence from Chinese Firms Using the COSO Framework. European Accounting Review, 30(4), 733–765. https://doi.org/10.1080/09638180.2020.1776626
COSO. (2013). COSO – Internal Control Integrated Framework. The Committee of Sponsoring Organization of the treadway Commission. In COSO (p. 194).
Fatihah, D. I., Arimurti, T., & Suryani, L. N. (2023). ANALISIS EFEKTIVITAS PENGENDALIAN INTERNAL DALAM PENJUALAN ONLINE BERBASIS E-COMMERCE. Jurnal Mutiara Akuntansi, 8(1), 9–18.
Ferdi, Z. E., Putra, F., Ajie, H., Safitri, I. A., & Jakarta, U. N. (2021). Designing A User Interface and User Experience from Piring Makanku Application by Using Figma Application for Teens. International Journal of Information System & Technology Akreditasi, 5(3), 308–315.
Gosala, B., Chowdhuri, S. R., Singh, J., Gupta, M., & Mishra, A. (2021). Automatic classification of uml class diagrams using deep learning technique: Convolutional neural network. Applied Sciences (Switzerland), 11(9). https://doi.org/10.3390/app11094267
Himawan, H., & F., M. Y. (2020). Interface User Experience. In Nucl. Phys. (Vol. 13, Issue 1).
Hisham, A., Ahmed, A., Khaled, M., Abdullatif, N., & Kassem, S. (2021). Modelling of Crime Record Management System Using Unified Modeling Language. Ingenierie Des Systemes d'Information, 26(4), 365–373. https://doi.org/10.18280/ISI.260404
Maulana, R. (2022). Penerapan Desain Layout Wireframing dan User Interface Website Point of Sale di PT. XYZ. Fti, 1–13.
Méndez Garcés, E. F., Mafla, G. M., Reyes, F., La, A. ", & Domingo, L.-S. (2019). Analysis, Review and Development of a Conceptual Model, based on Class Diagrams as a Component of UML, Focused on Industrial Automation. International Journal of Control Systems and Robotics, 4, 6–10.
Purnasari, M., Hartiwi, Y., & Nurhayati, N. (2022). Perancangan Sistem Informasi Pengelolaan Dana Masjid Berbasis Web Menggunakan Unified Modeling Language (UML). Resolusi : Rekayasa Teknik Informatika Dan Informasi, 2(6), 258–264. https://doi.org/10.30865/resolusi.v2i6.416
Putri, A. M. H. (2023). Jumlah UMKM Capai 8,71 Juta, Bisa Jadi "Tameng" Resesi? CNBC Indonesia. https://www.cnbcindonesia.com/research/20230207115843-128-411724/jumlah-umkm-capai-871-juta-bisa-jadi-tameng-resesi#:~:text=Jakarta%2C CNBC Indonesia - Berdasarkan data,mencapai 8%2C71 juta unit
Rivai, S., & Tukino, T. (2023). PERANCANGAN APLIKASI PERKANTORAN ELEKTRONIK DENGAN MENGGUNAKAN METODE OBJECT ORIENTED ANALYSIS DESIGN BERBASIS WEB PADA KJPP DAR. Computer Based Information System Journal, 11(1), 42–54. https://doi.org/10.33884/cbis.v11i1.6865
Ramadhan, R. A. K. (2023). Sistem Informasi Penjualan Point Of Sale Menggunakan Framework React Native Pada Toko Ibnu Ali Kecamatan Bawang Banjarnegara. Jurnal Ilmiah Sistem Informasi Dan Informatika, 2(1), 42–57.
Suwarno, S., & Kristianti, K. (2022). Design, Development And Usability Analysis of Pre-Loved Goods Trading Application With Agile Approach. JURIKOM (Jurnal Riset Komputer), 9(6), 1816. https://doi.org/10.30865/jurikom.v9i6.5201
Syarif, M., & Nugraha, W. (2020). Pemodelan Diagram UML Sistem Pembayaran Tunai Pada Transaksi E-Commerce. Jurnal Teknik Informatika Kaputama (JTIK), 4(1), 70 halaman.
Tukino, T. (2018). Perancangan Sistem Informasi Pelaporan Gangguan Dan Restitusi Pelanggan Internet Corporate Berbasis Web (Studi Kasus Di PT. Indosat Mega Media West Regional). JURNAL ILMIAH INFORMATIKA, 6(01), 1–10. https://doi.org/10.33884/jif.v6i01.324Umar, R., Sarjimin, S., Nugroho, A. S., Dito, A., & Gunawan, I. (2021). Perancangan Sistem Informasi Keuangan Berbasis Web Multi User Dengan UML. Jurnal Algoritma, 17(2), 204–211. https://doi.org/10.33364/algoritma/v.17-2.204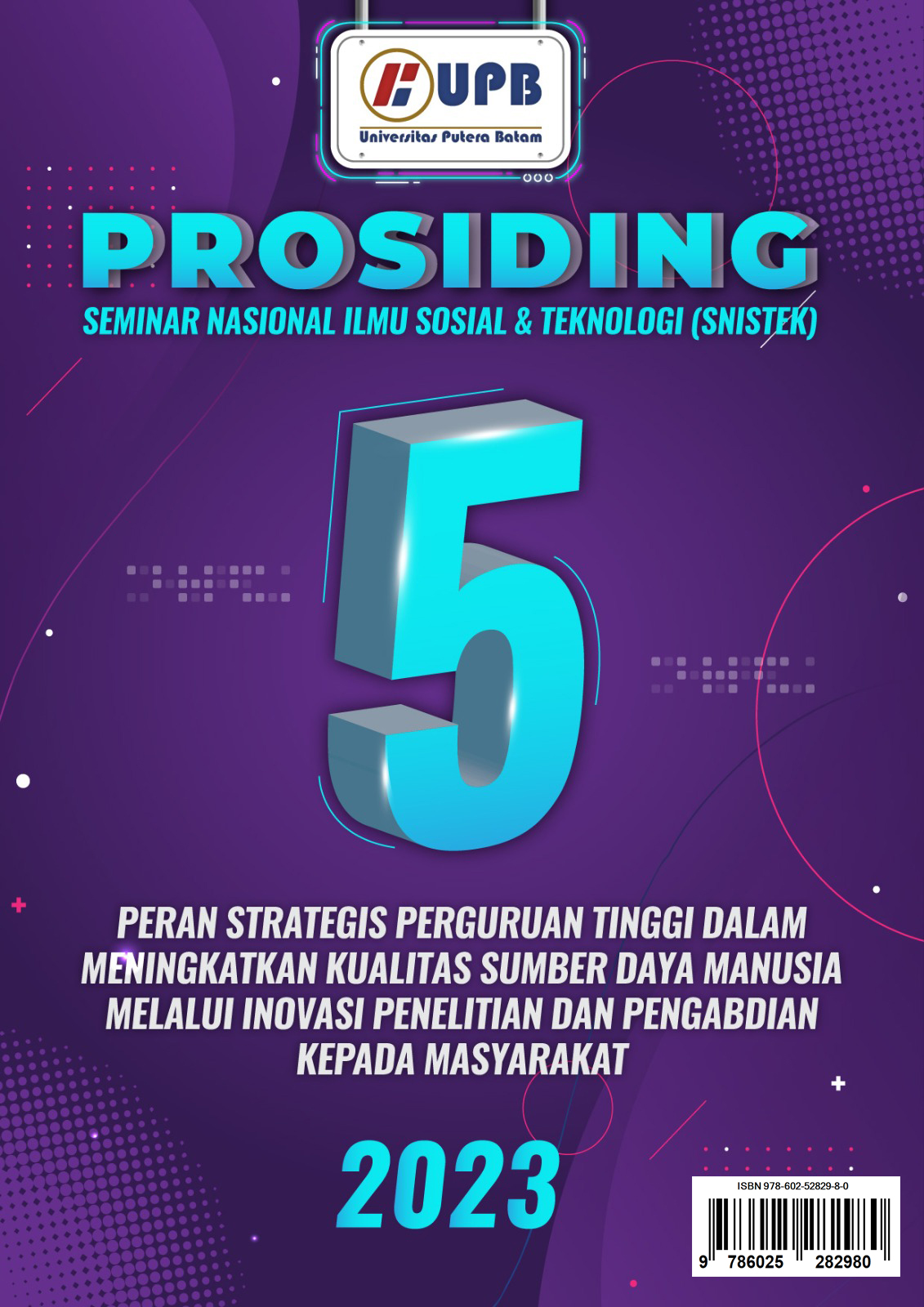 Downloads
How to Cite
Suwarno, S., Calystania, V. ., Sisca, V. ., Novia, J. ., Vira, V., & Stephanie, S. (2023). Perancangan Sistem Informasi UMKM De'Sate Batam melalui Analisis Pengendalian Internal Menggunakan COSO Framework. Prosiding Seminar Nasional Ilmu Sosial Dan Teknologi (SNISTEK), 5, 111–125. https://doi.org/10.33884/psnistek.v5i.8071
License
Copyright (c) 2023 Prosiding Seminar Nasional Ilmu Sosial dan Teknologi (SNISTEK)
This work is licensed under a Creative Commons Attribution 4.0 International License.