Konseptualisasi Green Marketing:Pendekatan Pemasaran Dalam Upaya Mempertahankan Loyalitas Pada Klinik Navaagreen Tiban Kota Batam
Keywords:
Green Product, Green Price, Green Place, Green Promotion, Customer Loyalty
Abstract
This research aims to examine the emergence of the back to nature movement which influences the lifestyle of millennial people who prefer environmentally friendly products in skincare products that are based on green products even though they are more expensive. Products that still use containers or raw materials that are not environmentally friendly are no longer a top priority. The next phenomenon is the increasing awareness of having healthy skin, which is a unique form of consumer behavior, especially experienced by women. The increasing trend in beauty care has also encouraged the growth of beauty products that do not have official permission from the Food and Drug Supervisory Agency (BPOM). Indirectly, this will reduce the level of consumer use of beauty products in the long term. This research contextually includes four supporting dimensions which provide the foundation for the existence of green marketing-based skincare products, namely green product, green price, green place and green promotion. This research uses a quantitative survey method with samples taken from 100 users of Naavagreen beauty clinic services. This research is a quantitative descriptive research where the data analysis process uses linear regression analysis between construct variables. The results of the research are that variables X1, X2 and X3 have a positive and significant effect, while variable X4 has a negative and insignificant effect. Meanwhile, simultaneously the variables in this research have a positive and significant effect.
References
Azizah, N., Carolina, P. S., & Alfaizi, M. R. (2020). Pengaruh Penentuan Strategi Komunikasi Pemasaran Terhadap Minat Beli Masyarakat Pada Produk Lokal. Jurnal Ilmiah Komunikasi Makna, 8(2), 87-98.
Hanifah, H. N., Hidayati, N., & Mutiarni, R. (2019). Pengaruh produk ramah lingkungan/Green Product dan Harga terhadap keputusan pembelian produk Tupperware. JMD: Jurnal Riset Manajemen & Bisnis Dewantara, 2(1), 37-44.
Hati, S. W., & Kartika, A. (2015). Pengaruh Green Marketing Terhadap Kepuasan Pelanggan Produk Kosmetik Merk The Body Shop (Studi pada Mahasiswi Jurusan Manajemen Bisnis di Politeknik Negeri Batam yang Menggunakan Produk Kosmetik Merek The Body Shop). Jurnal Akuntansi, Ekonomi Dan Manajemen Bisnis, 3(2), 120-127.
Izzani, T. (2021). Pengaruh Green Marketing dan Gaya Hidup Terhadap Keputusan Pembelian Pada Produk Love Beauty Planet (Studi Kasus di Giant Pasar Minggu). Jurnal Inovatif Mahasiswa Manajemen, 1(2), 150-157
Pertiwi, B. A. S., & Sulistyowati, R. (2021). Pengaruh Strategi Green Marketing Dan Social Media Marketing Terhadap Keputusan Pembelian Kaos Lokal Kerjodalu. Jurnal Pendidikan Tata Niaga (JPTN), 9(3), 1376-1382.
Sawitri, I. G. A. T. D., & Rahanatha, G. B. (2019). Pengaruh Green Marketing Dan Brand Image Terhadap Loyalitas Pelanggan (Doctoral dissertation, Udayana University).
Sari, R. A. (2021, 10 28). Contoh Penerapan Strategi Green Marketing pada Brand Kosmetik, Simak Yuk! Retrieved from mashmoshem.co.id: https://mashmoshem.co.id/contoh-green-marketing-pada-brand-kosmetik/
Shalihah, H. H., & Rubiyant, R. N. (2023). Analisis Pengaruh Green Marketing Terhadap Purchase Intention Produk Garnier Melalui Brand Image Sebagai Variabel Intervening Studi Pada Konsumen Di Pulau Jawa. eProceedings of Management, 10(1).
Shabani, N., Ashoori, M., Taghinejad, M., Beyrami, H., & Fekri, M. N. (2013). The study of green consumers' characteristics and available green sectors in the market. International Research Journal of Applied and Basic Sciences, 4(7), 1880-1883.
Siagian, M., Kom, S., Sunargo, S. E., Khoiri, M., Rustam, T. A., & Wasiman, S. E. (2022). Pengantar Manajemen (Vol. 1). CV BATAM PUBLISHER.
Silvia, F., Fauzi, A., & Kusumawati, A. (2014). Pengaruh Pemasaran Hijau Terhadap Citra Merek Serta Dampaknya pada Keputusan Pembelian (Survei pada Konsultan Independen di Oriflame Cabang Surabaya). Jurnal Administrasi Bisnis, 14(1), 1–9
Swara, N. N. A. A. V., & Putri, N. M. K. D. (2019). Peran Word Of Mouth Memediasi Pengaruh Kepuasan Terhadap Loyalitas Konsumen Pada Green Product Merek Oriflame Di Kota Denpasar. Widya Manajemen, 1(1), 80-98.
Tiwari, Sandeep, Durgesh Mani Tripati, Upsana Srivasta dan PK. Yadav. (2011). Green Marketing -Emerging Dimension. Journal of Business Excellence. 4: 9-11.
Trinanda, R., & Saputri, M. E. (2021). Pengaruh Green Marketing Dan Packaging Terhadap Brand Image Dan Loyalitas Pelanggan Pada Konsumen Starbucks Di Kota Bandung. eProceedings of Management, 8(5).
Wiwoho AS. Pengaruh Relationship Marketing, Customer Value, dan Trust Terhadap Loyalitas Pelanggan Pada PT. Asuransi Jiwasraya Cabang Kota Malang. Manajemen Bisnis. 2018 Nov 16;8(2)
Simamora S, Silalahi M, Nainggolan NT, Candra V. Pengaruh Harga Dan Customer Relationship Marketing Terhadap Keputusan Pembelian Konsumen Pada Ud Sentral Jaya Pematangsiantar. SULTANIST: Jurnal Manajemen dan Keuangan. 2019 Dec 27;7(2):62-72.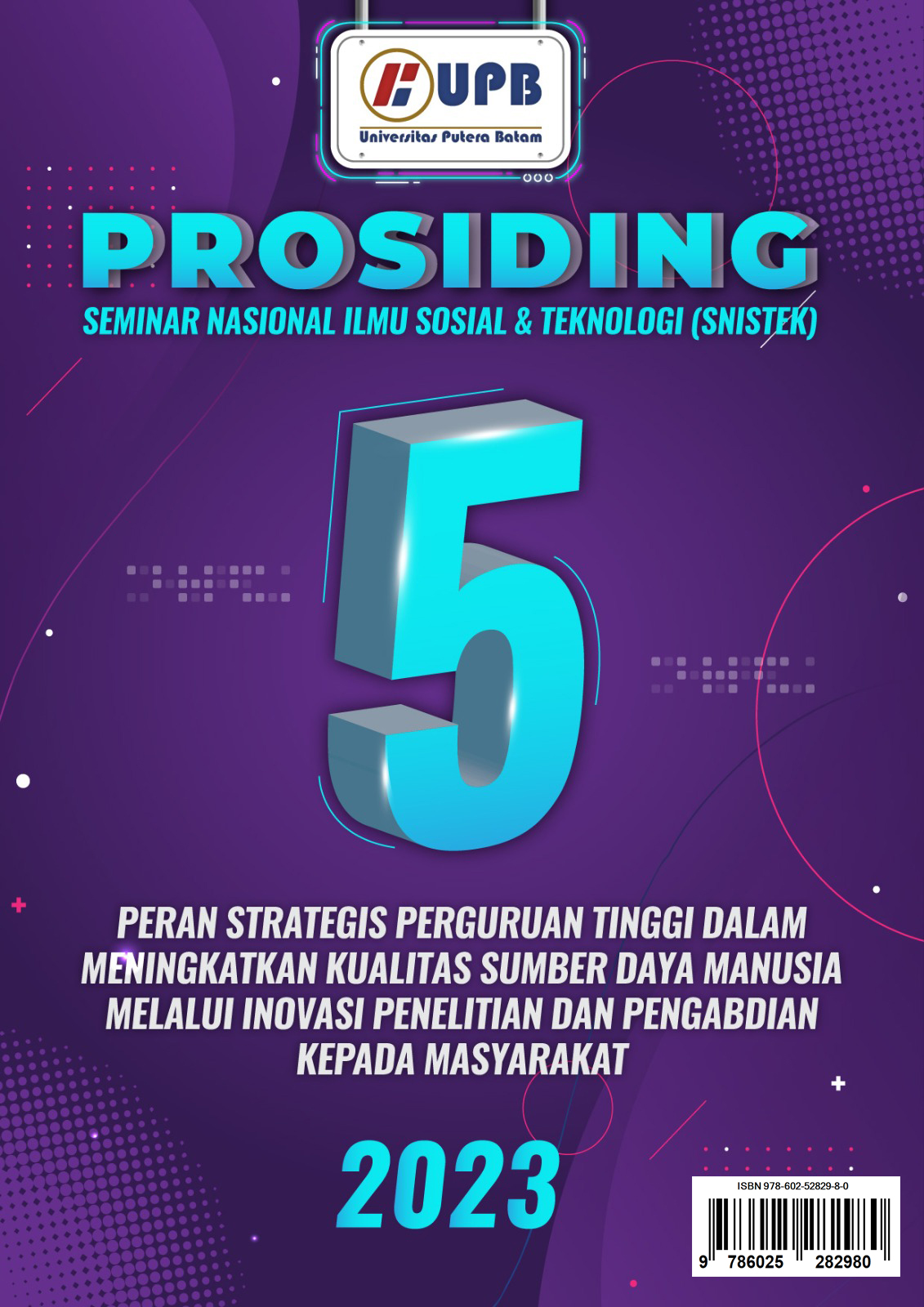 Downloads
How to Cite
Rustam, T. A. ., & Sukati, I. . (2023). Konseptualisasi Green Marketing:Pendekatan Pemasaran Dalam Upaya Mempertahankan Loyalitas Pada Klinik Navaagreen Tiban Kota Batam. Prosiding Seminar Nasional Ilmu Sosial Dan Teknologi (SNISTEK), 5, 507–512. https://doi.org/10.33884/psnistek.v5i.8126
License
Copyright (c) 2023 Prosiding Seminar Nasional Ilmu Sosial dan Teknologi (SNISTEK)
This work is licensed under a Creative Commons Attribution 4.0 International License.