Perancangan Dan Pembuatan Aplikasi Wisata Kuliner Kota Batam Berbasis Android
Rico Adrial

Delia Meldra

Rahadian Aulia Firda
Abstract
Culinary tourism has become a hobby of many people when they are in a new area. Batam is one of the most visited culinary destinations. This is because Batam is in international shipping lanes directly adjacent to Singapore and Malaysia. Batam is often used as a tourist attraction that allows people to visit neighboring countries. Batam has a diverse culinary, because the population of Batam consists of sharing tribes and cultures. Starting from Aceh typical foods such as aceh noodles up to typical Manado such as grilled fish. One special food just in Batam that Gong-gong which is only sold in certain seafood restaurants in Batam. Information to get to culinary attractions is often difficult to obtain and also rarely updated. This study aims to obtain information about culinary tourism in Batam-based Android. The use of Smartphones is already a basic requirement. Many travelers are looking for information using the internet through their smartphone. One of the most widely used operating systems is the Android operating system. Android operating system really helps its users in various daily activities. With the applications running on the Android operating system on each smartphone tourists, then they can search for culinary information via smartphone wherever they are. The conclusion of this research is has been made an application in the form of culinary attractions in Batam-based Android City which is designed for smartphone users to make it easier for tourists to get information.
References
Besra, E. (2012). Potensi Wisata Kuliner dalam Mendukung Pariwisata Di Kota Padang, 12, 74–101.
Hakim, R., & Ir. Sutarto, M. S. (2009). Mastering Java. Jakarta: PT Elex Media Komputindo.
Kumar, L. A. (2012). Mobile Application for News and Interactive Services. ARPN Journal of Science and Technology, 2(1), 401–404. https://doi.org/10.1109/ICCOMM.2010.5509007
Lengkong, H. N., Lumenta, A. S. M., & Sinsuw, A. A. E. (2015). Perancangan Penunjuk Rute Pada Kendaraan Pribadi Menggunakan Aplikasi Mobile GIS Berbasis Android Yang Terintegrasi Pada Google Maps. E-Journal Teknik Elektro Dan Komputer (2015), 18–25.
Murtiwiyati, & Glenn, L. (2013). Rancang Bangun Aplikasi Pembelajaran Budaya Indonesia Untuk Anak Sekolah Dasar Berbasis Android. Jurnal Ilmiah KOMPUTASI, 12(2), 1–10.
Ramadhan, F., & Nugraha, C. (2014). Pemodelan dan Simulasi Berbasis Agen untuk Sistem Industri Kuliner, 1(3), 101–113.
Sudana, I. P. (2013). Analisis Pariwisata. Strategi Pengembangan Desa Wisata Ekologis Di Desa Belimbing, Kecamatan Pupuan Kabupaten Tabanan, 13(1), 21.
Vega-gisbert, O., Roman, J. E., & Squyres, J. M. (2016). Design and implementation of Java bindings in Open MPI. Parallel Computing, 59, 1–20. https://doi.org/10.1016/j.parco.2016.08.004
Wardhani, R., & Yaqin, M. H. (2013). Game Dasar- Dasar Hukum Islam Dalam Kitab Mabadi ' ul Fiqh Jilid I. Jurnal Teknika, 5(2), 473–478.
Windarti, Y. (2016). Local Government Attitudes toward Sustainable Tourism Development ( Case of Bandung City , Indonesia ), 6(7). https://doi.org/10.7763/IJSSH.2016.V6.709
Zaei, M. E., & Zaei, M. E. (2013). the Impacts of Tourism Industry on Host Community. European Journal of Tourism Hospitality and Research, 1(2), 12–21.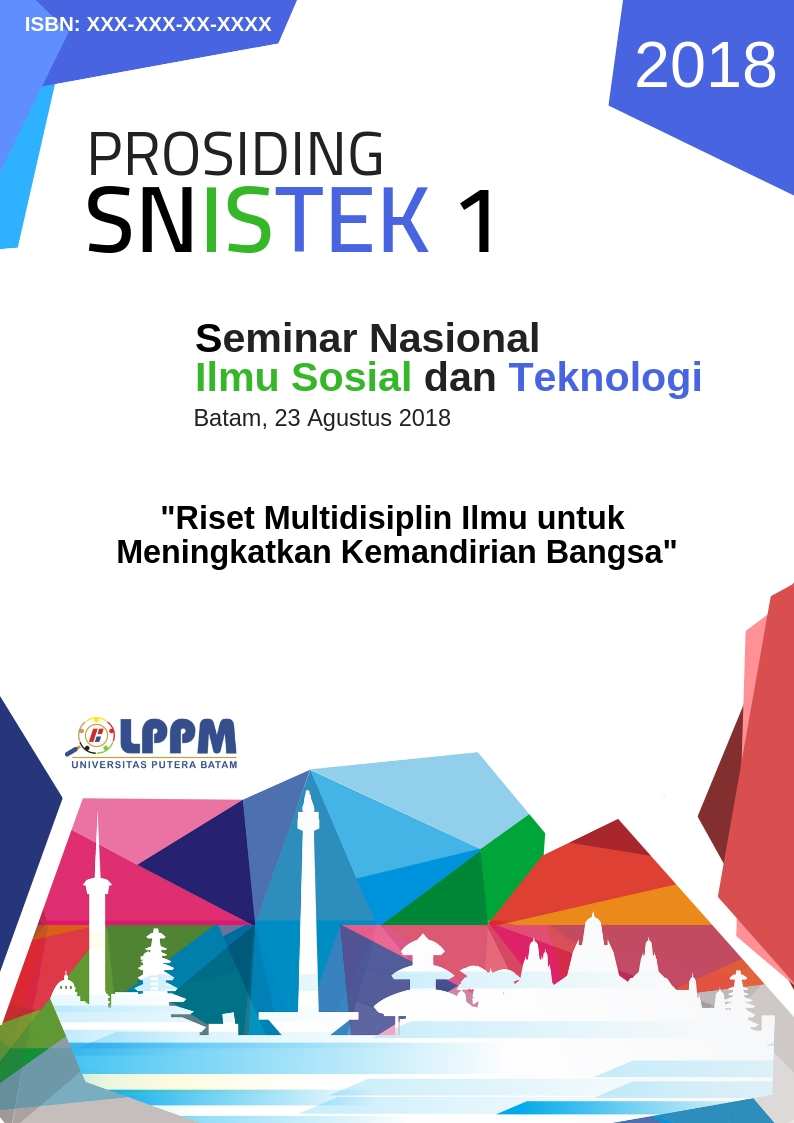 How to Cite
ADRIAL, Rico; MELDRA, Delia; FIRDA, Rahadian Aulia. Perancangan Dan Pembuatan Aplikasi Wisata Kuliner Kota Batam Berbasis Android.
Prosiding Seminar Nasional Ilmu Sosial dan Teknologi (SNISTEK)
, [S.l.], n. 1, p. 139-144, oct. 2018. Available at: <
http://ejournal.upbatam.ac.id/index.php/prosiding/article/view/760
>. Date accessed: 31 may 2020.
This work is licensed under a Creative Commons Attribution 4.0 International License.