PENERAPAN ALTMAN Z-SCORE DALAM MEPREDIKSI KEBANGKRUTAN PADA PT BANK DANAMON INDONESIA Tbk
Keywords:
Altman Z-Score, Prediction, BankruptcyAltman Z-Score, Prediction, Bankruptcy
Abstract
The tittle of research was "The Implementation of Altman Z-Score in Predicting Bankruptcy at PT Bank Danamon Indonesia Tbk. The purpose of this research was conducted to determine the risk of bankruptcy of PT Bank Danamon Tbk according to Altman Z-Score. The population in this research was the financial statement of PT Bank DanamonTbk and the samples in this research were reports of financial position (balance sheet) and income statement of PT Bank Danamon Tbk period 2018 – 2020. The type of data used is secondary data and the data collection techniques used were the documentation of the financial statements published through website https://www.danamon.co.id . The data analysis technique uses descriptive statistics and the Altman Z-Score Modification method. Based on the results of the data processing obtained Z-Score results at 2018 was 2,251 ; at 2019 was 2,4424; at 2020 was 2,0052. Based on the results of data analysis, it can be concluded that PT Bank Danamon Tbk is in the gray zone because the standard cut off value is 1.1 < Z < 2.6. Bank Danamon is in a vulnerable condition (grey area) which means the company has the potential to experience financial difficulties but can still be overcome.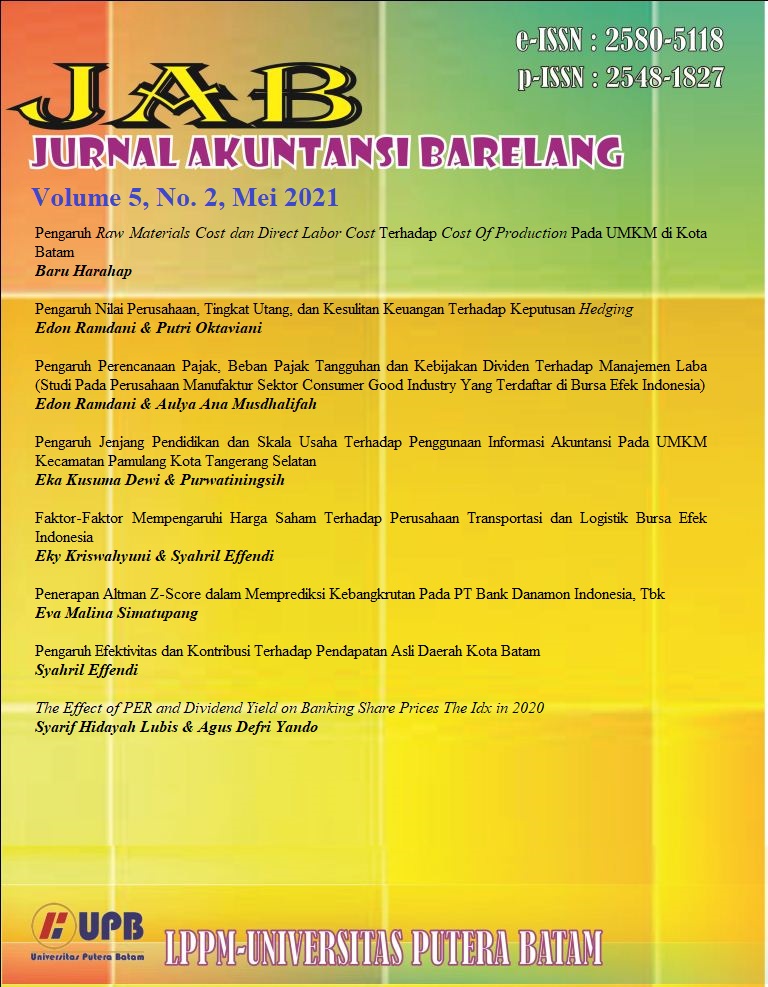 Downloads
How to Cite
Simatupang, E. M. (2021). PENERAPAN ALTMAN Z-SCORE DALAM MEPREDIKSI KEBANGKRUTAN PADA PT BANK DANAMON INDONESIA Tbk. JURNAL AKUNTANSI BARELANG, 5(2), 60–66. https://doi.org/10.33884/jab.v5i2.4470