ANALISIS PENERAPAN SAK ETAP DALAM PENYAJIAN LAPORAN KEUANGAN PADA KOPERASI PEGAWAI NEGERI SMPN 7 PEMATANG SIANTAR
Keywords:
SAK ETAP, Financial Report, Cooperative
Abstract
IAI has issued a Standard Financial Accounting entity without Public Accountability, also known as SAK ETAP. SAK ETAP is intended to accommodate the needs of an entity, which does not significantly have accountability, to operate such as Small and Medium Enterprises (SMEs) and cooperatives. SAK ETAP is a standard that regulates the accounting treatment of MSMEs and cooperatives in Indonesia, but all cooperative activities are also guided by the latest laws and government regulations issued by relevant ministers in this case the Minister of Cooperatives and Small and Medium Enterprises Regulation (K -UKM) Republic of Indonesia No 12 of 2015, concerning General Guidelines for Cooperative Accounting. This study aims to evaluate the implementation of SAK ETAP in the financial statements of Pematang Siantar Junior High School 7 Cooperative. SMP N 7 Pematang Siantar Civil Servants Cooperative is a cooperative in a savings and loan business. The financial statements of Pematang Siantar Middle School 7 N Cooperative Cooperative are not in accordance with the SAK ETAP standard.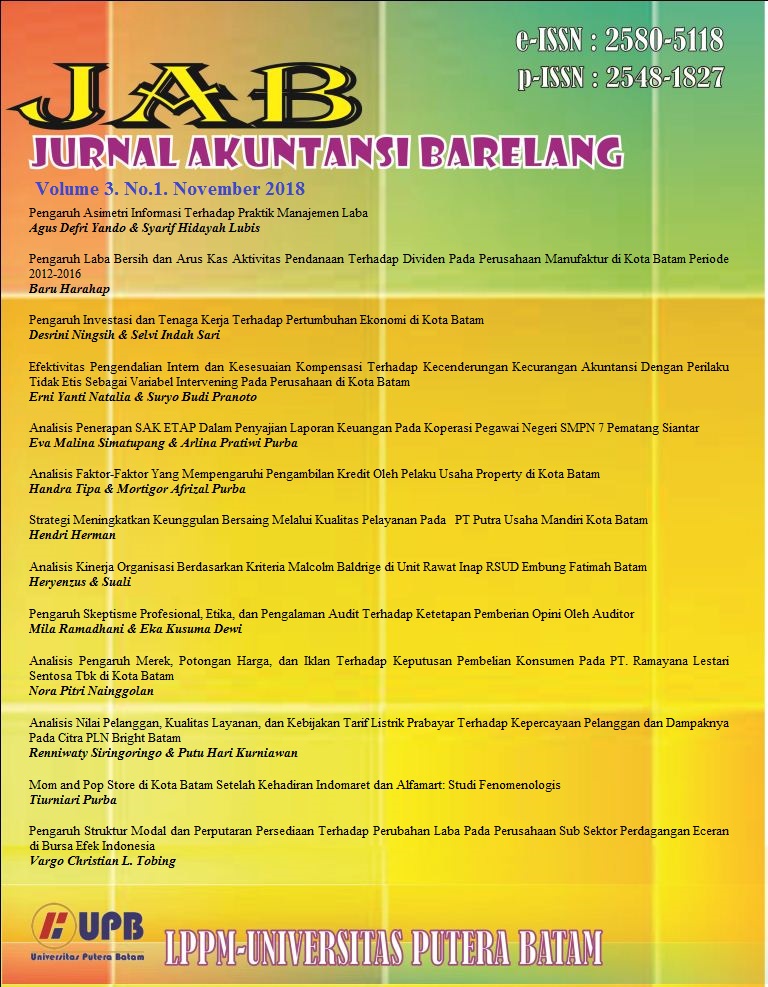 Downloads
How to Cite
Simatupang, E. M., & Purba, A. P. (2018). ANALISIS PENERAPAN SAK ETAP DALAM PENYAJIAN LAPORAN KEUANGAN PADA KOPERASI PEGAWAI NEGERI SMPN 7 PEMATANG SIANTAR. JURNAL AKUNTANSI BARELANG, 3(1), 43–48. Retrieved from https://ejournal.upbatam.ac.id/index.php/jab/article/view/860