PENGARUH OPINI AUDIT, FINANCIAL DISTRESS, PERTUMBUHAN PERUSAHAAN KLIEN DAN UKURAN KAP TERHADAP AUDITOR SWITCHING
Keywords:
Audit opinion, ,financial distress, company growth, KAP Size, Auditor Switching.
Abstract
This study aims to determine the effect This study aims to determine the effect of audit opinion, financial distress, client company growth and KAP size on auditor switching. The population in this study were LQ 45 Index Companies listed on the Indonesia Stock Exchange for the period 2017 - 2020. The sampling technique used purposive sampling, so that 15 companies were selected as samples. Analysis of research data using Multiple Linear Regression Analysis using Software Eviews 9. The results of this study indicate that audit opinion and cap size have an influence on Auditor Switching Ability. Meanwhile, the growth of client companies and Financial Distress have no effect on Auditor switching.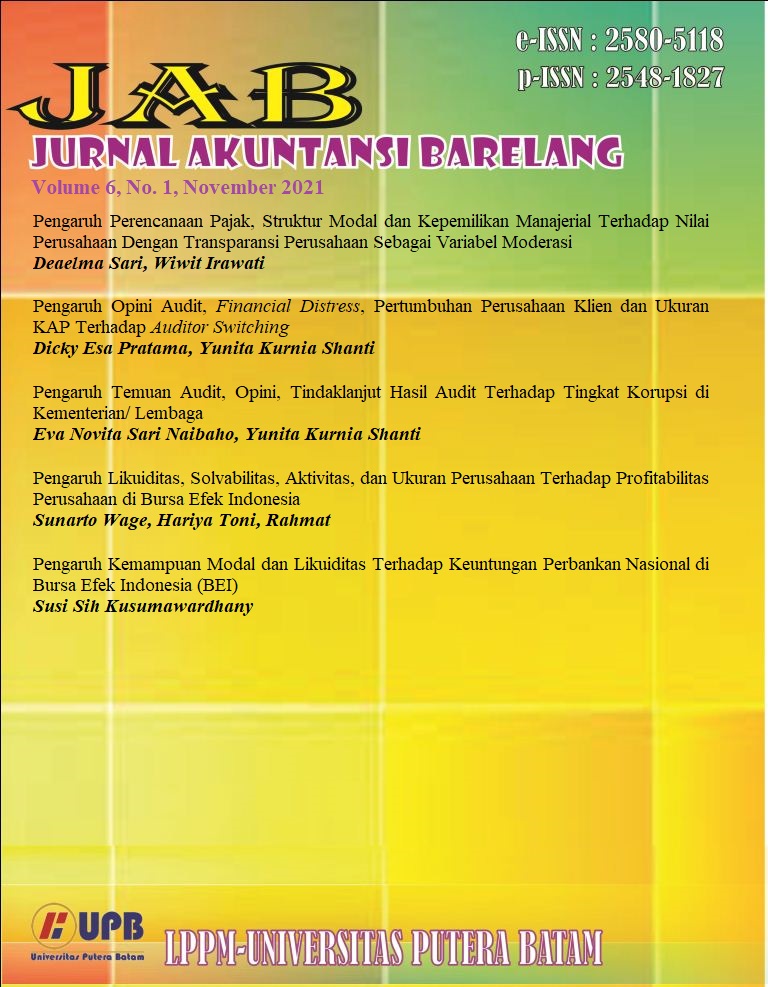 Downloads
How to Cite
Esa Pratama, D., & Yunita Kurnia Shanti. (2022). PENGARUH OPINI AUDIT, FINANCIAL DISTRESS, PERTUMBUHAN PERUSAHAAN KLIEN DAN UKURAN KAP TERHADAP AUDITOR SWITCHING. JURNAL AKUNTANSI BARELANG, 6(1), 13–24. https://doi.org/10.33884/jab.v6i1.4556