PENGARUH TEMUAN AUDIT, OPINI, TINDAKLANJUTI HASIL AUDIT TERHADAP TINGKAT KORUPSI DI KEMENTERIAN/LEMBAGA
Keywords:
audit findings, opinions, post – audit rectification effort, corruption
Abstract
The purposes of this research is to analyze the influence of government auditing result such as audit finding, opinion, post-audit rectification effort to the level corruption of government department/institution in 2016 - 2019. The population in this study was audit results and overview of semester examination results of Badan Pemeriksaan Keuangan and annual report Komisi Pemberantas Korupsi. The sampling method uses purposive sampling, based on criteria sample. The number of samples 36 in 4 years observation. The data analysis method uses mutiplier regresi linear. The results of the study show that partially audit finding, audit opinion, and post-audit rectification effort has effect on corruption level in government department/institution. Simultaneously, these variables have significant influence on corruption level. This show that audit results can be uses as references to find indication of froud,especially corruption in government department/institution.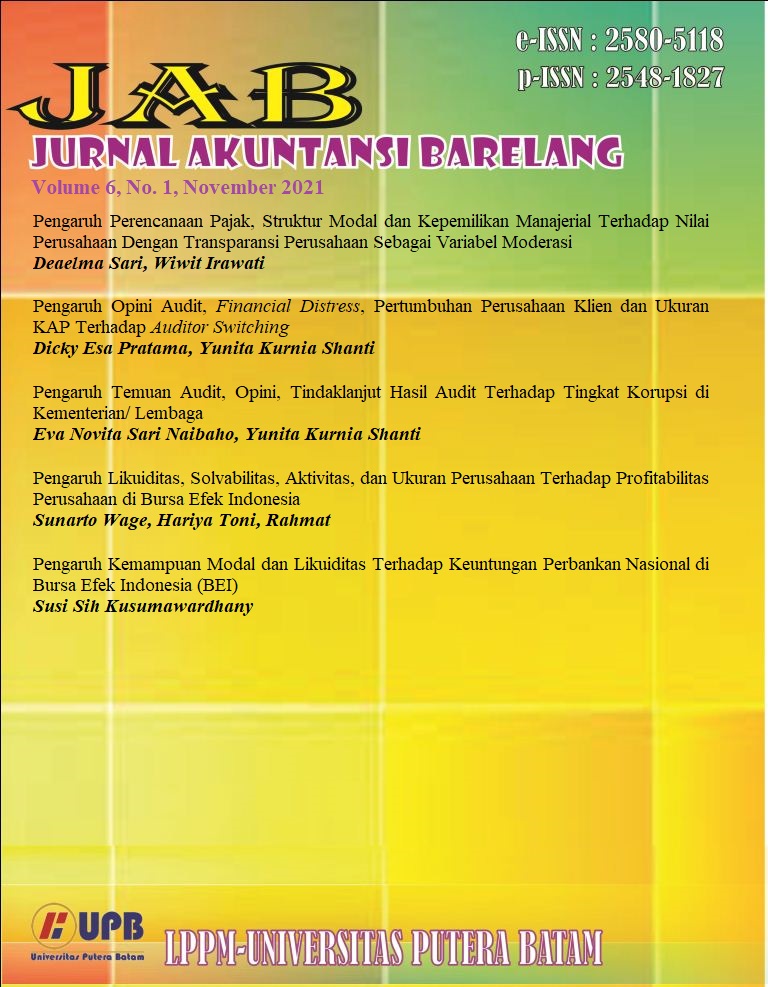 Downloads
How to Cite
Eva Novita Sari Naibaho, & Yunita Kurnia Shanti. (2022). PENGARUH TEMUAN AUDIT, OPINI, TINDAKLANJUTI HASIL AUDIT TERHADAP TINGKAT KORUPSI DI KEMENTERIAN/LEMBAGA. JURNAL AKUNTANSI BARELANG, 6(1), 25–40. https://doi.org/10.33884/jab.v6i1.4557