Pengaruh Brand Image, Promosi Penjualan Dan Duta Merek Terhadap Minat beli Konsumen E-Commerce Blibli Pada Masyarakat Kota Batam
Keywords:
Brand Image, Sales Promotion, Brand Ambassador, Buying Interest
Abstract
Along with the rapid development of technology and computer communication networks and become a medium to meet and make it easier for people to find their needs. The development of this technology is in the form of e-commerce. E-commerce refers to the processing of agreements in the sale and purchase of a commodity by utilizing computer networks or the internet. This makes e-commerce competition very tight, especially on the influence of the company's brand image, sales promotions and brand ambassadors will have an impact on consumer buying interest. The purpose of this study is to understand whether there is an influence between the variables of brand image, sales promotion, and brand ambassadors on the buying interest of Blibli e-commerce consumers in the Batam city community. The data collection technique was by distributing questionnaires to 100 respondents. The data analysis method used is descriptive analysis using SPSS version 26 program tools, namely validity test, reliability test, coefficient of determination test, multiple linear regression analysis, t test, F test. The results of this study indicate that brand image (X1) has an effect negative and significant effect on buying interest (Y), while sales promotion (X2) and brand ambassadors (X3) have a positive and significant effect on buying interest (Y). Simultaneously, the variable brand image (X1), sales promotion (X2) and brand ambassadors (X3) have a positive and significant effect with an F table value of 14,887 > 2.70 F table with a significance value of 0.00 less than 0.05 on interest buying (Y) consumers in the city of Batam.
References
Andini, P. N., & Lestari, M. T. (2021). Pengaruh Brand Ambassador Dan Brand Image Terhadap Minat Beli Pengguna Aplikasi Tokopedia. E-Proceeding of Management, 8(2), 2074–2082.
Creswell, W. John & Creswell, J. D. (2018). Research Design: Qualitative, Quantitative and Mixed Methods Approaches. In Journal of Chemical Information and Modeling (Vol. 53).
Ferdinand, A. (2014). Metode Penelitian Manajemen. Semarang: Badan Penerbit Universitas Diponegoro.
Hakim, A. R. (2017). PENGARUH BRAND IMAGE TERHADAP MINAT BELI KONSUMEN PADA BIMBEL TRIDAYA BANDUNG. E-Proceeding of Applied Science, 3(2), 480–486.
Haryani, D. S. (2019). Pengaruh Periklanan Dan Promosi Penjualan Terhadap Keputusan Pembelian Pada Perumahan Griya Puspandari Asri Tanjungpinang. Jurnal Dimensi, 8(1), 54–70. https://doi.org/10.33373/dms.v8i1.1827
Kok, W., Ariesa, Y., Kelvin, Pratama, V., Kosasih, S., & Alianza, V. F. (2018). The Role of Brand Ambassador, Event Marketing and Digital Marketing on Purchase Decisions User Shopee. Budapest International Research and Critics Institute-Journal (BIRCI-Journal), 4(3), 4804–4814. https://doi.org/https://doi.org/10.33258/birci.v4i3.2263 4804
Mardiani, A. S., & Wardhana, A. (2018). THE EFFECT OF BRAND AMBASSADOR TOWARDS BUYERS INTEREST OF BANDUNG KUNAFE CAKE. E-Proceeding of Management, 5(2), 2577–2583.
Nuada, I Nuada; Oktiani, Asri; Suharti; Faezal, M. (2021). Analisis Pengaruh Brand Ambassador, Desain Website Dan Online Review Terhadap Minat Beli Online Di Marketplace Lazada. Media Bina Ilmiah, 16(1), 5961–5968. https://doi.org/https://doi.org/10.33758/mbi.v16i1.1186
Ramadhan Januar Reza, H. rusdi. (2020). Pengaruh E-Service Quality, Brand Image dan Harga Terhadap Minat Beli Konsumen Online Shop Blibli.com (Studi Kasus Konsumen Blibli.com UPN "Veteran" Jawa Timur). Jurnal Bisnis Indonesia, 12(1), 12–26.
Rinaldi, S. F., & Mujianto, B. (2017). Metodologi Penelitian dan Statistik. Jakarta: Kementerian Kesehatan RI.
Sugiyono. (2015). Metode Penelitian Pendidikan (Pendekatan Kuantitatif, Kualitatif, dan R&D (22nd ed.). Bandung: ALFABETA.
Tjiptono, F. (2002). Manajemen Jasa. Yogyakarta: Penerbit Andi.
Wijaya, V. A., & Oktavianti, R. (2018). Pengaruh Brand Image E-Commerce Terhadap Minat Beli Konsumen (Survei Pada Pelanggan Tokopedia). Prologia, 2(2), 531. https://doi.org/10.24912/pr.v2i2.3740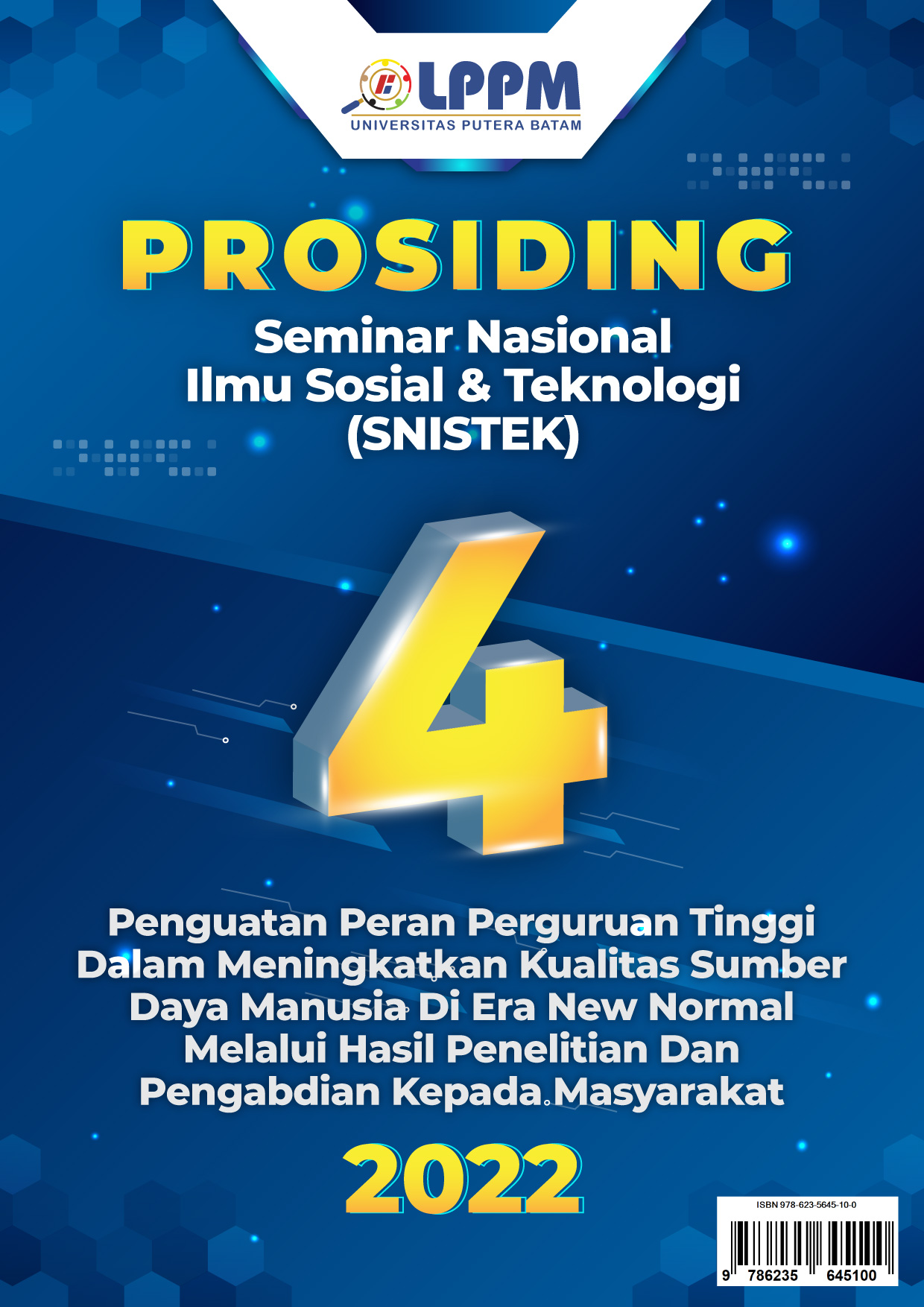 Downloads
License
Copyright (c) 2022 Prosiding Seminar Nasional Ilmu Sosial dan Teknologi (SNISTEK)
This work is licensed under a Creative Commons Attribution 4.0 International License.