Analisis Implementasi Strategi Pemasaran Digital dengan Pendekatan Model SOSTAC di Universitas Putera Batam
Keywords:
SOSTAC Model, Digital Marketing, Youtube Channel
Abstract
Digital marketing has become a crucial element in the marketing strategy of higher education institutions. This research, adopting a qualitative descriptive research approach and conducted on September 2-3, 2023, aims to provide an in-depth understanding of the practical application of the SOSTAC Model within the framework of Universitas Putera Batam. The research results indicate that the social media performance of Universitas Putera Batam is excellent. On YouTube, there are 428 videos ranking first in terms of video content quantity, along with 1,970 subscribers ranking third among private universities in the Riau Islands. On Instagram, there are 2,887 posts and 11,400 followers, while the Facebook account has 7,500 likes and 7,900 followers, demonstrating excellent performance across all platforms. To enhance engagement, Universitas Putera Batam can take several strategic steps. On the YouTube channel, they can create more informative content that piques the interest of prospective students, such as admission announcement videos. On Instagram, the focus can be directed towards increasing the number of likes by organizing contests or campaigns involving followers to boost engagement. Meanwhile, on Facebook, it is crucial to respond promptly to comments and follower messages and consider sharing more diversified content to improve user interaction. By leveraging the SOSTAC Model and continuously monitoring digital media performance, Universitas Putera Batam can maximize the impact of digital marketing strategies in achieving marketing goals and maintaining attractiveness in the competitive higher education market.
References
Arsyadi, M. G. R., Wulandari, S., & Alam, P. F. (2023). Improvement Of Digital Marketing Strategy Kickskemon Cleaning Shoe Service With Sostac Method. E-Proceeding of Engineering, 10(2), 928–933.
Chaffey, D. (2015). Digital Business and E-Commerce Management: Strategy, Implementation and Practice (6th ed.). Pearson Education Limited.
Chaffey, D., & Smith, P. (2017). Digital Marketing Excellence Planning, Optimizing and Integrating Online Marketing (5th ed.). Routledge.
Irwanto, J., Murniati, W., & Fauziyah, A. (2021). Optimization of Digital Marketing Strategy with Implementation of SOSTAC Method. IJEBD (International Journal of Entrepreneurship and Business Development), 4(6), 886–892. https://doi.org/10.29138/ijebd.v4i6.1532
Kotler, P., Armstrong, G., & Balasubramanian, S. (2023). GLOBAL EDITION Principles of Marketing NINETEENTH EDITION (19th ed.). Pearson Education Limited.
Kotler, P., Keller, K. L., Brady, M., Goodman, M., & Hansen, T. (2019). Marketing Management 4th European edition (4th ed.). Pearson. www.pearson.com/uk
Peter, M. K., & Dalla Vecchia, M. (2021). The Digital Marketing Toolkit: A Literature Review for the Identification of Digital Marketing Channels and Platforms. In Studies in Systems, Decision and Control (Vol. 294, pp. 251–265). Springer. https://doi.org/10.1007/978-3-030-48332-6_17
Pharr, J. M. (2019). Best Practices in Digital Content Marketing for Building University Brands. Association of Marketing Theory and Practice Proceedings , 8. https://digitalcommons.georgiasouthern.edu/amtp-proceedings_2019/8
Putera, G. A., & Heikal, J. (2021). Business Strategy of Indah Kiat Pulp and Paper Perawang Mill, Riau, Indonesia using PESTLE, Porter's Five Forces, and SWOT Analysis under SOSTAC Framework. International Journal of Scientific Research in Science and Technology, 8(6), 252–270. https://doi.org/10.32628/ijsrst218624
Ravi, S., & Rajasekaran, S. R. C. (2023). A Perspective of Digital Marketing in Rural Areas: a Literature Review. International Journal of Professional Business Review, 8(4), e01388. https://doi.org/10.26668/businessreview/2023.v8i4.1388
Rizvanović, B., Zutshi, A., Grilo, A., & Nodehi, T. (2023). Linking the potentials of extended digital marketing impact and start-up growth: Developing a macro-dynamic framework of start-up growth drivers supported by digital marketing. Technological Forecasting and Social Change, 186, 122128. https://doi.org/10.1016/j.techfore.2022.122128
Sanga, L. D. (2023). STRATEGI KOMUNIKASI PEMASARAN STIE BENTARA PERSADA DENGAN METODE SOSTAC DALAM MENINGKATKAN JUMLAH MAHASISWA. TRACTARE Jurnal Ekonomi Manajemen, 6(1), 237–246.
Satrio, B., & Andrariladchi, H. (2018). Development of Public Relation Strategy with Marketing Mix and SOSTAC Approach on Tourism Product, Case Study of Belitung Tourism. https://www.researchgate.net/publication/343442826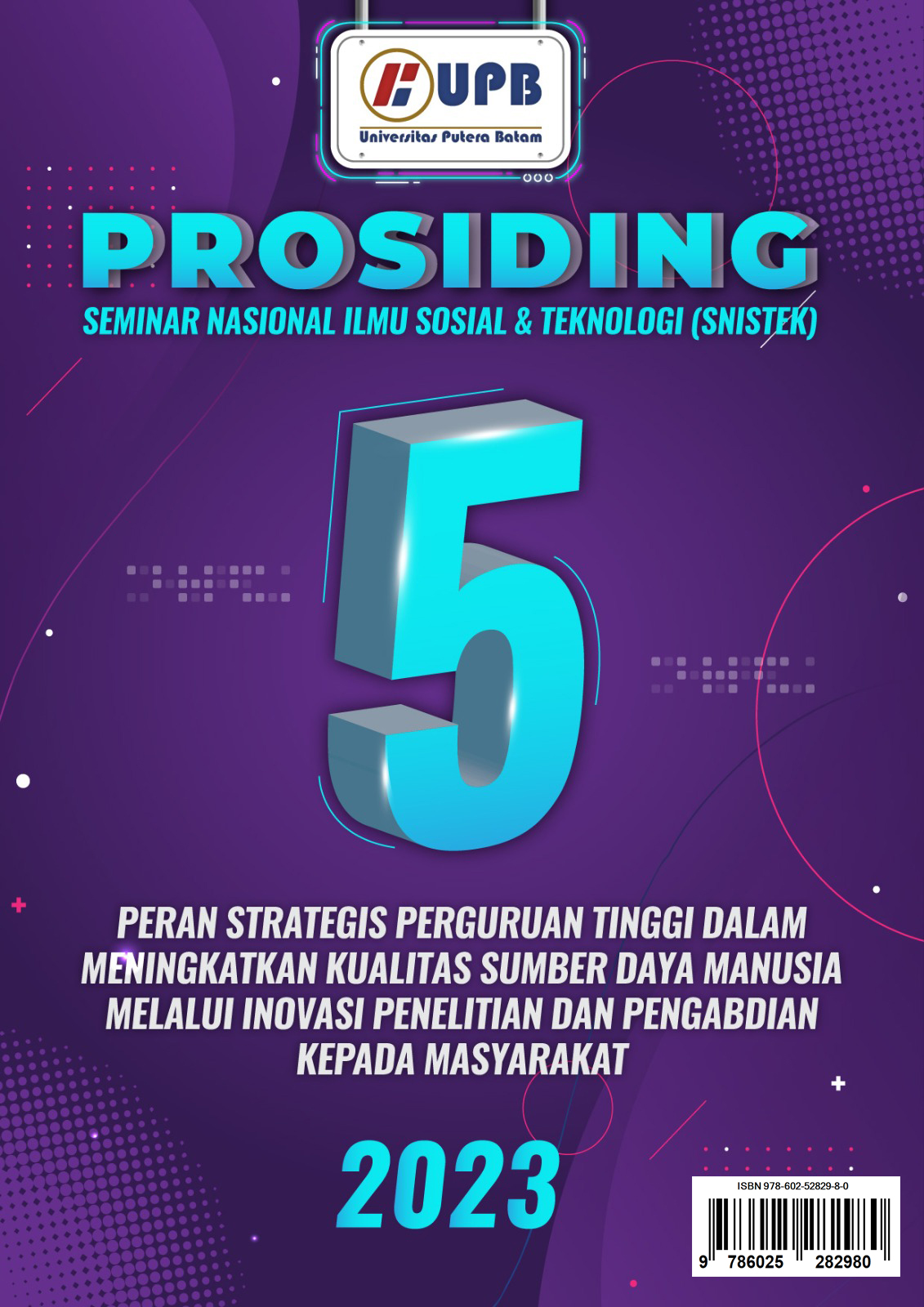 Downloads
How to Cite
Sulistyowati, T., & Husda, N. E. (2023). Analisis Implementasi Strategi Pemasaran Digital dengan Pendekatan Model SOSTAC di Universitas Putera Batam. Prosiding Seminar Nasional Ilmu Sosial Dan Teknologi (SNISTEK), 5, 45–50. https://doi.org/10.33884/psnistek.v5i.8062
License
Copyright (c) 2023 Prosiding Seminar Nasional Ilmu Sosial dan Teknologi (SNISTEK)
This work is licensed under a Creative Commons Attribution 4.0 International License.