Analisis Utilitarian Value Dan Hedonik Value Terhadap Kepuasan Pelanggan Pada PT Sumber Alfaria Trijaya Tbk (Alfamart)
Keywords:
Utilitarian Value, Hedonik Value, Customer Satisfaction
Abstract
The purpose of this research was to determine: 1). Utilitarian Value an affects on customer satisfaction, 2). Hedonic Value has an effect on customer satisfaction. 3) To find out whether Utilitarian Value and hedonic value affect on customer satisfaction. 4) To measure how much influence the Utilitarian Value and hedonic value have on customer satisfaction. This research is quantitative descriptive. The technique of collecting data using a questionnaire. The population in this study were the customers of PT Sumber Alfaria Trijaya TBK (Alfamart) in Batam. The sampling method using the Slovin formula, then taken as many as 423 respondents. The results of this study were obtained: the results of the t test variable Utilitarian Value (X1) on customer satisfaction (Y) obtained  t value of 5.905 which is greater than the t table (5.905 > 1.9719) with a significance of less than  0.05 ( 0.000 <0.05). In the hedonic variable value (X2) to customer satisfaction (Y), the  value of t arithmetic 136,479 which is greater than t table (136,479 > 1.9719) with a significance of less  than 0.05 (0.000 <0.05). The Multiple linear regression equation Y = (-1.351) + 0.413 (X1) + 0.674 (X2) + e. The conclusion of this study is it is known that the Utilitarian Value and Hedonic Value variabels that influence customer satisfaction of PT Sumber Alfaria Trijaya TBK (Alfamart) in Batam.
References
Kartika, G. W. (2012). Analisis Pengaruh Hedonic Value Dan Utilitarian Value Terhadap Kepuasan Konsumen, Dan Behavioral Intentions, Pada Industri Fast-Casual Restaurant. Jurnal Ekonomi. Universitas Indonesia.
Luh, N., Purnami, A., Ayu, I. G., & Giantari, K. (2017). Utilitarian Dan Nilai Hedonik Dengan Loyalitas Konsumen Fakultas Ekonomi dan Bisnis Universitas Udayana ( Unud ), Bali , Indonesia, 6(3), 1194–1220.
Nugroho, E. P. (2011). Kepuasan Konsumen Pengguna Notebook Acer ( Studi Kasus Mahasiswa Unnes Fakultas Ekonomi ).
Sofiyudin, A. (2015). Pengaruh utilitarian value dan hedonic value terhadap kepuasan konsumen indomaret point cabang colombo yogyakarta. Jurnal Marketing, 1(1), 1–66.
Sugiyono. (2012). Metode Kuantitatif Dan Metode Kualitatif R&D. Bandung: Alfabeta
Tanojohardjo, G. A., Kunto, Y. S., Sc.M, S. S., & Brahmana, K. R. R. M. (2014). Analisa Hedonic Value Dan Utilitarian Value Terhadap Brand Trust Dengan Brand Satisfaction Sebagai Variabel Intervening Pada Produk Pewarnaan L ` Oréal ProfessionnelP. Jurnal Manajemen Pemasaran Petra, 2(1), 1–11.
Yistiani, N. N. manik, Yasa, N. N. K. Y., & Suasana, I. G. . K. G. (2012). Pengaruh atmosfer gerai dan pelayanan ritel terhadap nilai hedonik dan pembelian impulsif pelanggan matahari department store duta plaza di denpasar. Manajemen Strategi Bisnis Dan Kewirausahaan, 6(2), 139–149. https://doi.org/10.1186/s12967-017-1232-6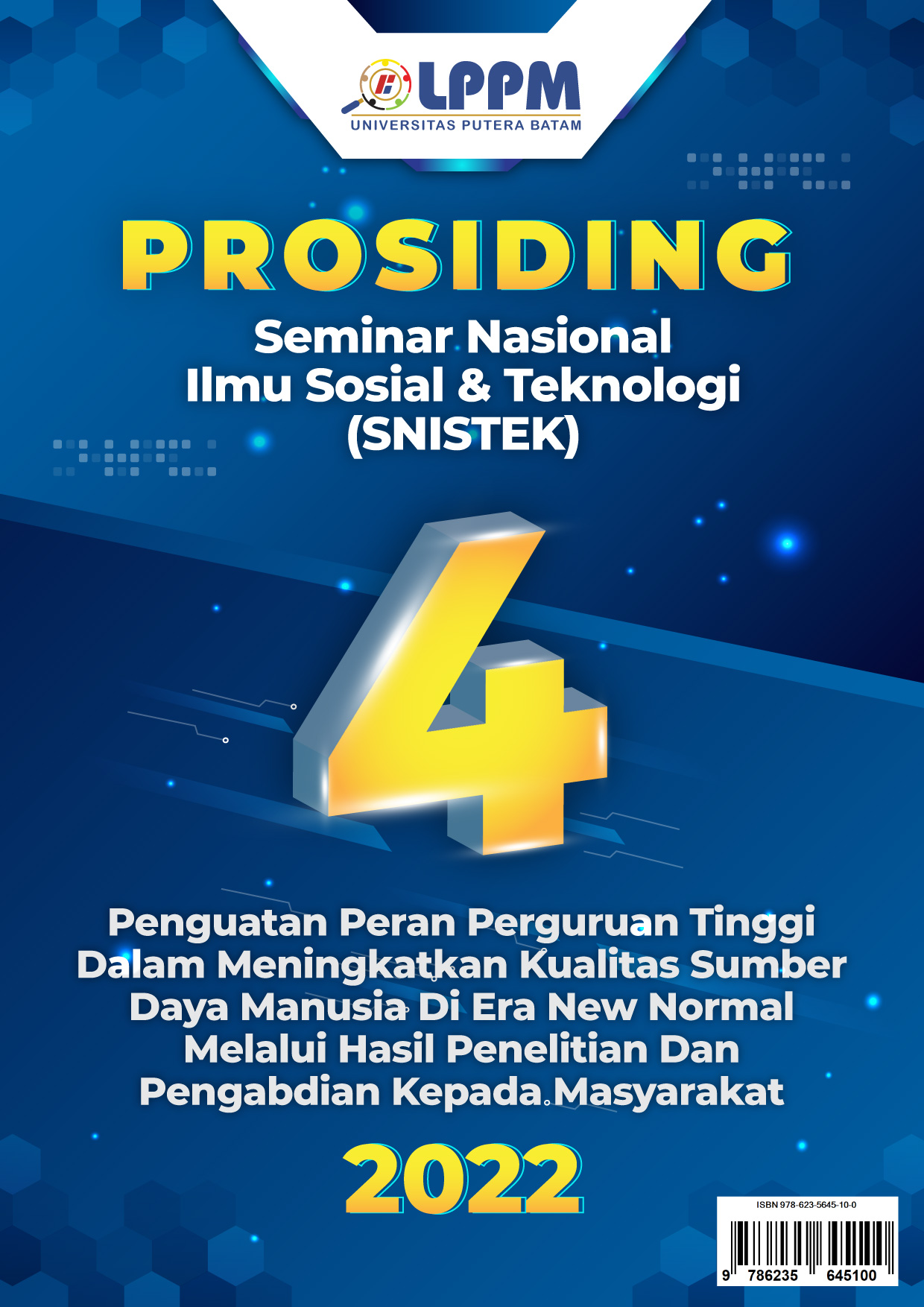 Downloads
License
Copyright (c) 2022 Prosiding Seminar Nasional Ilmu Sosial dan Teknologi (SNISTEK)
This work is licensed under a Creative Commons Attribution 4.0 International License.