Transformasi Digital Teknologi Dalam Meningkatkan Industri Kreatif
Keywords:
Power Point, Digital Transformation, Information Technology, Creative Industries
Abstract
The digital transformation of today's technology has brought many changes to the world of communication. Information technology is not only a tool to communicate, but also a means to make friends, share photos and even as a means of promotion for an online store business. Information technology is also a tool that has been available as a means to increase sales targets and can also be a means to find out the range of all promotional activities carried out. With this technology strategy, it will bring change to society and can encourage various efforts to change, because people are still unfamiliar with information technology and many school children and teenagers still do not understand the application of information technology and also do not understand the application of English. Therefore, the purpose of this coaching is to invite the public to know the digital transformation of technology.
References
Simanjuntak, P., Handoko, K. (2019) 'Pembinaan Pemanfaatan Teknologi Informasi Dan Komunikasi Pada Masyarakat Pulau Temoyong Batam Kepulauan Riau', Jurnal Matappa, 2(1), 20-23
Agustina. (2016). 'Analisis Penggunaan Media Sosial Instagram Terhadap Sikap Konsumerisme Remaja di SMA 3 Samarinda'. Jurnal Ilmu Komunikasi, 4(3),410-420.
Aditya, R. (2015). 'Pengaruh Media Sosial Instagram Terhadap Minat Fotografi Pada Komunitas Fotografi Pekanbaru'. Jurnal Fisip, 2(1), 1-14.
LPPM, (2018) 'Panduan Pengabdian Kepada Masyarakat Universitas Putera Batam Batam: LPPM Universitas Putera Batam.
Simanjuntak, P., Handayani, ND., Damayanti, S. (2019). PKM Pembinaan Strategi Teknologi Informasi dan Bahasa Inggris untuk Pemasaran Daerah Wisata Kampung Tua Nongsa Kota Batam. Jurnal PADI (Pengabdian Masyarakat Dosen Indonesia) 2 (1), 51-55.
R. Rivalina and others, 'Kompetensi teknologi informasi dan komunikasi guru dalam peningkatan kualitas pembelajaran', J. Teknodik, vol. 18, no. 2, pp. 165–176, 2014.
S. Handayani and S. Hadi, 'Pelatihan E-Learning Menggunakan Office 365 Bagi Guru-Guru dan Siswa-Siswa Madrasah Aliyah Negeri 1 Semarang', JPKMI J. Pengabdi. Kpd. Masy. Indones., vol. 1, no. 2, pp. 49–58, 2020.
A. Rasyad, 'MODEL TATA KELOLA PELATIHAN YANG EFEKTIF BERBASIS PENDEKATAN FLEKSIBILITAS, KOLABORATIF, DAN PARTISIPATIF', 2021.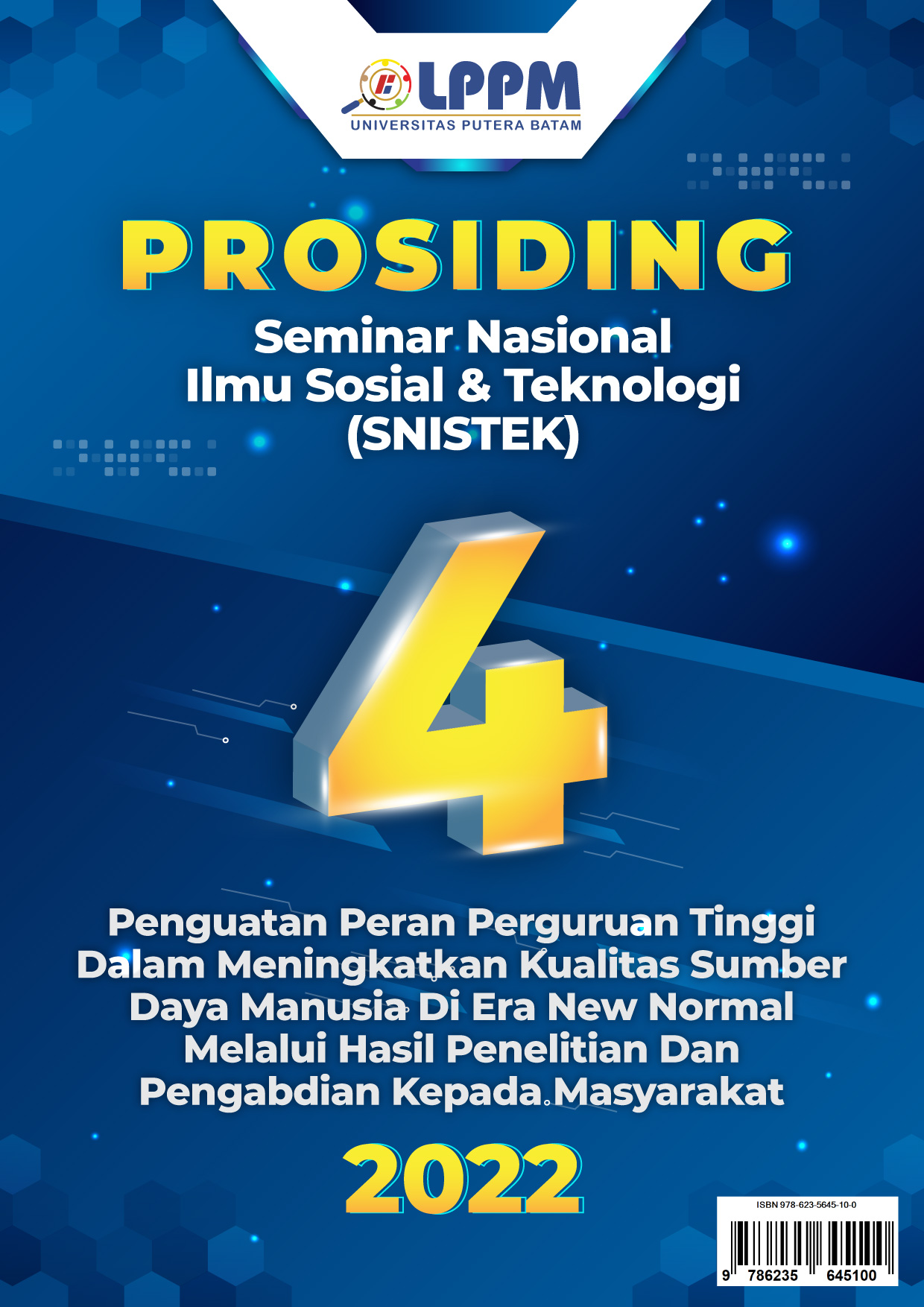 Downloads
License
Copyright (c) 2022 Prosiding Seminar Nasional Ilmu Sosial dan Teknologi (SNISTEK)
This work is licensed under a Creative Commons Attribution 4.0 International License.