PENGARUH KREDIBILITAS KONTEN EDUKASI KANAL YOUTUBE KOK BISA? TERHADAP KEBUTUHAN INFORMASI FOLLOWERS
Abstract
The modern human being can be said to be very reliant on the ease and convenience of the
internet. In the middle of the 2000s, the Internet had a boom that transformed it into a
platform for disseminating content. As a result, numerous blogs, video sharing websites, and
social networking sites appeared that year. Additionally, social media can be used for the
good of individuals, communities, businesses, and organizations. Youtube is one form of
social media that is popular with people, groups, businesses, and organizations. Credibility
is the perception of a communicator based on his point of view, which offers an evaluation
of the personality or character of a communicator. For a communicator, credibility is a quality
they need to possess since it allows them to transmit facts and thoughts with confidence.
The purpose of this study is to ascertain the trustworthiness of educational information on
YouTube and its impact. Why is that? to the followers' informational requirements. A Likert
scale is used to collect data through online surveys or questionnaires as part of the
quantitative research methodology. According to the study's findings, followers of a YouTube
account may be more interested in receiving information if it is credible. Why is that? How
come, in the eyes of a YouTube account's followers? The information displayed is a
subjective evaluation of the procedure or system employed by the YouTube account holder.
Why is that? How come, in the eyes of a YouTube account's followers? The information
displayed is a subjective evaluation of the procedure or system employed by the YouTube
account holder. Why is that? in producing valuable material that meets the community's
overall information demands. The conclusion is that the reliability of the content (X1) on the
Youtube account has a favorable affect on raising interest in the need for information (Y).
How come? with a percentage of 29,8%.
Keywords: Credibility, Youtube Account Information Needs
References
Chang, Natalia, and Lusia Savitri Utami. 2022. "Pengaruh Kredibilitas Food Vlogger Terhadap Brand Awareness Omija (Studi Kasus Akun YouTube Ria Sukma Wijaya)." Prologia 6(1):141. doi: 10.24912/pr.v6i1.10346.
Farida, Nuke, Endah Purwitasari, and Imam Taufik. 2022. "Pengaruh Kredibilitas Influencer Terhadap Minat Beli Subscribers Pada Channel Youtube Otomotif Ridwan Hanif." BroadComm 4(1):36–44. doi: 10.53856/bcomm.v4i1.233.
Fathiyyah, Rahma Nur, and Nofha Rina. 2019. "Pengaruh Kredibilitas Youtuber Terhadap Sikap Penonton Pada Channel Youtube Atta Halilintar." Acta Diurna 15(2):98–118.
Ghozali, Imam. 2018. Aplikasi Analisis Multivariate Spss 25. Semarang.
Habibah, Ira Nur, and Kharisma Nasionalita. 2019. "The Effect of Electronic Word of Mouth (E-WoM) by Beauty Influencer on Interests for Buying Brand Makeup Wardah (Study on YouTube Subscribers on Tasya Farasya Channel)." E-Proceeding of Management 6(3):6412–20.
Hermanto, Hermanto, and Darmanah Darmanah. 2020. "Pengaruh Kesejahteraan Terhadap Kepuasan Kerja Pegawai Pada Sekretariat Dewan Oku Timur." Jurnal AKTUAL 17(2):119. doi: 10.47232/aktual.v17i2.40.
Kusumaningtyas, Rieke, Eva, and Rumyeni. 2022. "Pengaruh Content Creator TikTok @vmuliana Terhadap Pemenuhan Kebutuhan Informasi Seputar Dunia Kerja Di Kalangan Followers." KOLONI: Jurnal Multidisiplin Ilmu 1(3):901.
Ladhari, Riadh, Elodie Massa, and Hamida Skandrani. 2020. "YouTube Vloggers' Popularity and Influence: The Roles of Homophily, Emotional Attachment, and Expertise." Journal of Retailing and Consumer Services 54(December 2019):102027. doi: 10.1016/j.jretconser.2019.102027.
Muliawanti, Lintang. 2018. "Jurnalisme Era Digital." Jurnal Ilmu Dakwah Dan Komunikasi 2(1):50–69.
Nurkaolin, Vera, and Idola Perdini Putri. 2019. "Analisis Wacana Perempuan Dalam Film Kartini Karya Hanung Bramantyo Analisis Wacana Kritis Sara Mills." 6(1):1465–71.
Pratiwi, Natalia, and Santi Delliana. 2022. "Pengaruh Konten Food Vlog Di Akun Youtube Ria Sw Terhadap Perilaku Konsumtif Subscriber." Jurnal Komunikatio 8(1):43–54.
Rorong, Michael Jibrael. 2019. "Penempatan Teori Dalam Ilmu Komunikasi." Commed : Jurnal Komunikasi Dan Media 4(1):90–107. doi: 10.33884/commed.v4i1.1417.
Safitasari, Maftukhah, Ida. 2017. "Pengaruh Kualitas Layanan, Promosi Dan Citra Destinasi Terhadap Kepuasan Melalui Keputusan Pengunjung." Management Analysis Journal 6(3):310–19. doi: 10.15294/maj.v6i3.17500.
Sugiyono. 2017. Metode Penelitian Kuantitatif, Kualitatif, Dan R&D. Bandung: Alfabeta, CV.
Sugiyono, Dr. 2018. Metode Penelitian Kuantitatif, Kualitatif, Dan R&D. Alfabeta.
Suherman, Herry. 2018. "Pengaruh Gaya Kepemimpinan Dan Disiplin Kerja Terhadap Kinerja Karyawan PT. Selaras Karya Raya Jakarta." JENIUS (Jurnal Ilmiah Manajemen Sumber Daya Manusia) 2(1):1–14. doi: 10.32493/jjsdm.v2i1.1932.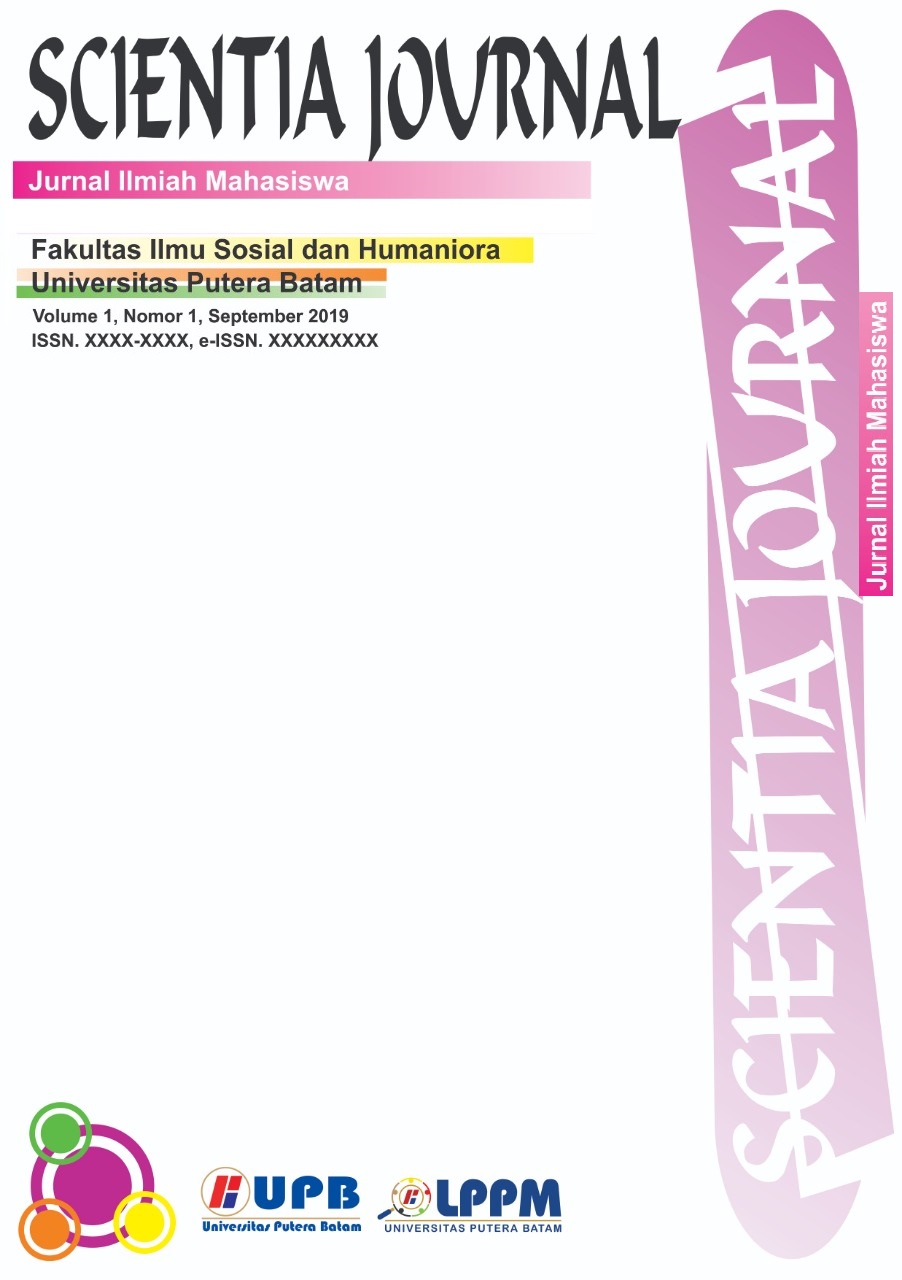 Downloads