ANALISIS INFEKSI MALWARE PADA PERANGKAT ANDROID DENGAN METODE HYBRID ANALYSIS
Asep Solahudin Rusdi

Universitas Siliwangi

Nur Widiyasono

Universitas Siliwangi

Heni Sulastri

Universitas Siliwangi
Abstract
Android is the most widely used operating system in the world with a percentage of 76.82% in the Android operating system market share. This fact makes the developers of malicious software (malware) make mobile phone users with the Android operating system as the main target of malware attacks. Attackers can modify application code by entering malicious code, repacking the application and publishing the application in the Android application market. The malware samples used in this study were Judy adware and Marcher banking trojans. This study aims to determine the behavior or characteristics of the malware samples using static and dynamic analysis. The analysis shows that Judy committed ad-fraud by clicking on advertisements without the user's knowledge and Marcher had the ability to collect credential information from the victim's financial account.
References
[1] Y. N. Kunang, "Analisis Forensik Malware pada Platform Android," Konferensi Nasional Ilmu Komputer (KONIK), pp. 141-148, 2014.
[2] StatCounter, "Mobile Operating System Market Share Worldwide," 2018. [Online]. Available: http://gs.statcounter.com/os-market-share/mobile/worldwide.
[3] McAfee Inc., "McAfee Mobile Threat Report Q1, 2018," McAfee Inc., California, 2018.
[4] S. Gadhiya dan K. Bhavsar, "Techniques for Malware Analysis," International Journal of Advanced Research in Computer Science and Software Engineering, pp. 972-975, 2013.
[5] N. Zalavadiya dan P. D. Sharma, "A Methodology of Malware Analysis, Tools and Technique for windows platform – RAT Analysis," International Journal of Innovative Research in Computer and Communication Engineering, vol. 5, no. 2, pp. 5042-5054, 2017.
[6] S. Herlambang, Deteksi Malware Android Berdasarkan System Call Menggunakan Algoritma Support Vector Machine, Malang: UMM, 2018.
[7] Wandera, "The current state of mobile malware," Wandera, San Francisco, 2017.
[8] R. Alghamdi, K. Alfalqi dan M. Waqdan, "Android Platform Malware Analysis," (IJACSA) International Journal of Advanced Computer Science and Applications, pp. 140-146, 2015.
[9] R. S. Wardhana, "Analisa Hybrid untuk Sistem Deteksi Malware Otomatis dengan Support Vector Model Classifier," pp. 1-10, 2015.
[10] Infoblox, "Infoblox Administrator Guide," Infoblox Technical Publication, California, 2018.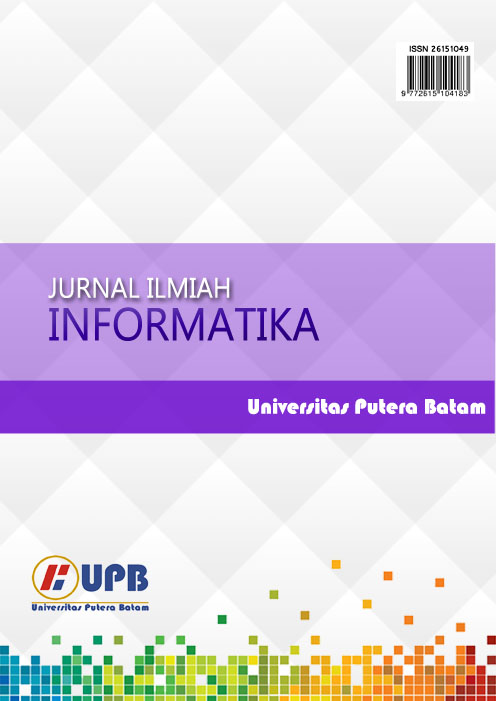 This work is licensed under a Creative Commons Attribution 4.0 International License.