SISTEM INFORMASI REKOMENDASI KLINIK KESEHATAN MENGGUNAKAN ALGORITMA SLOPE ONE DAN TERM FREQUENCY RANKING
Leka Destrilia

Universitas Siliwangi

Alam Rahmatulloh

Universitas Siliwangi

Neng Ika Kurniati

Universitas Siliwangi
Abstract
Public attention to the place of health clinics greatly affect the needs that are very important in their lives, there are health clinics scattered in the Tasikmalaya area. The community does not only think about clinics that are worth visiting but also thinks about the actions given to patients suffering from certain diseases to be handled by medical workers, and also viewed from the facilities provided to provide comfort for the community. Therefore an application is needed to provide health clinic recommendations. This study aims to create a health clinic recommendation system using the Slope One algorithm and Term Frequency Rank as a substitute for a manual system and provide appropriate recall. The steps to complete this research are to design, manufacture, test and improve the recommendation system. The results of the study were in the form of a website-based health clinic recommendation system application. From the tests that have been done, it can be seen that the design of a health clinic recommendation system can provide health clinic recommendations in accordance with the Slope One algorithm and Term Frequency Rank algorithm designed.
References
[1] F. S. Mukti and D. A. Sulistyo, "ANALISIS PENEMPATAN ACCESS POINT PADA JARINGAN WIRELESS LAN STMIK ASIA MALANG MENGGUNAKAN ONE SLOPE MODEL," Jurnal Ilmiah Teknologi Informasi Asia, vol. 13, no. 1, 2019.
[2] D. Pratama and S. Hansun, "Aplikasi Rekomendasi Tempat Makan Menggunakan Algoritma Slope One pada Platform Android," Indonesian Journal of Computing and Cybernetics Systems (IJCCS), vol. 11, no. 1, pp. 11-20, 2017.
[3] H. Husen, A. Rahmatulloh and H. Sulastri, "Implementasi Komunikasi Full Duplex Menggunakan Sistem Informasi Pengelolaan Anggaran Universitas ABC," Simetris: Jurnal Teknik Mesin, Elektro dan Ilmu Komputer, vol. 9, no. 1, pp. 597-606, 1 4 2018.
[4] J. Hutahaean, Konsep Sistem Informasi, Yogyakarta: Deepublish, 2014.
[5] H. Hendarti and Y. Yanti, "PEMANFAATAN SISTEM INFORMASI JASA KESEHATAN UNTUK KLINIK," Seminar Nasional Informatika (SEMNASIF), vol. 1, no. 5, 2015.
[6] I. Republik, Peraturan Mentri Kesehatan Republik Indonesia Nomor 028/MENKES/PER/2011 Tentang Klinik, Jakarta, 2011.
[7] W. Li, L. Gao, H. Wang, Z. Zhang and Y. Zhang, "Improved Weight Slope One Algorithm of Integrating Expert Similarity and Item Characteristics," in 2018 Sixth International Conference on Advanced Cloud and Big Data (CBD), Lanzhou, China, 2018.
[8] F. Masruri and W. F. Mahmudy, "Personalisasi Web E-Commerce Menggunakan Recommender System dengan Metode Item-based Collaborative Filtering," Kursor, vol. 3, pp. 1-12, 2007.
[9] F. Liu, "Effective Keyword Search in Relational Database," in Proceeding ACM SIGMOD International Conference on Management of Data, Chicago, 2006.
[10] W. Vincentius, H. Seng and T. N. Hargyo, "Implementasi Algoritma Sgueezer dan Term Frequency Ranking dalam Pembangunan Sistem Rekomendasi Tempat Makan," Ultima Computing : Jurnal Sistem Komputer, vol. 6, no. 1, pp. 25-32, 2014.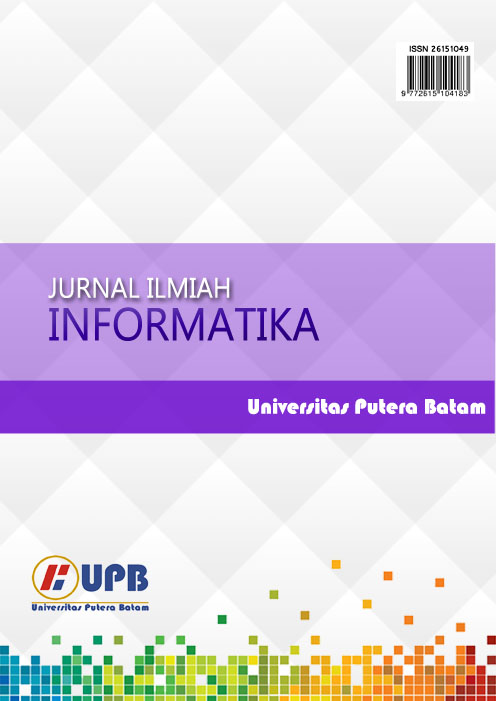 This work is licensed under a Creative Commons Attribution 4.0 International License.