PENGENALAN SUARA PADA KAMUS BANJAR-INDONESIA DAN INDONESIA-BANJAR MENGGUNAKAN STATISTIK INFERENSI
Akhmad Rezki Purnajaya

Universitas Universal

Fatma Indriani

Universitas Lambung Mangkurat

Mohammad Reza Faisal

Universitas Lambung Mangkurat
Abstract
Banjar language used in conversation and daily life around the area. So foreigners who come to the regions of South Kalimantan will have difficulty in communicating. Besides, most local residents in the backwoods of South Kalimantan can not use Indonesian language properly, they would be more convenient to use regional language to interact. For that reason we need an Android application can help users to find the translation of a word or phrase whenever and wherever. With the help of Google Voice Search, this application can also listen to the voice of the user to be converted into text and insert into the input translation. Speech recognition of Banjar language required a literacy training data by using the method of statistical inference to make results appropriated. Testing using method of Black Box Testing to measure the percentage of suitability of the results of translation, speech recognition for Indonesian language and speech recognition Banjar language using method of Statistical inference. So the results of translation accuracy 100% and accuracy of speech recognition Indonesian language and Banjar language by 97.85% and 82.74%.
References
[1] R. Devianty, "Bahasa sebagai cermin kebudayaan." Jurnal Tarbiyah, vol. 24, no. 2, 2017.
[2] I. Fauzi, "Pemertahanan Bahasa Banjar di Komunitas Perkampungan Dayak", Pros. Seminar Antarabangsa Dialek-Dialek Austronesia Di Nusantara III, vol. 1, pp. 435-447, 2008
[3] Zulkifli, "Makna Dalam Ungkapan Bahasa Banjar", Banjarmasin: Universitas Lambung Mangkurat, 2010
[4] A. Khasanah, "Perancangan Aplikasi Al Qur'an Menggunakan Voice Recognition Sebagai Media Pencarian Terjemahan Al Qur'an Berbasis Android", Yogyakarta: Universitas AMIKOM, 2013
[5] H. Shinotsuka and N. Hino, "Speech Recognition Method and Speech Recognition Device", J. of Acoustical Society of America, vol. 111, no. 4, pp. 1518-1518, 2002
[6] D. Siagian and Sugiarto, "Metode Statistika untuk Bisnis dan Ekonomi", Jakarta: PT. Gramedia Pustaka Utama, 2002
[7] W. A. de Heer, A. G. Huth, T. L. Griffiths, J. L. Gallant, and F. E. Theunissen, "The Hierarchical Cortical Organization of Human Speech Processing", J. of Neuroscience, vol. 37, no. 27, pp. 6539-6557, 2017
[8] B. R. Reddy and E. Mahender, "Speech to text conversion using android platform", Int. J. of Engineering Research and Applications, vol. 3, no. 1, pp. 253-258, 2013
[9] H. Chang, "Voice search engine generating sub-topics based on recognitiion confidence", U.S. Patent Application, no. 11, pp. 927, 2005
[10] J. Schalkwyk et al., ""Your Word is my Command": Google Search by Voice: A Case Study", Advances in Speech Recognition, Boston: Springer, pp. 61-90, 2010
[11] G. Evermann, D. L. Roth, L. S. Gillick, and J. Coughling, "Integrated voice search commands for mobile communication devices", U.S. Patent Application, no. 11, pp. 988, 2007
[12] N. J. Lee, "Voice interface and methods for improving recognition accuracy of voice search queries", U.S. Patent and Trademark Office, no. 8, pp. 485, 2012
[13] M. A. Tanner, "Tools for Statistical Inference: Methods for the Exploration of Posterior Distributions and Likelihood Functions (2nd ed)", New York: Springer-Verlag, 1993
[14] G. Safar, "Statistika Inferensi", Yogyakarta: Universitas Gadjah Mada, 2009
[15] I. Tjachyo, "Kamus Bahasa Banjar", [online], available: http://www.urangbanua.com/bahasa-banjar/, 2011
[16] M. Amin, "Pengolahan data digital – Voice Recognition", Bandung: Institut Teknologi, 2007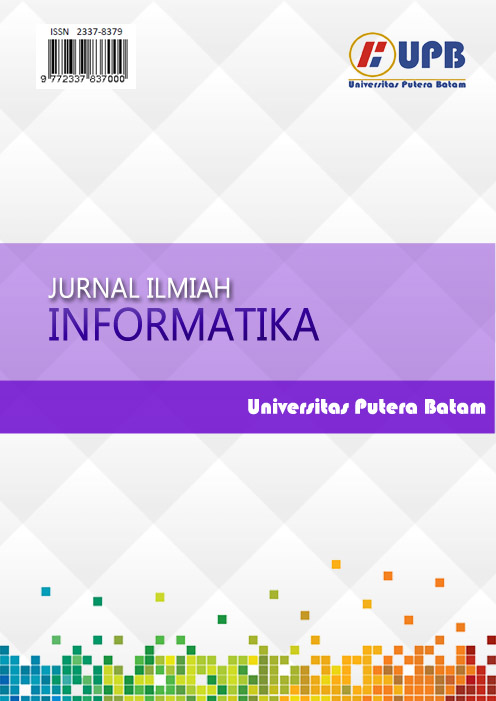 This work is licensed under a Creative Commons Attribution 4.0 International License.