EVALUASI REVOLUSI INDUSTRI 4.0 PADA BIDANG PERTANIAN MENGGUNAKAN MODEL INTEGRASI DELONE AND MCLEAN, UTAUT DAN HOT FIT.
Pujo Hari Saputro

Universitas Alma Ata Yogyakarta

Arbiati Faizah

Reza Augusta J.F
Abstract
This study tries to evaluate the industrial revolution 4.0 implementation results in agriculture in form of oyster mushroom temperature management technology. This implementation is intended to improve the quality and quantity of mushroom harvests, however further evaluation is still needed to determine the success and acceptance of the community towards the proposed technology. Evaluations were carried out using the integration of the DeLone and Mclean Success Models, the UTAUT acceptance model coupled with the Hot FIT model. The three models are then integrated to form a new model that is used to construct the questionnaire as an assessment. From the results of the 7-steps fit model, it can be concluded that the proposed model can be used and suitable for this study. From the results of the path analysis test it was concluded that human and technological factors will positively influence the use of the technology implemented. Lastly, as long as the proposed technology is used by mushroom farmers, it can be categorized as successful or successful..
References
[1] W. Rosen, The Most Powerful Idea in the World: A Story of Steam, Industry, and Invention, English: University of Chicago Press; Reprint edition, 2012.
[2] P. H. S. R. A. J. F. Arbiati Faizah, "Pemanfaatan Microcontroller Arduino Uno Untuk Sistem Monitoring Suhu Dan Kelembaban Kumbung Jamur Tiram," INOVATE, vol. 04, pp. 1-8, 2019.
[3] W. W. W. W. N. Haris Pamugar, "Model Evaluasi Kesuksesan dan Penerimaan Sistem Informasi E-Learning pada Lembaga Diklat Pemerintah," Scientific Journal of Informatics, vol. 1, 2014.
[4] M. C. R. C. Giacomo Büchi, "Smart factory performance and Industry 4.0," Technological Forecasting & Social Change, 2020.
[5] W. W. H.Kagermann, Industry 4.0 : With Internet of Things on The way to the 4th industrial Revolution, 2011.
[6] G. Reischauer, "Industry 4.0 as policy-driven discourse to institutionalize innovation systems in manufacturing," Technological Forecasting and Social Change, 2018.
[7] B. Sinclair, IoT Inc: How Your Company Can Use the Internet of Things to Win in the Outcome Economy, ed penyunt., OH, United State: McGraw-Hill Education, 2017.
[8] J. E. B. a. S. W. Pearson, "Development of a Tool for Measuring and Analyzing Computer User Satisfaction," Management Science, vol. 25, no. 5, pp. 530-545, 1983.
[9] P. B.Seddon, "A Respecification and Extension of the Delone and Mclean Models of IS success," Information System Research, vol. 8, 1997.
[10] E. R. M. William H. DeLone, "The DeLone and McLean Model of Information Systems Success: A Ten-Year Update," J. of Management Information Systems, vol. 19, pp. 9-30, 2003.
[11] A. B. A. S. Pujo Hari Saputro, "Analisa Kesuksesan E-Government Menggunakan Success Model's Delone And Mclean (Studi Kasus : Pemerintah Kota Pekalongan)," Seminar Nasional Teknologi Informasi dan Komunikasi, pp. 507-512, 2016.
[12] D. B. A. J. S. Pujo Hari Saputro, "Model Delone and Mclean untuk Mengukur Kesuksesan E-government Kota Pekalongan," Scientific Journal of Informatics, vol. 2, 2015.
[13] A. G. D. Ayankunle Adegbite Taiwo, "The Theory Of User Acceptance And Use Of Technology (Utaut): A Meta-Analytic Review Of Empirical Findings," Journal of Theoretical and Applied Information Technology, vol. 49, 2013.
[14] V. Venkatesh, "User Acceptance Of Information Technology: Toward A Unified View1," MIS Quarterly, vol. 27, pp. 425-478, 2003.
[15] R. J. P. L. K. S. Maryati Mohd. Yusof, "Towards a framework for health information systems," Proceedings of the Annual Hawaii International Conference on System Sciences, vol. 5, 2006.
[16] W. W. W. W. N. Haris Pamugar, "Model Evaluasi Kesuksesan dan Penerimaan Sistem Informasi E-Learning pada Lembaga Diklat Pemerintah," Scientific Journal of Informatics , vol. 1, 2014.
[17] Y. S. &. L. Y. W. Wang, "Assessing eGovernment systems success: A validation of the DeLone and McLean model of information systems success.," Government Information Quarterly, pp. 717-733, 2008.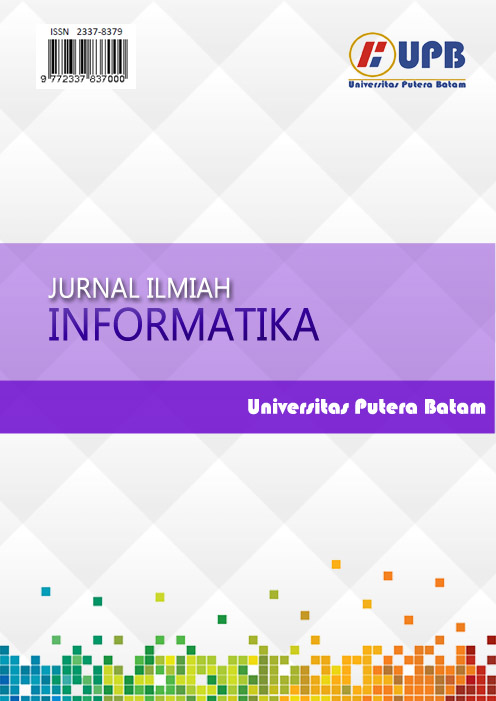 This work is licensed under a Creative Commons Attribution 4.0 International License.