SISTEM PENDUKUNG KEPUTUSAN PEMILIHAN GURU TERBAIK MENGGUNAKAN METODE SIMPLE ADDITIVE WEIGHTING DAN TOPSIS
Nimatus Sholehah

Universitas Pancasila

Febri Maspiyanti
Abstract
Teacher is the initial peak of the creation of a nation with qualified young generation, both in academic and non-academic. Perintis 1 Depok Vocational School does not have a supportive system for selecting the best teachers yet.  In carrying out this process, Depok Perintis 1 Vocational School still records data manually where the data is still recorded in a text book and uses Ms. Excel so determining the results of the best teacher selection takes quite a long time.  Therefore, a web application for the selection of the best teachers is needed so it can facilitate the process of assessment and preservation of any existing data. In determining the selection of high achieving teachers in SPK, the Simple Additive Weighting (SAW) method and Topsis method are used to obtain more accurate results. From the two methods, the results show that the second teacher had the highest result, 74.4 in SAW method calculation and 0.77661 in Topsis method calculation.
References
[1] Faiza Rini, 2015. Sistem Pendukung Keputusan Pemilihan Guru Terbaik Pada SMK Islam Al-Arief Muaro Jambi. Prosiding Seminar Ilmiah Nasional Teknologi Komputer (SENATKOM 2015) Vol. 1, Oktober 2015 Universitas Putra Indonesia YPTK Padang - 23 Oktober 2015 ISSN : 2460– 4690.
[2] Martaulina, 2015. Sistem Pendukung Keputusan Seleksi Guru Berprestasi Untuk Memberikan Penghargaan degan Metode TOPSIS. Jurnal Pelita Informatika Budi darma, IX(1), pp. 119-124.
[3] Undang-Undang Republik Indonesia Nomor 14 Tahun 2005 Tentang Guru Dan Dosen.
[4] Andi Dina Nurismayani, 2018. Sistem Pendukung Keputusan Pemilihan Guru Terbaik Berdasarkan Penilaian Kinerja Di Ra At-Taqwa Nongsa Menggunakan Metode Saw (Simple Additive Weighting). Program Studi Sistem Informasi Sekolah Tinggi Manajemen Informatika Dan Komputer (Stmik) Gici Batam.
[5] Sabda Gunawan. 2015. Sistem Pendukung Keputusan Pemilihan Guru Terbaik Pada Sma Negeri 2 Kutacane Dengan Menggunakan Metode Simple Additive Weighting (Saw). Pelita Informatika Budi Darma, Volume : IX, Nomor: 3, April 2015, ISSN : 2301-9425.
[6] Fristy Riandari, Paska Marto Hasugian, Insan Taufik. 2017. Sistem Pendukung Keputusan Menggunakan Metode Topsis Dalam Memilih Kepala Departemen Pada Kantor Balai Wilayah Sungai Sumatera Ii Medan. Journal Of Informatic Pelita Nusantara Volume 2 No 1 Oktober 2017 E-ISSN 2541-3724.
[7] Muhammad Bazid, Deni Arifianto, M.Kom, Daryanto, M.Kom, Lutfi Ali Muharrom, M.Si. 2014. Perbandingan Hasil Akurasi Kerja Metode Topsis(Technique For Others Reference By Similarity To Ideal Solution) Dan Saw(Simple Additive Weighting) Pada Pemilihan Guru Smp Berprestasi Tingkat Sekolah Berdasarkan Pedoman Kemendikbud. Jurusan Teknik Informatika Fakultas Teknik Universitas Muhammadiyah Jember.
[8] Kadir, Abdul. 2014. Pengenalan Sistem Informasi Edisi Revisi. Yogyakarta:Andi.
[9] Rina, Wati. 2015. Sistem Pendukung Keputusan. Lampung : STMIK Pringsewu Lampung.
[10] Fara Atika. 2017. Sistem Pendukung Keputusan Pemilihan Guru Berprestasi Di Kecamatan Kradenan Kabupaten Grobogan Menggunakan Metode Simple Additive Weighting. Program Studi Informatika. Fakultas Komunikasi Dan Informatika. Universitas Muhammadiyah Surakarta. Surakarta.
[11] P Simanjuntak, CE Suharyanto, R Khairiyah. 2018. Fuzzy Sugeno Untuk Menentukan Penilaian Kompetensi Karyawan PT Schneider Batam. Journal Information System Development (ISD) 3 (2).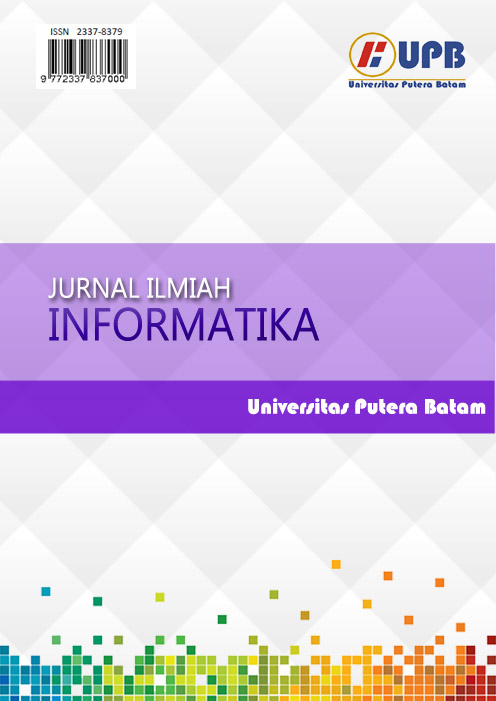 This work is licensed under a Creative Commons Attribution 4.0 International License.