Prediksi Kedatangan Wisatawan Pada Pariwisata Kota Batam Dengan Menggunakan Teknik Knowledge Data Discovery
Andi Supriadi Chan

Universitas Putera Batam
Abstract
This geographical condition is an important component in the development of tourism in Indonesia. Batam or "Great Batam" is one of the three main entrances of tourism in Indonesia, with the third largest tourist arrivals after Bali and Jakarta. the number of foreign tourists who enter the city of batam in 2014 as many as 1.435 million people with the dominance of tourists from singapore, not to mention the number of local tourists who enter the city of batam a number of 1.609 million in 2014With the high number of tourist arrivals to batam city. So it is necessary strategies and policies undertaken by the local government in the management and construction of facilities and infrastructure that can support the development and advancement of tourism in the city batam, with that it is necessary to calculate the policy on the development of facilities and infrastructure required by the tourists visit to batam city. Knowledge management one of them by using algorithm method C4.5 can be used by government, Government purpose applying Knowledge management is to keep the knowledge do not just disappear and can be sharing with other employee in other government to support decision making in constructing facilities and infrastructure needed for the number of tourist arrivals to the city batam increasing
References
[1] R. Lasabuda, "Pembangunan Wilayah Pesisir Dan Lautan Dalam Perspektif Negara Kepulauan Republik Indonesia," J. Ilm. Platax, vol. 1, no. 2, pp. 92–101, 2013.
[2] Bps, "P Erkembangan P Ariwisata Dan T Ransportasi N Asional M Ei 2013," no. 33, pp. 3–11, 2013.
[3] A. S. Chan, I. U. Sari, P. Studi, S. Informasi, and U. P. Batam, "ISSN Print ISSN Online Rancang Bangun Aplikasi Wisata Kuliner Halal Berbasis Android Pada Negara Singapura," vol. 9, no. 2, pp. 1323–1334, 2017.
[4] Khoiriah, "Sistem Pendukung Keputusan untuk Penilaian Kinerja Dosen Menggunakan Metode Analytical Hierarchy Process (AHP)," J. Sist. Inf., vol. 1, no. 1, 2013.
[5] P. Bidang, K. Sains, Y. Mardi, J. Gajah, M. No, and S. Barat, "Jurnal Edik Informatika Data Mining : Klasifikasi Menggunakan Algoritma C4 . 5 Data mining merupakan bagian dari tahapan proses Knowledge Discovery in Database ( KDD ) . Jurnal Edik Informatika," J. Edik Inform., pp. 213–219.
[6] L. R. Angga Ginanjar Mabrur, "Penerapan Data Mining Untuk Memprediksi Kriteria Nasabah Kredit," J. Komput. dan Inform., vol. 1, no. 1, pp. 53–57, 2012.
[7] F. F. Harryanto and S. Hansun, "Penerapan Algoritma C4 . 5 untuk Memprediksi Penerimaan Calon Pegawai Baru di PT WISE," Jatisi, vol. 3, no. 2, pp. 95–103, 2017.
[8] R. H. Pambudi and B. D. Setiawan, "Penerapan Algoritma C4 . 5 Dalam Program Untuk Memprediksi Kinerja Siswa Sekolah Menengah," vol. 2, no. 7, pp. 2637–2643, 2018.
[9] S. Lorena, W. Zarman, and I. Hamidah, "Analisis Dan Penerapan Algoritma C4.5 Dalam Data Mining Untuk Memprediksi Masa Studi Mahasiswa Berdasarkan Data Nilai Akademik," Pros. Semin. Nas. Apl. Sains dan Teknol., no. November, pp. 263–272, 2014.
[10] A. Zulkifli, "Metode C45 Untuk Mengklarifikasi Pelanggan Perusahaan Telekomunikasi Seluler," vol. 2, no. 1, pp. 65–76, 2016.
[11] F. Nasari, S. Informasi, P. Keputusan, and D. Selection, "Penerapan algoritma c4.5 dalam pemilihan bidang peminatan program studi sistem informasi di stmik potensi utama medan," pp. 30–34, 2014.
[12] F. Ilmu, K. Universitas, and M. Indonesia, "No Title."
[13] I. P. Sudana, "Analisis Pariwisata," Strateg. Pengemb. Desa Wisata Ekol. Di Desa Belimbing, Kec. Pupuan Kabupaten Tabanan, vol. 13, no. 1, p. 21, 2013.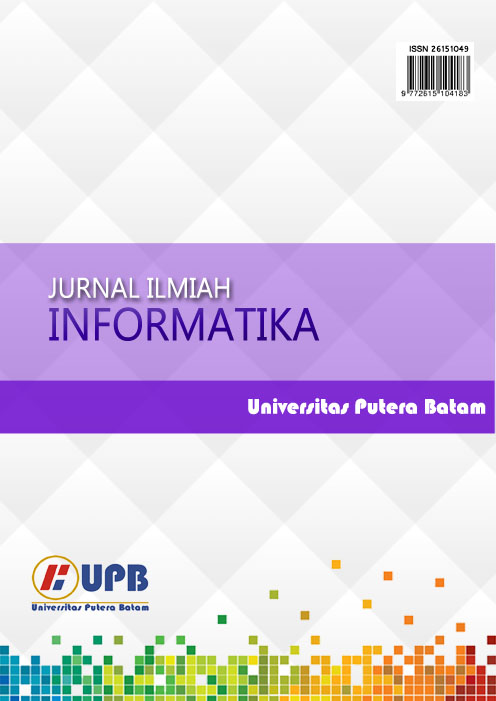 This work is licensed under a Creative Commons Attribution 4.0 International License.