SISTEM PENDETEKSI NOMINAL DAN KEASLIAN UANG KERTAS RUPIAH UNTUK PENYANDANG TUNA NETRA BERBASIS ARDUINO
Ikhsan Ikhsan

AKADEMI MANAJEMEN INFORMATIKA & KOMPUTER JAYA NUSA
Abstract
This research refers to some previous research, discussing about computer technology in terms of hardware engineering. The built system is used for the blind in recognizing the nominal and authenticity of the rupiah notes. This study aims to anticipate the rampant circulation of counterfeit money targeting the blind. The method used in the implementation of the system is to use RGB color while the research method is to do literature and laboratory research. The results achieved, utilizing the TCS3200-DB color sensor, can provide an Arduino value to obtain a range of frequencies so that paper money can be identified in nominal value and authenticity. So that the nominal and authenticity of money can be informed via voice via WTV020SD module.
References
[1] S. W. Sari, "Perkembangan Dan Pemikiran Uang Dari Masa Ke Masa," An-Nisbah J. Ekon. Syariah, vol. 3, no. 1, pp. 39–58, 2016.
[2] Takiddin, "Uang dalam perspektif ekonomi islam *," Salam; J. Filsafat dan Budaya Huk., no. 95, pp. 205–212, 2014.
[3] S. Suseno, UANG : Pengertian, Penciptaan, dan Peranannya dalam Perekonomian, no. 1. 2002.
[4] A. Jalil, "Pengolahan Citra Mendeteksi Keaslian Uang Kertas Rupiah Menggunakan Raspberry pi," IT, vol. 14, pp. 13–19, 2014.
[5] A. A. Wijayanto, "Pemalsuan Mata Uang Sebagai Kejahatan Di Indonesia," J. Huk. Khaira Ummah, vol. 12, no. 4, pp. 891–898, 2017.
[6] M. S. Anwar and M. Ahsan, "Recognition Pencitraan Pada Uang Kertas Untuk Mengetahui Keaslian Uang."
[7] R. Kuswandhie, "Alat Pendeteksi Nominal dan Keaslian Mata Uang Kertas," JTI, vol. 7, no. 1, pp. 48–56, 2015.
[8] P. J. Pratama and A. Widiarti, "DENGAN METODE LOCAL BINARY PATTERN," Realtech, vol. 12, no. 2, pp. 1–8, 2016.
[9] D. A. PORBADI, M. Rif'an, and P. Siwindarto, "ALAT DETEKSI NOMINAL UANG KERTAS UNTUK PENYANDANG TUNA NETRA Publikasi Jurnal Skripsi," Tek. Elektro, no. Alat Penditeksi Nominal Uang Kertas, pp. 1–12, 2014.
[10] J. Fathani, U. Sunarya, and I. N. A. Ramatryana, "APLIKASI IDENTIFIKASI DAN KONVERSI MATA UANG KERTAS ASING TERHADAP RUPIAH DENGAN METODA LOCAL BINARY PATTERN ( LBP ) BERBASIS ANDROID," in e-Proceeding of Engineering, 2014, vol. 1, no. 1, pp. 363–371.
[11] E. Sutanta, "Identifikasi Daging Segar Menggunakan Sensor Warna RGB TCS3200-DB," J. Teknol. Technoscienta, vol. 6, no. 2, pp. 177–184, 2014.
[12] R. A. Mahessya and S. Indrawati, "IMPLEMENTASI METODE ANFIS DATA MINING DALAM MENYELEKSI BEASISWA DI SMPN 7 SOROLANGUN," PROCESSOR, vol. 12, no. 1, pp. 904–915, 2017.
[13] M. Syahwil, Panduan Mudah Simulasi dan Praktek Mikrokontroler Arduino. 2013.
[14] T. S. Meilani and B. Sumanto, "Penggaris Elektronis Sebagai Alat Bantu Pengukuran Dengan Output Suara Bagi Penyandang Tuna Netra," Amplifier, vol. 6, no. 2, pp. 10–16, 2016.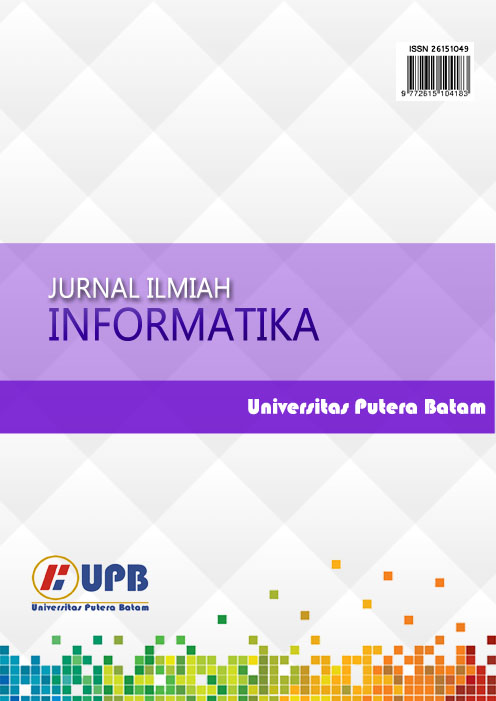 This work is licensed under a Creative Commons Attribution 4.0 International License.