APLIKASI PENDETEKSI DINI KECANDUAN PENGGUNAAN SMARTPHONE TERHADAP PRODUKTIVITAS KERJA MENGGUNAKAN LOGIKA FUZZY
Alvendo Wahyu Aranski

Universitas Putera Batam
Abstract
The development of smartphones at this time is very rapid. Within 1 year the bias appeared various kinds and models. The growing technology, especially smartphones, has an impact on work productivity. In one day, people can access their smartphonenya about 15-50 times. This results in decreased work productivity. With the help of fuzzy logic and applied into the app, the bias detects a quick addiction to smartphone usage. Personnel of a company, can use this application so that the productivity of employees work can be known as early as possible. From the existing calculations, obtained results that addiction to the use of smartphones affect the productivity of work as much as 80 in accordance with the existing numbers on matlab calculations. This 80 figure shows a very large part of his addiction to smartphone usage.
References
[1] F. N. Edy Victor Haryanto, "Penerapan Metode Fuzzy Mamdani Dalam Memprediksi Tingginya Pemakaian Listrik ( Studi Kasus Kelurahan Abc )," STMIK AMIKOM Yogyakarta, pp. 115–119, 2015.
[2] N. Jocom, "Peran Smarthphone dalam Menunjang Kinerja Karyawan Bank Prismadana (Studi Pada Karyawan Bank Prismadana Cabang Airmadidi)," J. Acta Diurna, vol. 1, no. I, pp. 1–24, 2013.
[3] K. E. Holbert and K. Lin, "Nuclear power plant instrumentation fault detection using fuzzy logic," Sci. Technol. Nucl. Install., vol. 2012, 2012.
[4] M. Maslim, "Aplikasi logika," vol. 2013, no. Sentika, 2013.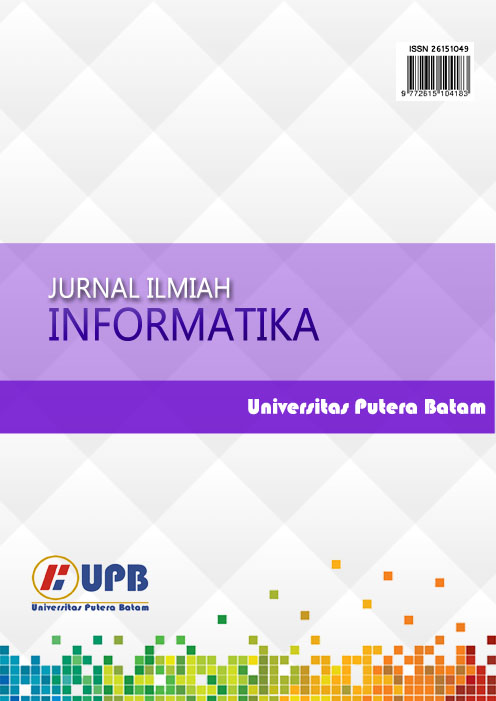 How to Cite
ARANSKI, Alvendo Wahyu. APLIKASI PENDETEKSI DINI KECANDUAN PENGGUNAAN SMARTPHONE TERHADAP PRODUKTIVITAS KERJA MENGGUNAKAN LOGIKA FUZZY.
JURNAL ILMIAH INFORMATIKA
, [S.l.], v. 6, n. 02, p. 30-34, sep. 2018. ISSN 2615-1049. Available at: <
http://ejournal.upbatam.ac.id/index.php/jif/article/view/603
>. Date accessed: 13 aug. 2020.
This work is licensed under a Creative Commons Attribution 4.0 International License.