ANALISIS PERSEDIAAN STOK BARANG MENGGUNAKAN ALGORITMA C 4.5 (STUDI KASUS CV HARAPAN RAYA)
Darsono Nababan

Universitas Pelita Harapan Medan
Abstract
In a distributor company, stock is one of the important factors that need to be considered by the company. The amount of stock in and out must be considered, the aim is to keep the stock available stable. A stable stock means that in a warehouse there is no excess stock or lack of stock. The problem is that each item has a different buying interest. Then a calculation is needed to be able to predict what items need to be added or reduced in the warehouse. C4.5 algorithm is a group of algorithms using decision trees. Decision trees are a very strong and well-known method of classification and prediction. The richer the information or knowledge contained by training data, the accuracy will increase. This algorithm is used to analyze the time of purchase of goods that have been depleted by classifying the items which are already in stock added or not, so that the availability of goods keep stable. The application of the C 4.5 algorithm can be used to predict stock availability at CV Harapan Raya. The results of calculating the entropy value in algorithm C 4.5 can predict the amount of stock provided by CV Harapan Raya.
References
[1] Zulkifli, A. (2016). Metode C45 Untuk Mengklarifikasi Pelanggan Perusahaan Telekomunikasi Seluler, 2(1), 65–76.
[2] Teknik, F., & Ipa, M. (2015). Kajian Perancangan Rule Kenaikan Jabatan Pada Pt . Abc. Jurnal SIMETRIS, 6(2), 217–222.
[3] Santosa Budi, 2007, "Data Mining : Teknik Pemanfaatan Data untuk Keperluan Bisnis", Graha Ilmu, Yogyakarta.
[4] R. Soewono, R. Gernowo, and P. S. Sasongko, "Sistem Pakar Identifikasi Modalitas Belajar Siswa Dengan
Implementasi Algoritma C4.5," J. Sist. Inf. Bisnis, vol. 4, no. 1, 2014.
[5] Rismayanti, 2016, "Implementasi Algoritma C4.5 Untuk Menentukan Penerima Beasiswa Di STT Harapan Medan"
[6] Azmi Zulfian, Dahria Muhammad, 2013, "Decision Tree Berbasis Algoritma Untuk Pengambilan Keputusan"
[7] Emha Taufiq Luthfi. (2009). Penerapan Data Mining Algoritma Asosiasi Untuk Meningkatkan Penjualan.
Seminar Nasional Aplikasi Sains & Teknologi (SNAST) Periode III, 10(1), 1–21.
[8] A. Darmawan, "Implementasi Simple Additive Weighting Untuk Monitoring Aktivitas Perkuliahan Dengan
Menggunakan Radio Frequency Identification," J. Sist. Inf. Bisnis, vol. 7, no. 1, 2017.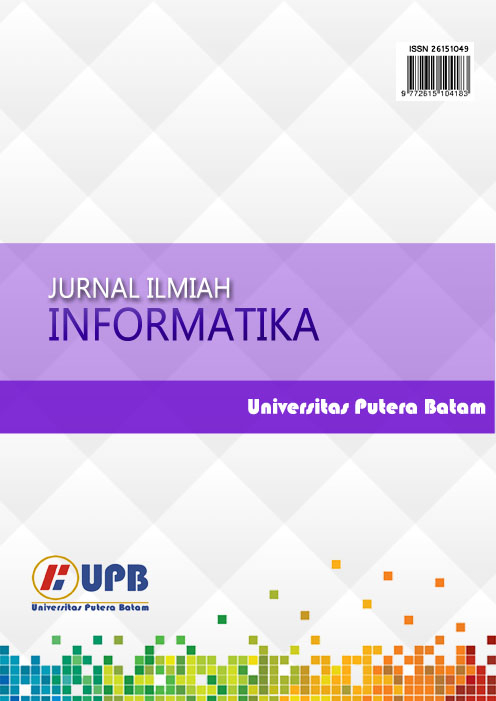 This work is licensed under a Creative Commons Attribution 4.0 International License.