SISTEM PENUNJANG KEPUTUSAN PEMILIHAN BEASISWA DENGAN METODE DECISION TRE ID3 PADA SMAN 2 CIBINONG KABUPATEN BOGOR
Linda Sukmawati

STMIK Nusa Mandiri Jakarta
Abstract
The selection of scholarships must be in accordance with established rules. The criteria set out in this case study are academic values, parents' income, number of siblings, number of dependents of parents, active organizations and others. Therefore not all who register as candidates for the scholarship will be accepted, only those who meet the criteria will get the scholarship. Because of the large number of participants who apply for scholarships, it is necessary to build a decision support system that will help determine who is entitled to get the scholarship. Therefore, this study seeks to provide a solution for the selection of students who deserve a scholarship in accordance with the criteria that have been determined by each to produce more accurate and faster data. Decision Tree ID3 method as a comparative test analysis model, as well as policy analysis is used to support appropriate decision making for the school board. ID3 Decision Tree is suitable for use in this case because it can make data classification accuracy and tree generated results are very easy to read by humans.
References
[1] Bin Ladjamudin, Al-Bahra. (2005). Analisis dan Desain Sistem Informasi. Yogyakarta. Graha Ilmu.
[2] Idris, Sri Ani Lestari. (2012). "Analisis Perbandingan Metode Analytic Hierarchy Process (AHP) dan Simple Additive Weighting (SAW)". Laporan Penelitian. UNG.
[3] Hidayati, W dan Harjanto, B. (2003). Konsep Dasar Penilaian Properti. Yogyakarta. BPFE.
[4] Jogiyanto HM. (2003). Sistem Informasi Berbasis Komputer: Konsep Dasar dan Komponen. Edisi 2. Yogyakarta. BPFE Yogyakarta.Jogiyanto HM. (2005). Analisis & Desain Sistem Informasi: Pendekatan Terstruktur Teori dan Praktek Aplikasi Bisnis. Yogyakarta. Andi
[5] Kadir, Abdul. (2003). Dasar Pemrograman Web Dinamis Menggunakan PHP. Yogyakarta. Andi.
[6] Kristanto, Andi. (2008). Perancangan Sistem Informasi dan Aplikasi. Yogyakarta. Gava Media.
[7] Kristanto, Harianto. (2004) .Konsep dan Perancangan Database. Yogyakarta. Andi.
[8] Kusumadewi, Sri, dkk. (2006). Fuzzy Multi-Attribute Decision Making. Yogyakarta. Penerbit Graha ilmu.
[9] Kustiyahningsih, Yeni., Ananisa, Devie Rosa. (2011). Pemrograman basis data berbasis WEB menggunakan PHP dan MySql.Yogyakarta.Graha ilmu
[10] Lawrence, J, Gitman. (2000). Principles Of Managerial Finance. 9 th ed., Addision Wesley Logman. USA
[11] McLeod, Raymond & Schell, George P. (2007). Management Information Systems. India: Prentice Hall
[12] Nasucha, Chaizi. (1995). Politik Ekonomi Pertanahan Dan Struktur Perpajakan Atas Tanah. Jakarta. Megapoin
[13] Pohan, Husni Iskandar dan Bahri, Kusnas sriyanto Syaifu. (1997). Pengantar Perancangan Sistem. Yogyakarta. Andi.
[14] Putranta, Hastha Dewa.(2004). Pengantar Sistem dan Teknologi Informasi. Yogyakarta. Amus
[15] Turban, E. (2005). Decision Support Systems and Intelligent Systems. Yogyakarta .Andi Offset.
[16] Turban, Efraim., Aronson, Jay E., & Liang, Ting-Peng. (2007). Decision Support Systems and Intelligent Systems. India: Prentice Hall
[17] Witten J,Bently L, Ditman K (2009). Metode Desain dan Analis sistem Edisi 6. Yogyakarta.Penerbit Andi.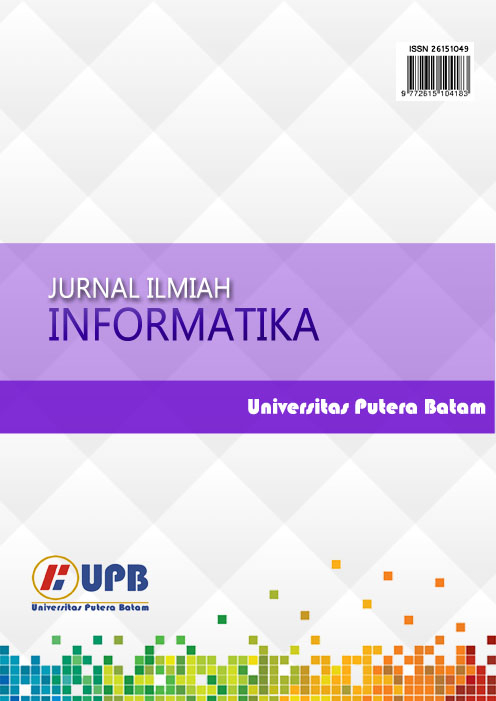 This work is licensed under a Creative Commons Attribution 4.0 International License.