Pengaruh Brand Ambassador dan Word of Mouth Terhadap Brand Image Produk Fashion Damn! I Love Indonesia di Kalangan Mahasiswa Tangerang
Keywords:
Brand; Brand Ambassador; Brand Image; Word of Mouth.
Abstract
Pada awalnya ketika brand bukanlah menjadi suatu hal yang penting, konsumen dapat dengan mudah memilih dan menggunakan barang sesuai dengan yang dibutuhkannya. Namun seiiring dengan berkembanganya perubahan jaman, sekarang ini brand begitu penting karena dapat mencerminkan karakter konsumen Untuk memberikan image terhadap brand tersebut, banyak strategi yang dilakukan, seperti menggunakan brand ambassador dan word of mouth. Kedua hal ini dianggap penting dan efektif dalam membentuk sebuah brand image di benak konsumen. Karena hal tersebut di atas, maka dalam penelitian ini akan dibahas mengenai seberapa besar pengaruh brand ambassasdor dan word of mouth terhadap brand image produk fashion Damn! I Love Indonesia. Metode yang digunakan dalam penelitian ini yaitu eksplanatif survei. Data dari penelitian akan diolah dengan menggunakan SPSS Version 22 for Windows. Hasil dari penelitian ini menunjukkan bahwa pengaruh brand ambassador terhadap brand image sebesar 41,6% dan pengaruh word of mouth terhadap brand image sebesar 18,8%.
References
Sumber Buku
A. Shimp, Terence. 2003. Periklanan dan Promosi. Jakarta: Erlangga.

Aaker, David A. 2006. Managing Brand Equity: Capitalizing on The Value of a Brand Name. United States of America: The Free Press.

Aaker, David A. 2006. Building Strong Brands. United States of America: The Free
Press.

Ali Hasan. 2010. Marketing . Yogyakarta: Media Presindo

Ali Hasan. 2010. Marketing Dari Mulut ke Mulut Word of Mouth Marketing. Yogyakarta: Media Presindo

Allsop, Dee T, Bryce R. Basset and James A. Hoskins. 2007. Word Of Mouth Research: Principles and Applications. Journal of Advertising Research


Buchari, Alma . 2003 . Manajemen Penjualan Dan Pemasaran Jasa . Bandung : Alfabeta.

Bungin, Burhan. 2005. Meotodologi Penelitian Kuantitatif. Jakarta: Prenada Media Group

Charles W. Lamb, Joseph F. Hair, Carl Mcdaniel. 2001. Pemasaran. Edisi Pertama, Salemba Empat, Jakarta.

Ghozali, Imam, 2011, Aplikasi Analisis Multivariate Dengan Program SPSS, Edisi Kedua, Universitas Diponegoro, Semarang

Jefkins, Frank. 2003, Public Relations, Penerbit Erlangga, Jakarta. Hoskins, Jim. (2007). Word of Mouth Research: Principals and Applications. The Journal of Advertising Research, ARF.

Jonathan, Sarwono. 2006. Metode Penelitian Kuantitatif dan Kualitatif. Yogyakarta: Graha Ilmu

Kevin Lane Keller., 2003, Strategic Brand Manajemen, Second Edition, Prentice Hall

Kotler, Philip dan Gary Armstrong. 2003. Dasar- dasar Pemasaran. Edisi Sembilan, Jilid Satu. PT Indeks: Jakarta.

Kotler, Philip dan Kevin Lane Keller., 2007, Manajemen Pemasaran, Edisi Kedua

Belas, Jilid 1, dialihbahasakan oleh Benjamin Molan, Jakarta: PT Indeks. Kotler, Philip. 2004. Marketing Insight From A To Z. Erlangga: Jakarta.

Lea-Greenwood, Gaynor. 2012. Fashion Marketing Communications E-book.
Somerset, NJ, USA: Wiley.

Malhotra, Naresh K. 2006. Riset Pemasaran : Pendekatan Terapan Jilid 2. Jakarta: PT. Indeks.

Miletsky, Jason I. dan Smith, Genevieve. 2009. Measuring and Managing Brand Equity. Jakarta: PT. Indeks

Mulyana, Deddy. 2005. Ilmu Komunikasi Suatu Pengantar. Bandung: Remaja Rosdakarya.

Pramesti, G. 2014. Panduan Lengkap SPSS dalam Mengolah Data Statistik. Jakarta: PT. Elex Media Komputindo

Royan, Frans M. 2004. Marketing Selebrities. Jakarta: PT Elex Media Komputindo.

Ruslan, Rosady, Kiat dan Strategi Kampanye Public Relations , Jakarta: PT Raja Grafindo Persada, 2002.

Ruslan, Rosady. 2010. Manajemen Public Relations&Media Komunikasi. Jakarta: PT Raja Grafindo Persada.

Santoso, Singgih. 2004. SPSS. Jakarta: PT. Elex Media Komputindo

Sekaran, Uma. 2006. Research Methods for Business: Metodologi Penelitian Untuk Penelitian Bisnis. Penerbit Salemba Empat: Jakarta.

Sernovitz, Andy. (2006). Word of Mouth Marketing : How Smart Companies Get People Talking. Chicago : Kaplan Publising.

Simamora, Bilson. 2003. Membongkar Kotak Hitam Konsumen. PT Gramedia Pustaka Utama: Jakarta.

Solomon, Michael R. 2011. Consumer Behavior: Buying, Having, and Being. New Jersey: Prentice Hall.

Sugiyono.2005. Metode Penelitian Bisnis. Alfabeta: Bandung.

Sugiyono. 2013. Statistika Untuk Penelitian. Bandung: Alfabeta

Triton, PB. 2006. Riset Statistik Parametrik. ANDI: Yogyakarta

Turner, Bonner, dan Marshall. 2012. Fame Games: The Production of Celebrity in Australia. London: Cambridge University Press

Yudiatmaja, Fridayana. 2013. "Analisis Regresi dengan menggunakan aplikasi komputer statistik SPSS". Jakarta. PT Gramedia Pustaka Utama

Zeithaml, Valiare A., dan Bitner. 1996. Services Marketing, 6th Edition, h.118

Sumber Online
www.damniloveindonesia.com
www.rajeans.co.id
www.dianpelangi.com
www.uniqlo.com/id/
www.swa.co.id
www.spssindonesia.com
http://www.academia.edu/7870798/Cara_Membaca_Tabel_Regresi
http://www.konsistensi.com/2014/08/uji-normalitas-grafik-histogram-plot.html
www.kellerfay.com/85-of-young-people-brand-word-of-mouth-occurs-offline/
http://forlap.dikti.go.id/perguruantinggi/search

Sumber Jurnal
Jurnal Penelitian R. Yogie Prawira, Slamet Mulyana, Teddy Kurnia Wirakusumah "Hubungan Karakteristik Brand Ambassador Honda Spacy Helm-In dengan Tahapan Keputusan Pembelian Konsumen (Vol .1, No. 1 2012)

Jurnal penelitian Miyume Renata "Menggunakan "MEME" dalam Word of Mouth untuk meningkatkan Brand Awareness (Vol.8, No.2 2014)

Jurnal penelitian Made Suci Pratiwi, I wayan Suwendra, Ni Nyoman Yulianthini "Pengaruh Citra Perusahaan, Citra Produk dan Citra Pemakai Terhadap Keputusan Pembelian Produk Foremost pada Distro Ruby Soho di Singaraja (Vol .2, 2014)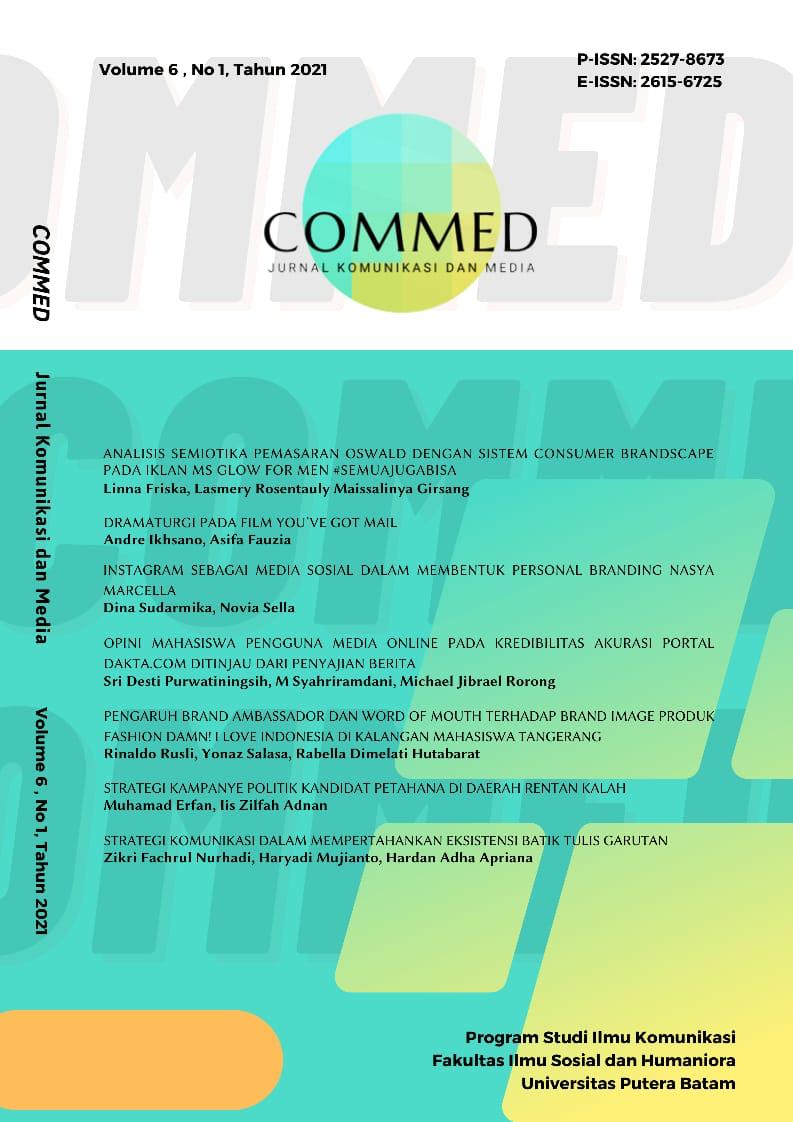 Downloads