INSTAGRAM SEBAGAI MEDIA SOSIAL DALAM MEMBENTUK PERSONAL BRANDING NASYA MARCELLA
Keywords:
Computer Mediated Communication, New Media, Instagram, Personal Branding
Abstract
Currently, technology is evolving very rapidly. One of the things people can do on in this digital era is to build strong personal branding through social media. Personal branding it based on the values of life and has a high relevance to who one is. This research uses CMC concept (Computer Mediated Communication). This research uses a type of qualitative research with descriptive methods  such as  conduct direct research, conduct in-depth observations and describe  facts in the field. In the research, researchers explored Nasya Marcella's personal branding through Instagram social media. Nasya Marcella is an actress who has values, qualities, principles and has had a positive image in the public.  so that it became the hallmark of the figure of Nasya Marcella. Nasya Marcella communicates all of her works through uploading photos or videos on social media Instagram so that it creates a public perception of her. In this research, Nasya Marcella has fulfilled all the main elements of the personal branding formation process according by Peter Montoya.
References
Ardinto. 2011. Komunikasi 2.0. Yogyakarta: Padi Pressindo.
Bungin, Burhan. 2008. Penelitian Kualitatif. Jakarta: Kencana Prenada Media Group.
Crosbie, Vin. 2002. What is New Media?. USA: Peter Lang Publishing.
Effendi, Onong. 2000. Ilmu Komunikasi Teori Komunikasi. Bandung: PT. Remaja Rosdakarya
Haroen, Dewi. 2014. Personal Branding: Kunci Kesuksesan dalam Berkipra. Jakarta: Gamedia Pustaka Utama.
Holmes, David. 2012. Teori Komunikasi: Media, Teknologi, dan Masyarakat. Yogyakarta: Pustaka Pelajar
Kartajaya, Hermawan. 2005. Positioning Diferensiasi Brand: Memenangkan Persaingan dengan Segitiga Positioning – Diferensiasi – Brand. Jakarta: Gramedia Pustaka Utama.
Khotler, Philip. 2002. Marketing Management. PTR: Prentice Hall.
Liliweri, Alo. 2011. Komunikasi Serba Ada Serba Makna. Jakarta: Media Group
O' Brien, Timothy P. 2007. The Power Of Personal Branding. Creating Celebrity Status Whit Your Target Audience, NJ: Mendham Publishing.
Raharjo, Farco Siswiyanto. 2020. The Master Book of Personal Branding. Yogykarta: Quadrant
Rakhmat, Jalaludin. 2009. Metode Penelitian Komunikasi. Bandung: PT. Remaja Rosdakarya
Rampesad, Hubert K. 2008. Sukses Membangun Autentic Personal Branding. Jakarta: PPM
Rangkuti, Freddy. 2009. The Power of Brand: Tekhnik Mengolah Brand Equlity dan Strategi Pengembangan. Jakarta: PT. Gramedia Pustaka.
Rorong, M. J. (2016). Peran komunikasi: Teori, teknologi informasi dan komunikasi, komunikasi bisnis.
Sugiyono. 2013. Metode Penelitian: Kuantitatif, Kualitatif dan R&D. Bandung: Alfabeta
Stanley, J. Baran. 2012. Pengantar Komunikasi Jilid 1 Edisi 5. Jakarta: Erlangga
Tamimy, Muhamad Fadhol. 2017. Sharing-mu Personal Branding-mu. Jakarta: Visimedia
Thurlow, Crispin, Laura dan Alice T. 2004. Computer Mediated Communication. London: Sage Publications
Afrilia, Ascharisa Mettasatya. 2018. Personal Branding Remaja di Era Digital. Jurnal Komunikasi, VIII (2).
Rachma, Vaniia Dwi. 2018. Pembentukan Citra Perusahaan (Studi Kasus Pada Hotel Treva International Jakarta Pusat. FISIP Universitas Bung Karno.
Rorong, M. J. (2019). PENEMPATAN TEORI DALAM ILMU KOMUNIKASI:(KAJIAN KEPUSTAKAAN DALAM PERSPEKTIF DEDUCTIVE-INTERPRETIVE). Commed: Jurnal Komunikasi dan Media, 4(1), 90-107.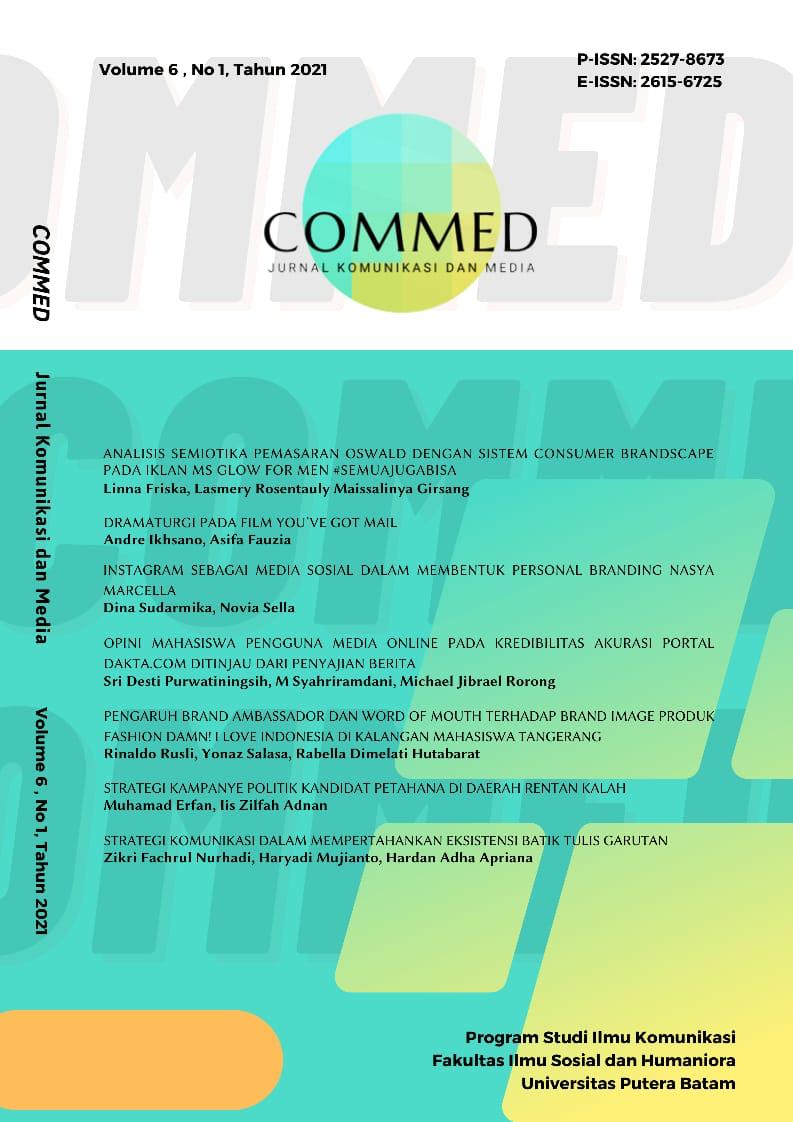 Downloads